Each week, 49ers.com gets to know two members of the 49ers Gold Rush. In this week's installment, we meet third-year member Anelisse from Gig Harbor, Wash. and Sierrah, a second-year member from San Jose, Calif.
What's your favorite thing to do in the summer?
Anelisse: I love doing anything that brings me near water and out in the sunshine with good friends.
Sierrah: I love going camping by the beach with my family and friends.
Who is the most inspirational person in your life?
Sierrah: My parents are both very inspirational to me. They work hard and are passionate about everything they do. My students also inspire me to grow as a teacher and artist.
What do you like most about being a member of the Gold Rush?
Anelisse: I feel so lucky to belong to a family that brings such a diverse group of women together, gives them the opportunities and tools to grow, and develops each member into their best self. Gold Rush has introduced me to the kindest, hardest working and most impressive people I know. Being able to support and be supported by these ladies is by far my favorite part of being a member of Gold Rush.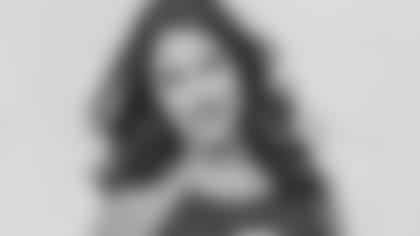 How would you describe your style?
Anelisse: My style would be best described as comfy contemporary. I love modern pieces in rich, deep colors, but comfort always comes first!
Sierrah: I would describe my style as athletic and comfortable. Since I'm a dance teacher I am often wearing leggings throughout the day, which are easy to dress up or down.
If you had to describe yourself in three words what would they be?
Sierra: Bubbly, determined and loving.
What is one goal you'd like to accomplish during your life?
Anelisse: I hope to someday be able to explore the world of entrepreneurship through my passion for women's and children's education and wellness.
Sierrah: I would like to get a PhD and travel to every continent.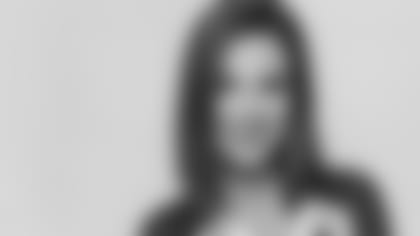 Tell us about your journey of becoming a Gold Rush cheerleader.
Anelisse: My dream has always been to perform and get to do what I love professionally, but I never thought it would be on such a large scale, cheering for my favorite NFL team. The best part about being a member of the Gold Rush is having the opportunity to pursue what I'm truly passionate about next to other like-minded women who share my passions for dance. Dancing solo is nothing compared to the fire we bring when we're performing together!
What is your biggest goal this season?
Sierrah: My biggest goal is to start taking on more leadership responsibilities on the team and to help the new Gold Rush members feel more relaxed and confident during their first season.