*Each week, 49ers.com gets to know two members of the 49ers Gold Rush. In this week's installment, we meet fifth-year member Nina from San Jose, Calif., and Rachel, a rookie member from Las Vegas, Nevada. *
What is your most embarrassing moment?
Nina
Nina: Falling in the library in front of a sports presentation on my first day of college. My laptop slid in front of me and a guy got up and yelled "safe" as if I had just slid into home. Luckily for me that comment lightened the mood!
Rachel:I was dancing around in a European hotel lobby and split my pants!
What is your biggest goal this season?
Rachel:To fully embrace the experience and have memories that will last a lifetime.
Nina:My dream job is to work in the entertainment world. Being an actress and performer has always been a huge dream of mine!
What is your biggest fear? Rachel:I'm terrified of flying.
Who is the most inspirational person in your life?
Nina:It is a tie between my Mom and Dad. Not only have they raised four daughters with such ease but they have also been our number one supporters and best friends. They have taught us to follow our dreams and never let anything stand in our way of success and happiness. They always have our backs in everything we do and have shown us the true meaning of love within a family. I am forever grateful for their motivation, strength, and guidance. Love you guys!
Rachel:My Mom is the most inspirational person in my life.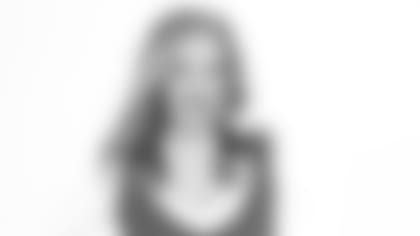 Rachel
Do you have any pets? Tell us about your favorite furry friends. Rachel:Yes, her name is Sonya and she is a black lab. She loves being inside and playing with Frisbees.
What's something our fans would be surprised to learn about you?
Nina:Fans would be surprised to learn that I am an artist! I have been into art ever since I was little and every now and then I create a new piece about something that inspires me!
Walk us through a day in your life. Rachel:It depends on the time of year. During summer, I'm spending a lot of time with friends and exploring. Every day is something new. During the school year, my day consists of a lot of books and Starbucks visits.
What have you learned from being a member of the Gold Rush?
Nina:I have learned that being a member of Gold Rush is not just being a member of a team but a member of a family. Forty girls from all different areas of the world come together to achieve this one common goal. To follow their dreams in hope of becoming a part of this world class organization. Just reaching that goal creates a lifelong bond that will never be forgotten. I was fortunate enough to be a part of the 50th anniversary with all the previous Gold Rush members and to see the relationships they still had over all these years. It just goes to show how valuable the friendships you have with these women are and that this truly is a family.
What does it mean to be a 49ers Faithful?
Rachel:It's not just about football. The Faithful is a community of individuals and traditions that are passed on through generation.
GOLD RUSH FAVORITES
Nina
Rachel
SONG
"Seven Nation Army" - The White Stripes
"Tin Man" - Miranda Lambert
CHARITY
49ers Foundation
Junior League of Las Vegas
TV SHOW
The Big Bang Theory
Nashville
PHONE APP
Instagram
Snapchat