Each week, 49ers.com gets to know two members of the 49ers Gold Rush. In this week's installment, we meet second-year member Lauren from San Jose, Calif. and Haley L., a rookie member from San Jose, Calif.
Do you have any pets? Tell us about your favorite furry friends.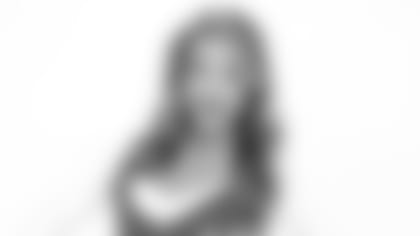 Lauren
Lauren: I have a black and silver cockapoo who is the love of my life! I got her when I was 11 years old. I also have 2 cats.
Haley L.: Harper is a 3-pound, brown and white dachshund Chihuahua, whose ears are heavier and bigger than her entire body.
Most Embarrassing Moment?
Lauren: All of middle school!
Walk us through a day in your life.
Lauren:I begin every day with a 3-mile run and a healthy breakfast. During the day, I spend the majority of my time at school. After I get home, I'm off to teach dance for a few hours and then straight home to study and do homework. On my days off I love to either go to San Francisco or drive up the coast and stop at my favorite fruit stands. Haley L.:I usually get ready and am out the door around 8:30. I'll take my dog Harper to the park for an hour, grab a bite to eat and then start my day at work or coaching. Later in the afternoon I'll take a kickboxing class for an hour and train jiu jitsu. After training, I always get my favorite boba drink or frozen yogurt to end my night. 
Lauren:My dream job is to become an elementary school teacher. I started assisting my dance teachers in their classes when I was only 12 years old and I fell in love with teaching. From that point on I knew I wanted to dedicate my life to teaching. Next year, I finally get to start my credential program where I will be getting my masters degree at the same time. I can't wait!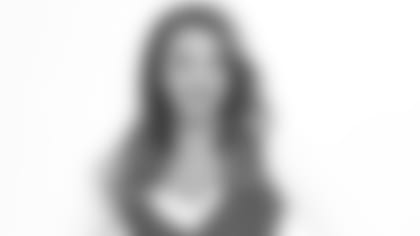 Haley L.
If you were a tourist in San Francisco, what three things would be on the top of your must see/do list?
Haley L.: I would grab a jacket and bring my pup to Ocean Beach. Then I'd make my way into the city and grab a lunch to have at the Palace of Fine Arts Museum, which is the most beautiful spot in the city in my opinion. To end the night try I'd try and catch a game at AT&T Park not only to watch the greatest team in the MLB, but to have their infamous Ghirardelli Sundae.
Who is the most inspirational person in your life?
Lauren:My grandparents are the most inspirational people in my life. They raised me to be a kind, caring and loyal young lady. There is not one dance recital or competition that they have missed.  They have even been to every 49ers game that I have been a part of. I can only hope to be half the people that they are.
What have you learned from being a member of the Gold Rush?
Lauren:Being a member of the Gold Rush has taught me a variety of different things. The most important thing that I have learned is to always push yourself. Gold Rush has pushed me to a place I didn't even know I was capable of. I am forever thankful for my 39 sisters and my coaches for pushing me to reach my highest potential. Haley L.:What I have learned from being a member of the Gold Rush is how important my role on this team is. I love that dancing is just the half of it. Being on the Gold Rush has shaped and inspired me to give back to our community and to spread this whole experience with you all! 
What's something our fans would be surprised to learn about you ?
Lauren: I grew up a competitive ballerina. I completed all 12 levels of the American Academy of Ballet's Performance Awards receiving Gold with Distinction throughout my many years of performing.  My favorite variation I performed was Kitri Variation from Don Quixote.
What do you like most about being a member of the Gold Rush ? Haley L.:It truly is the best feeling in the world to set a goal and see it come to life! Being on the Gold Rush has given me the ability to put that uniform on and encourage others of all ages to do the same and to feel inspired to take on their goals.
GOLD RUSH FAVORITES
Lauren
Haley L.
MOVIE
Forrest Gump
Benny and Joon
PHONE APP
Pinterest
VSCO
CHARITY
Wounded Warrior Project
Walk to End Alzheimer's
COLOR
Pink
Green