Each week, 49ers.com gets to know two members of the 49ers Gold Rush. In this week's installment, we meet third-year member Kirsten from San Leandro, Calif. and Anelisse, a second-year member from Gig Harbor, Wash.
What is your biggest fear?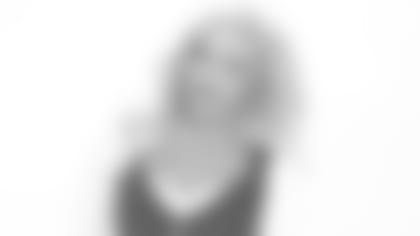 Kirsten
Kirsten: My biggest fear is failure. I have high expectations for myself and I think life is too short to not reach for the stars. I strive for the top because I know I am capable to overcome whatever life throws at me, while focusing on my goals. As long as you put your head down, work hard and give it your all, you're already halfway there.
Anelisse: I am terrified of spiders!
Kirsten: My dream job is to work as a sports analyst/reporter for the San Francisco 49ers or an MLB team.
Anelisse: I'd love to own my own business that would allow me to combine my love of entrepreneurship and design with education and women's or children's interests.
Who is the most inspirational person in your life?
Kirsten: The biggest influence in my life is my mom. She is the strongest person I know. She has taught me to persevere in hard times, love more than my arms spread wide, work hard and dream to the stars. She is the most selfless, helpful, caring person I have ever met. Overall, I owe a great deal of who I am today to her.
Anelisse: The most inspirational people in my life are my parents. They've given up so much for me and my siblings, and their hard work constantly reminds me to be grateful for each opportunity that comes my way. They push me to be my best self, while reminding me to enjoy the little things in life.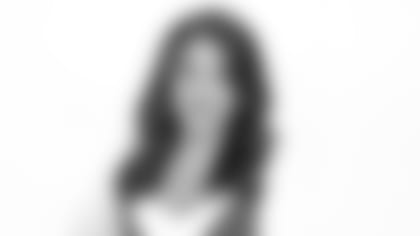 Anelisse
What's something our fans would be surprised to learn about you ?
Kirsten: I have had the opportunity to broadcast at the last three Super Bowls.
What does it mean to be a 49ers Faithful ?
Anelisse: Being a 49ers Faithful means that you're part of the family, through thick and thin. The 49ers hold a rich legacy that ties fans from all walks of life together with an unwavering support for our team.
What do you like most about being a member of the Gold Rush ?
Kirsten: What I love most about being a member on this team is that I am surrounded by 39 smart, talented and beautiful women. I love that they push me to be the best me I can be. I can walk into practice after a long week and feel refreshed because of the atmosphere our team exudes. I am so lucky and blessed to be a part of this journey with my sisters.
Anelisse: I love how diverse our team is and my teammates are the most interesting people I know! I am constantly learning and pushing myself to be both a better dancer and person, because of them. My teammates come from a variety of backgrounds, from different dance styles, work experiences, education and beyond. I love coming to practice and learning something new each day.
What is your biggest goal this season?
Kirsten: My biggest goal is to give back to the organization and make a difference. This organization has made such a positive impact on my life, I would love to be able to give back and have an impact on someone else's life as much as this organization has had on mine.
GOLD RUSH FAVORITES
Kirsten
Anelisse
CHIPS
Hot Cheetos
Tim's Jalapeno Potato Chips
PHONE APP
Snapchat
News
HOLIDAY
Christmas
Christmas
BAY AREA RESTAURANT
Homeroom
Steam