Each week, 49ers.com gets to know two members of the 49ers Gold Rush. In this week's installment, we meet third-year member Jordan from Petaluma, Calif. and Angela, a rookie member from San Leandro, Calif.
If you were a tourist in San Francisco, what three things would be on the top of your must see/do list?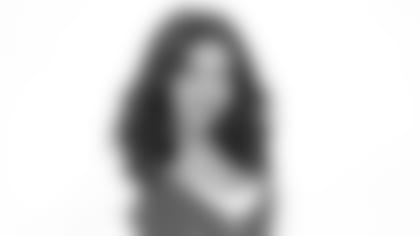 Jordan
Angela:Well with any city that I visit I have to eat my way through. SF would be no different. I'd go to the Ferry Building for the farmer's market. There is freshly made food and it is super close to Pier 39. Then I'd venture over to Salt & Straw located in San Francisco's Pacific Height's district. This ice cream shop is surrounded by Victorian-style homes and cute boutiques. Plus, you get to see amazing views of the city, the Golden Gate Bridge and Alcatraz Island. Then I'd venture back to The Rotunda Room, atop Bloomingdales in Union Square to enjoy an exquisite meal or tea time. Try the duck confit salad.
Most Embarrassing Moment?
Jordan: When I fell while running up the aisle in a movie theater. I had a bag of popcorn in my hands and everything went flying, including me! Luckily, it was before the movie had started and I was able to laugh it off with a friend.
Angela: I went back to my high school to visit the cheer team a couple years after graduating. The coach was saying all this nice stuff about me as a dancer so the girls wanted to see me perform. Well I went to do a toe touch and split my jeans. Thank goodness for always having an extra pair of pants in my car.
Who is the most inspirational person in your life ?
Jordan: My two older sisters are both extremely successful young women. They motivate me in every aspect of life. Without them, I wouldn't be the person I am today.
Angela: It would be my grandmother. At almost 96 she continues to laugh, tell jokes and show her strength. To know her life is to only hope to live half the life she has. From a world away I feel her love.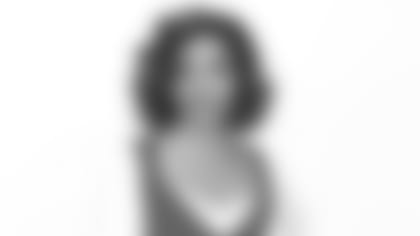 Angela
Walk us through a day in your life.
Jordan: My day always starts off with one or two cups of coffee and some breakfast. I love food and I love to cook. Whether it's breakfast, lunch or dinner, I'm constantly preparing healthy meals at home. I have the most energy in the morning, so that's usually when I like to get my workouts done. Throughout the week, my schedule can get pretty hectic balancing school, work and various other responsibilities. I enjoy being this busy because it helps keep me organized and on track.
How would you describe your style ?
Angela: Classic elegance with a touch of sass. I love to be event appropriate. Dressing up can be the best thing in the world.
What's something our fans would be surprised to learn about you ?
Jordan: I made my own prom dress for my senior project.
What does it mean to be a 49ers Faithful ?
Jordan: The 49ers Faithful are what differentiates the 49ers from any other team in the NFL. There isn't one word to describe the Faithful because they come from all walks of life. Whether they've held season tickets for many years or they're new to the area, they are a part of the family and dedicated to this team. A 49ers Faithful recognizes the rich history of the organization while remaining loyal and devoted through the team's ups and downs.
Angela:Loyal, devoted through the good and the bad, trusting in the direction of the organization and believing that you are on the field with us.
What is your biggest goal this season ?
Jordan: I valued the experience and knowledge passed down to me from the veterans during my first year. My goal this season as a second-year veteran is to help guide the first-year members through one of the most unique and exciting experiences of their life.
GOLD RUSH FAVORITES
Jordan
Angela
SONG
"Brown Eyed Girl" - Van Morrison
"At Last" - Etta James
CHARITY
Mentor Me Petaluma
Girl's Inc.
PHONE APP
Spotify
Yelp
ARTICLE OF CLOTHING
Bathing Suits
Shoes