Each week, 49ers.com gets to know two members of the 49ers Gold Rush. In this week's installment, we meet sixth-year member Bria Chantel from Salinas, Calif. and Anisha, a rookie member from Northridge, Calif.
If you were a tourist in San Francisco, what three things would be on the top of your must see/do list?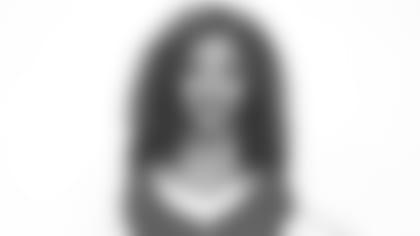 Bria Chantel
Bria Chantel: I would want to see the "Full House" house, visit the Golden Gate Bridge, and watch a Giants game.
Anisha:Watch a 49ers game, brunch and Land's End!
What is your biggest fear?
Bria Chantel: I've always been afraid of dogs, but I am slowly changing that.
What is your most embarrassing moment?
Bria Chantel: I got in my car and noticed a bee was inside, so I pulled over and ran out of the car. There was a man doing some yard work outside and he saw the whole thing. He calmed me down and helped me get the bee out of my car. I was so embarrassed, but also very thankful.
Anisha:On the first day of classes of my junior year in college I waved hello excitedly to my friend that I hadn't seen all summer. I hadn't updated my contact prescription and as I got closer, I realized that it was a complete stranger. So then I pretended to be waving at someone else behind her so she wouldn't think I was crazy. Unfortunetly she turned around and saw that no one was there and my genius recovery idea completely faltered. I've never had an outdated prescription since!
Anisha
What is your dream job?
Bria Chantel:Although I am currently living out my dream of being a teacher, I would love the opportunity to teach abroad! Anisha:Dentist by day, Bollywood choreographer by night.
What do you like most about being a member of the Gold Rush?
Bria Chantel:It's the best job that I have ever had. We get to dance, cheer on the 49ers and support various charities and organizations throughout the year. There's so much versatility, meaning no two years are the same. Each season brings new team members and new memories to be made. This experience is something I will be able to cherish forever! Anisha:Being around these incredibly ambitious, talented and intelligent women every week just inspires me to work harder at everything in my life. Aside from the inspiration, it genuinely feels like I gained a family overnight and I know if I ever needed support, I could count on these girls no matter what.
If you could say anything to the 49ers fans what would it be?
Bria Chantel: I would thank them for being the best fans in the NFL. We truly have the most faithful fans and they make me so proud to belong to this organization.
GOLD RUSH FAVORITES
Bria Chantel
Anisha
CHIPS
Salt and Vinegar Lays
Miss Vicki's Jalapeno Chips
HOLIDAY
Easter and Christmas
Christmas
TV SHOW
Married at First Sight
Friends
BAY AREA RESTAURANT
Oye Managua
Mission Beach Cafe