Each week, 49ers.com gets to know two members of the 49ers Gold Rush. This week, we meet Carina a three-year member and Natalie K. a rookie. Both ladies are from San Jose, Calif.
What's something our fans would be surprised to learn about you?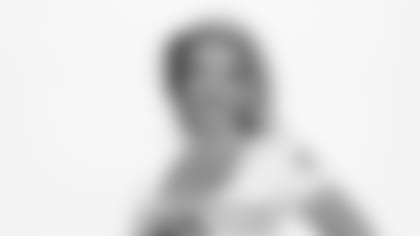 CARINA
CARINA:Sports play a huge role in my life. I love how universal sports are and how they bring people together. It has always been a dream of mine to cheer on the sidelines of my favorite football team and to report on the sidelines of my favorite sports teams as well. I am going to school to pursue my dream and can't wait for it to come true.
NATALIE K.:I occasionally sing in a family garage band! We've had some pretty big gigs like family birthdays and friend get-togethers.
What do you like most about being a member of the Gold Rush?
CARINA:To stand and cheer on the sidelines with some of my best friends. It is a feeling like no other to be able to witness an incredible pass first-hand and then see a touchdown and be able to celebrate with my teammates and the Faithful!
What have you learned from being a member of the Gold Rush?
NATALIE K.:As a member it has pushed me for excellence in all avenues of life. The Gold Rush hold themselves to the highest of standards, and I want to hold those same standards in everything I do.
How would you describe your style?
CARINA: I always love to dress to impress. I believe that first impressions are lasting impressions and you never know whom you will meet and when you will meet them.
NATALIE K.:Working at a large marketing firm where I manage clients' campaigns and events.
NATALIE K.
If you were a tourist in San Francisco, what would be on the top of your must see list?
CARINA:Luckily I live in San Francisco and get to be a tourist every day of my life. One of my favorite spots is called Sutro baths and I encourage everyone to go visit it. It is a beautiful place that has ancient ruins still in view..
Can you walk us through a day in your life?
CARINA:I am an early bird so I like to wake up early, go on a run along the beach, make a smoothie, head to class and then head to work right after. I love to end my nights by cuddling with my cat in bed and watching a fun TV show with my best friends.
NATALIE K.: I always make sure to start with a healthy breakfast. I'll make my way to work, and be there for the day. Luckily I work in downtown San Jose, so I'll stay around that area for lunch and maybe grab a coffee from the local coffeehouse across the street. After work, I'll either take a dance class, go to the gym, or grab a bite with some friends. I try to make sure I have some quality time with my family (and cats) at home before having to prep my things for the next day. I enjoy my routine.
Who is the most inspirational person in your life?
NATALIE K.: My dad. He has always guided me in being a smart, compassionate, hardworking individual. I wouldn't be the person I am without him.
GOLD RUSH FAVORITES
CARINA
NATALIE K.
MOVIE
ELF
10 THINGS I HATE ABOUT YOU
TV SHOW
GAME OF THRONES
BOB'S BURGERS
APP
INSTAGRAM
INSTAGRAM
CHARITY
AMERCIAN CANCER SOCIETY
THE HUMANE SOCIETY