Few, if any, have enjoyed a complete football life like John McVay.
He once played for Woody Hayes and Ara Parseghian in college at Miami University. He was previously the head coach of the New York Giants. He also worked with famed 49ers coaches Bill Walsh and George Seifert and won five Super Bowls as a key member in the team's front office.
McVay has five Super Bowl rings and now, a red blazer. The longtime 49ers personnel man of two-plus decades is now the newest member of the Edward J. DeBartolo Sr., San Francisco 49ers Hall of Fame.
"I can't tell you how excited I am," McVay said from his home. "It's one of those unbelievable experiences in life where you say, 'I can't believe this is happening to me.'"
McVay, a product of the famous football town of Masillion, Ohio, is a member of his high school Hall of Fame, college Hall of Fame and now, a proud member of the 49ers Hall of Fame.
McVay's inclusion in the 2013 class was a long time in the making. In fact, CEO Jed York privately expressed his desire to induct the former General Manager and Vice President of Player Personnel into the Hall of Fame.
"John played an integral role in the great success our franchise has achieved, helping to construct teams responsible for five Super Bowl victories," York said in a statement released by the team. "His knowledge of the game and coaching experience allowed him to develop a great partnership with both Bill Walsh and George Seifert that was evident in the team's performance on the field. John's commitment and contributions to the 49ers helped to form the rich tradition we strive to carry on today."

[ PHOTOS - JOHN MCVAY THROUGH THE YEARS ]
McVay was truly moved by a conversation he had with York at the 2012 induction of longtime San Francisco, Gordy Soltau. The 49ers CEO explained that it would be McVay's turn to don the red Hall of Fame blazer in the future. Turns out, McVay didn't have to wait much longer. A respected football man with many Hall of Fame credentials to his name, didn't downplay the significance of joining San Francisco's elite club of respected contributors to the five-time Super Bowl champion franchise.
"This one," McVay began, "is the big guy."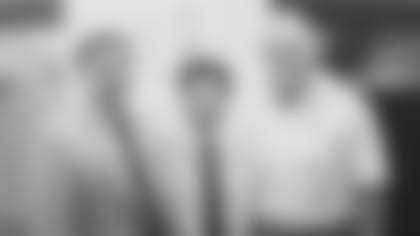 The longtime personnel man joined the 49ers in 1979, the same year as Hall of Fame head coach Bill Walsh. McVay spent three seasons as the head coach of the Giants and recalled inviting Walsh to give coaching demonstrations to New York's coaching staff. McVay also recalled his early memories of renowned owner Eddie DeBartolo Jr.
When DeBartolo Jr. hired Walsh to be San Francisco's head coach in '79, McVay wanted to be a part of what he immediately knew was a "winning combination." DeBartolo hired McVay to be his top personnel man and the move paid off.
Along with Walsh, McVay did his part to install a winning culture in the locker rooms, meeting rooms and in the offices of team headquarters.
"It was reflected by the overall atmosphere created by Eddie and Bill," McVay noted.
The turnaround wasn't easy for the struggling 49ers. Walsh's early teams struggled on the field. McVay remembers "scrambling" to get top-flight talent to San Francisco. However, McVay credited the building blocks of the team to his owner. DeBartolo had made acquisitions to strengthen the team's offensive line prior to the arrival of his new coach and GM. The 49ers also selected a future Hall of Fame quarterback in the third round of their first draft working in tandem. The signal-caller was none other than Joe Montana.
Things started to change for the better with the working relationship of Walsh and McVay and Montana's development on the field. As for the team's key decision-makers, both men helped put together one of the best coaching staffs in the National Football League to work with Montana his much improved roster. With excellent teachers, plus the General Manager making key acquisitions in free agency and the head coach spear-heading some of the most fruitful drafts in league history, the 49ers were able to thrive.
"With Bill's expertise, wisdom and drive, we were able to put together and bring on board a lot of super assistant coaches," shared McVay, who highlighted Walsh's insistence on involving coaches in evaluating college prospects. "Make no mistake about it; Bill was in charge of the draft. Bill was untiring when came to the draft. When draft day came, we had some great drafts, made some unbelievable trades, did some things that people said was crazy, but they worked out. Draft day was really a fun day for us."
With Walsh and McVay working together on draft day, the 49ers selected future Hall of Famers. Montana, Jerry Rice and Ronnie Lott were some of the standout players hauled in by the 49ers in the 80s. McVay didn't take the credit on the decisions. He pointed to Walsh in making the tough draft-day calls.
"He's the guy who gets the credit," McVay said. "We had a great group of scouts and super bunch of coaches who all pitched in. We all realized when it was time to pull the trigger, Bill pulled the trigger. He would say, 'We're taking Rice,' or, 'We're taking Montana.'"
McVay, on the other hand, was key in acquiring veteran difference-makers like Jack "Hacksaw" Reynolds and Hall of Fame defensive tackle, Fred Dean. McVay and his personnel staff focused on players who would fit into San Francisco's program. McVay recalled so many of those veterans having an impact on the team.
"There's a list as long as your arm," he said. "We had a philosophy in the personnel department, if we think he can play and some other team thinks he's getting too old and we think he can still play for a couple of years, we'll take them."
With upstart draft picks and solid veteran contributors, the 49ers turned things around in 1981 and went on to win the franchise's first Super Bowl. San Francisco defeated the Cincinnati Bengals 26-21 in Super Bowl XVI.
The moment still sticks with McVay as one of the finest memories of his time with the franchise. McVay looks back on the team's come-from-behind win in Detroit and pictures the emotion of the team's proud owner celebrating with his players.
The 49ers went on to add three more Super Bowl titles in the 80s. McVay still remembers being in awe of the team's prolific play.
"I don't know if I'd ever seen football played in such a precise manner as the way it was played in those years with Bill and his staff. It was like surgery," McVay said. "He was an amazing teacher and if you looked at some of the old tapes of installations and they would do their game strategy and he had players in the classroom, it was like you were in an advanced class."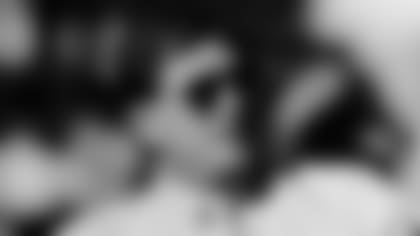 The dominant play carried over into the 1990s when George Seifert took over for Walsh. The former secondary coach and defensive coordinator was a big part of McVay's success with the 49ers. He did so without the limelight.
"George definitely worked under cover," McVay said of the two-time Super Bowl winning coach. "He rarely gave interviews, but he was a super, super coach."
McVay credited Seifert for excelling in a difficult spot. It would be difficult for any first-year coach to take over for a Super Bowl-winning coach, but that's what Seifert did. Following the 49ers Super Bowl win in 1988, Seifert led San Francisco to another championship in 1989.
"He stepped into a situation that was pretty well tailored and he was able to carry on the success that had been established," McVay said. "He was Mr. Unassuming. He did a great job, not only as a head coach, but as Bill's right-hand man."
McVay enjoyed his collaborative relationships with his owner and head coaches. The winning culture created by the three men spread from the locker room to the front office. They also were instrumental in bridging the gap between the current team and former players.
McVay recalled an early meeting where Bill stressed the importance of making that connection.
"Bill said, 'No. 1 we have to get the alumni back,'" McVay shared.
The 49ers hired R.C. Owens to help boost the team's longstanding tradition by linking players from the past and present.
The team's strong relationships with its proud contributors remain prevalent in 2013. McVay's induction in the 49ers Hall of Fame is just the latest example.
"I'm deeply indebted to Jed for this honor," McVay said. "It's an honor beyond any expectation or imagination."
McVay is eager to celebrate the achievement with the people who had important roles in his professional career. Looking back on the 21 years he spent with the organization, McVay can't help but appreciate and cherish the unique moments he experienced.
"We worked hard," he said. "We played hard. We won big and now we sit back and look at all the fun we had. We still cherish it. We still relish it."
[WATCH: 49ers Games Online in HD](http://www.49ers.com/news/article-2/Anthony-Davis-All-About-'Winning'-/Watch 49ers Game Online in HD)