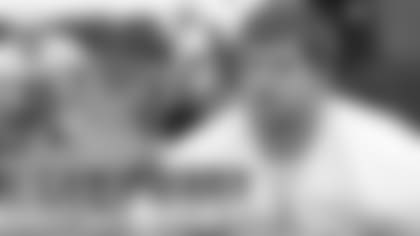 Rookie linebacker Scott McKillop the 49ers fifth-round draft pick, checks in with his latest diary entry. McKillop talks about his high school sweetheart, preparing for training camp and his goals for the rest of the offseason.**It?s been a month since I?ve been in the Bay Area. After OTAs, all the rookies worked out at team headquarters for a week and then we went to the NFL?s Rookie Symposium. That was an eye-opening experience and overall, it was just a good thing for all of us to hear that information.
Since I?ve been back home, I?ve just been spending time with my family and my girlfriend, Allison. And of course you know I?m working out and making sure that I?m staying in shape.  But really, I?ve been trying to enjoy the last few couple of weeks in Pittsburgh before I?m out in Santa Clara.
It?s important that I spend time with Allison. We?ve been together seven and a half years.  We were high school sweethearts and have been together since the end of our sophomore year. As you can probably tell she?s very important to me.  We had homeroom together in high school and that?s where we first met.  We were also voted the best male and female athletes of our school.  I guess in a way, it?s a storybook relationship.
When I?m not hanging out with Allison, I?ve made sure to spend time with my mom and my dad. I also spent some time with my brother, helping him move out of our house.  He just got a coaching job at West Virginia Wesleyan, and I know he?s going to do a great job.
My oldest brother is a manager for a local chain restaurant around here, so I?ve been trying to see him as much as I possibly can too.
I didn?t want to travel during this month. I think it?s important to be spending as much time as I can with people who I?m not going to see that much when the season starts.
The only place I?ve gone outside of Pittsburgh over the last month was on a camping trip with Allison for the Fourth of July.  We went to a place that?s about two hours away and it?s in the middle of nowhere.  But it?s a lot of fun. It?s just a camp with a bunch of land.  It?s a place where you can get away from everybody and it's a great escape.  I enjoyed myself out there.  We hung out the whole weekend and I went fishing too. It?s a stocked lake, so you don?t have to be good to catch anything out there. But it's just relaxing to be out on the lake fishing.
The other day, I was moving all the stuff from my apartment back to my home in Pittsburgh.  Then I?ll have to start packing the necessities to come back out to the Bay Area.
It?s going to be different because I?ve been living down at school for the past five years.  This is the first time that I?ve actually moved back home and you don?t really realize how many possessions you accumulate when you move out.  Right now I?m in the process of seeing what I really need, and then I?m packing up my bags to send out.  It?s going to be a big adventure to get all my clothes out there and all the stuff I?ll need.  But, I?m excited to get to training camp.
I think this will be an intense camp.  I think you need that to be a successful football team.  You need to set some ground work early on. And you need to set the identity of what we?re all about.  In training camp, I think we?ll become an even closer family and build that bond which is the most important thing about camp.  We?ll be able to get good relationships established.  Camp is a time where we come together as a family. 
But before I come back to the Bay, there?s one last thing I have to do back home.
I?m going to have a home cooked meal from my mom.  I would say her chicken parmigiana is my favorite meal.  She?s a great cook.  Luckily, I went to college close to home and I was fortunate enough to still eat her cooking.  When I was at college she would come down to visit and bring some food too.  I guess if she comes out to visit me in California, she?ll cook up a bit of food for me.  But one of the last things I?ll do before I come back is definitely get a nice home cooked meal from my mother. 
I?m pretty sure my first preseason game, a bunch of people close to me are coming out to see it.  Probably the first preseason game and hopefully, if everything goes right and I make the team, the first regular season game too. 
But there?s nothing guaranteed for me at this time.
A lot of people are assuming they?ve already done something by being drafted by an NFL team. I still have to go and prove that I belong this next month and make the team.
Other than getting that goal accomplished, I?m also looking forward to getting back out to the Bay Area and exploring it all.  When camp breaks, I can?t wait to start getting my new apartment all set up.  And finally get the feeling of being home established.  I?m turning the page in my life and I?m looking forward to everything that?s going to come my way.
But until then, the most important thing is getting ready for training camp. See everybody soon!