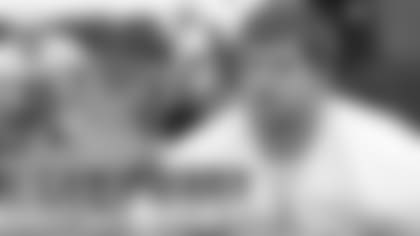 Rookie linebacker Scott McKillop, the 49ers fifth-round draft pick, checks in with his latest diary entry. McKillop discusses his first NFL training camp and a major change in his personal life.**
To be honest, this could be the hardest camp I?ve ever been a part of in my 10-plus years of playing football. We?re working hard out here getting ready for the season. And so you?ve got to take care of your body and take care of your mind. I just try to take everything one day at a time.
Training camp is mentally draining and physically draining. You?re going to have some bad days. You?re going to have some good days. But the important thing is learning from your mistakes and not having them happen more than once. That?s why you take it one day at a time.
Being a rookie, you?re always doing things well and you?re always doing things bad. One day, you?re doing things the right way and the next day, it?s flipped. The important thing is trying to put together several consecutive good days in a row. As the days progress, myself and my fellow teammates feel like we?re getting a better feel for the defense and the offense. We?re taking full advantage of all the time out there. I?d say we?re coming together as a team and as a family.
In our family the rookies have bonded a lot. We stick together at camp and look out for one another. We really didn?t know what was in store for us or how practices were going to go. But after you get a couple of days in, you get used to the routine. There?s a set time you wake up and I eat the same thing for every breakfast which is some eggs, some bacon, and some potatoes. I also have a cup of orange juice, but not too much because the first practice is the most physical practice of the day. You don?t want to fill up too much. You?ll feel bloated, but you also don?t want to eat too little and have no energy when you?re out there playing.
One of the coolest things I?ve done at camp was film a video with the two other University of Pittsburgh alums on the team, Andy Lee and Shawntae Spencer. Pitt asked us to be in a video that will be played on the big screen at Heinz Field every time the team scores. They asked us to all say ?Touchdown Pitt!? and raise our arms up like we were signaling a touchdown. Our part will be mixed in with other famous alums like Dan Marino. I don?t think I even belong in the same sentence as him, but being in the same video as him is pretty cool.
I?m fortunate to have two ex-Pitt players here with the 49ers. They?ve been very helpful with me, if I have any questions or anything. It?s also good to know that you have something in common with two of the other players out here. We can relate to some of the situations that we?ve had to overcome.
The last item in the diary I wanted to mention concerns a major change in my life that happened recently.
My girlfriend Allison is no longer my girlfriend ? now she?s my fianc?e. I asked her to marry me the Thursday before I left for camp. I just brought her to my apartment in Pittsburgh and shared how much I care about her. Then I asked her to marry me and she said yes!
She?s a very, very important person in my life and I think I?m the luckiest man in the world.
That?s all for this diary entry, but I?ll keep everyone informed on what?s happening at camp in my next entry. Take care!