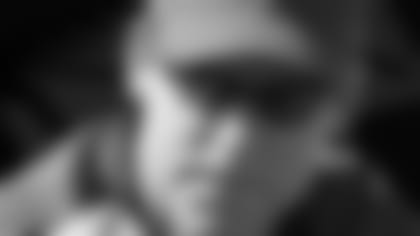 Check out our eleventh round of questions for General Manager Scot McCloughan. If your question wasn't selected this round, please try again. Keep in mind that due to NFL rules, McCloughan cannot answer questions about any potential free agents and will refrain from giving detailed information on any draft-eligible players.**
Q: Mr. McCloughan, with the relative inactivity in free agency, I assume 49ers leadership is pleased with the talent currently on the roster. Do you see guys like Dominique Ziegler and Thomas Clayton having a bigger role this coming year? Also, with playing a more straight up 3-4, do you think Parys Haralson is ready to have a big year? Thanks for your time and great blessings to you and the rest of the 49ers family. Thanks. - Issac J
A: We are pleased with the talent on the roster. As I've said many times, we will not build the team through free agency, but we will build through the draft. We will get young guys that we can develop and that's the way the good teams in the NFL stay consistent. They develop young guys in their system so they become what they want them to be. That's what we're going to keep doing. Free agency is a tool that we have to use, but the draft and acquiring young talent is the most important thing. I think Parys is ready to have a big year. Last year, he showed that he's ready to be a big-time player for us and we're excited about him. There's no reason why he won't take another step this year and become the player we think he can be. The 3-4 fits him perfectly. He's an outside linebacker and he can put his hand on the ground on third downs and rush the passer. We're excited about him and looking forward to him having a good year.
Q: Dear Mr. McCloughan, I have been a 49ers fan my entire life. I grew up watching Rice, Montana, Young, Lott, and etc. The list goes on and on. However not since the days that Jeff Garcia was the starting QB of the Niners have I felt secure about that position heading into the season. My question is simply this, why haven't we made an attempt to sign a big name QB? Such as Cutler, Cassell, Leftwhich, or even Garcia? Seems to me that we can't get over the hump and win another Super Bowl until we have a dynamic signal caller behind center again. Make us remember why we became 49er fans to begin with. - Lanny Nash
A: It's funny, some of the names you mention weren't big name guys when they were acquired. Montana wasn't a big-name guy when he was drafted. Young wasn't a big name by the time the 49ers signed him. Jerry Rice was not a big-time draft pick. We have to build our own big names. Quarterback is a position we're trying to improve day in and day out. We're comfortable right now with the three guys on our roster, two of whom we know very well – Shaun and Alex, we think they can be good players when its all said and done. Great? Who knows? That will play itself out. We need to have structure on offense, which hopefully we have now for more than one year. We'll try to improve the quarterback spot just like any other position. You can't go out and sign big names, because of their age or the money it takes to sign those guys. We need to build our own and that's how good teams are built. That's how it was when Joe, Steve and Jerry came to the 49ers. They made themselves into great players. We need to do the same thing. We need to find those guys and make them good players for us.
Q: Hi Scot, good luck to you and Coach Mike in selecting players that will help our team! My question: Why isn't the draft order in the 2nd round the same as the first round? Instead, St. Louis drafts behind KC, Seattle behind Cleveland, etc. What was the reasoning behind this? Thanks Scot. - Gary in Cottonwood, AZ
A: Teams that have the same record will flop each round. Two teams this last year, the 49ers and Buffalo, ended up 7-9. Our strength of schedule was weaker than Buffalo's so we have the first pick in the first round and after that we flop throughout the draft. That's just the way the rules are in order to be fair to teams throughout the draft.
Q: Hi Scot, having followed the NFL for many years I've observed that many first year players suffer nagging injuries such as pulled muscles, sprains, etc, that may keep them out of games. Often by the second year they are free of these nagging injuries. Are these first year nagging injuries the results of pressing, stressing and applying newly learned techniques in a faster played league. – Orlando
A: I think it's due to the fact that it's a longer season, there's more asked of them throughout the week at practice and then on Sundays and the tempo of the game is so much faster. There are a lot of things that contribute to it, but the main thing is the amount of pressure that's put on them physically – weight room, practice field and games. The season is a long one with the four preseason games and the 16 regular season games. The rookies may think they're in shape when they get here, but they're not. They learn after their first year that this is a 24-7, 365-day per year job. That doesn't mean that they go out on the treadmill and jog, they have to do football workouts. That's a big learning curve and I think that's why you see rookies struggle – it's not just the mental part of the game, but the physical demands of a long season.
Q: Hi Scot, thanks for your time. Over the last few years, you haven't traded back in the draft. It seems that there will be several good players at positions of need available late in the first round (or early second). If a good offer was made, would you consider trading down in the draft? – Marty
A: We always leave every avenue open when it comes to the draft. You want to be in the best situation whether that's staying where you're at, trading back or trading up which we did with Adam Snyder in 2005 in the third round. If you go in thinking that you're not going to trade, I think you close too many doors. You do whatever you can to make the team better. Each draft is different and I'll accept any phone call that comes in and I'll be making phone calls. You never pass on a good football player if he's sitting there staring at you in the face.
---
---