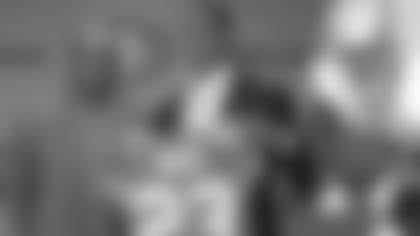 Rookie Taylor Mays continues to update his rookie diary with the latest happenings around 49ers headquarters. In this entry, the first-year safety talks about his recent interview on NFL Network, his quest to soak up information and his plans for the rest of the summer.**
I did my first interview on NFL Network as a member of the 49ers last week and I think it was a cool experience. I've been watching the NFL Network for years and to see myself on there as part of the NFL was a cool thing. It's fun to be a part of the league and all the things that come along with it.
I think they wanted to ask me some tough questions about my alma mater, but I wanted to let the world know that regardless of what sanctions we've been given, we're still USC. I love USC and the people from my school. I feel like they're still going to run the table and end up as the AP national champions.
I told Rich Eisen "I'm still 'SC-Wild Bunch." That's a crew from my football team. Those guys out there, they know who I'm talking about.
As for my new team, I'm happy with the progress I've made throughout this whole time since the draft. I understand a lot more about what I need to do to be successful in this game. Some things went well, and other things were challenging. But it's nothing I feel like I can't do or work towards doing.
I said before that I wanted to play with better technique and play lower to the ground. I definitely felt like I progressed in that area as the offseason went along. It's helped me become a better player and that's definitely a good thing.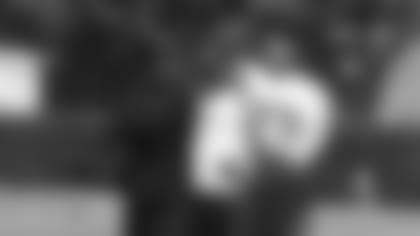 Coach Singletary said last week I've been calling the coaching staff for information, but it's not like I'm calling them every day. If I have a question, I'll call and just stay in the moment of what it takes to get better. I don't have any reservations on calling Coach, or my position coaches, Vance Joseph or Johnnie Lynn. I don't hesitate to call because I don't feel like it's a burden on them. I've been trying to soak up as much information as possible.
That's why I've been standing over by Coach Lynn during some of the plays. I didn't even think it was going to be something that was talked about. I was just watching the play, watching Coach Lynn call out the play, and then talking about the play. We were just talking football. I was taking mental reps, so I don't miss those opportunities when I'm not in. It just helps to see what's going on, so you have more reps in terms of getting your eyes in the right places.
It doesn't really matter to me where I'm lining up at this point of the offseason, whether it's first-team, second-team or the third-team. I know that when I go in, I just have to progress and show them that I'm getting better with what they want me to do.
I'm looking forward to training camp when the pads are all on. I think that's when the game changes, especially when you're trying to prove what type of football player you are. It's a lot easier to establish yourself physically.
I'm like everyone else, I don't like to hit every single day. But, once you get into it, you get into the game and practices. It's fun. It's the game of football. Once you put all those days of hard work on the practice field from minicamps and OTAs, that's what makes you successful in the end.
In terms of working out, I'm just trying to maintain my body and make sure I'm completely healthy for camp. And I'm continuing to learn the game on the pro level. I'm happy to be around here and get more comfortable in this setting. That's really all I'm trying to do right now.
For the rest of the summer, I'll spend most of my time out here. I'm not sure exactly of everything I'll be doing, but I want to be here as much as I can to continue to work out and continue to watch film.