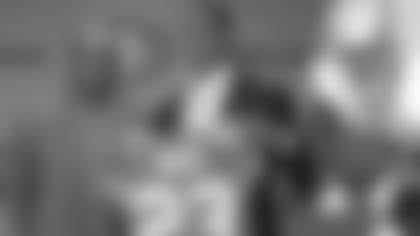 Safety Taylor Mays is the latest 49ers rookie to write a diary for 49ers.com. In his third entry, Mays updates you, the 49ers Faithful, on his first training camp, his first two NFL preseason games and a particular 49ers linebacker who has a snoring problem.**Training camp is progressively getting better for me every day. I'm having a good time, but it's tough. I'm fighting through it though. I mean, I'm in the NFL so I have nothing to complain about.
I've had long football days before in high school and college, but those were nothing like this. You're here all day and you're so much more focused on football. You definitely feel the job part of it, but at the same time, I'm living my dream. I wouldn't want to be in any other situation.
We had the Pasta Bowl here a few of weeks back, and that was a lot of fun. I really enjoyed meeting some of the fans and raising money for kids in the Bay Area. I had fun with it. I was joking around with the fans, trying to make them laugh. I'm a pretty social person so I like things like that. Plus, we got the night off from football, which was a welcome break.
The Pasta Bowl was a family-style dinner which kind of made me think of home. I do miss home, but I'm fortunate in the fact that I see my family fairly regularly. My parents come to the games every week.
So I was going through my locker earlier and I saw this picture that defensive coordinator Greg Manusky drew for me. It's just two big, squiggly eye balls and they're looking downwards. That was Coach's way of telling me I need to get my eyes right. They've been tough on me since I arrived, but in a good way. There are some things I need to fix in my game, some habits I need to break from my days at USC. I'm working on those things every day and I can see myself getting better on film.
My first NFL road trip was fun. It's cool to be on an NFL trip. You think what it would be like for all of these years, and now I'm finally doing it. I had to get the veterans snacks for the trip, but I have to do that all the time. Then they complain about my snacks and tell me there's not enough Flamin' Hot Cheetos or that I bought the wrong flavor Sour Patch Kids or something like that. They keep me on my toes. Michael Lewis is a cookie monster, he loves cookies and he likes them a certain way, so I have to pay particular attention to what I get him.
Back to the road trip though, I hadn't been to Indianapolis since the NFL Combine in late February and early March, and it was nice to be back there. The best part about that game was playing against Peyton Manning. I was like 10 when he came into the league, so being able to play against a guy like that and gain that experience is huge for me.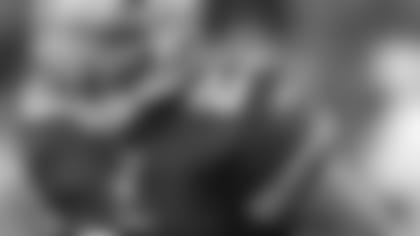 We got to face another legend in Brett Favre last weekend, and it was the same type of feeling. My highlight of the game was that big hit I got on the sidelines in the fourth quarter. I have a good sense of when the ball is in the air and how to time up those hits and it was fun to get back into doing it. I would like to get some interceptions too, but I'll take that big hit for now.
That was first time playing in Candlestick Park, and I liked it a lot. I liked everything about it. I could feel the history in the place, but it didn't seem old, if that makes sense. I like the locker room, it felt like it was a war bunker – it was cool.
So we're two preseason games in now, but we're still in training camp mode. We're living in the hotel, and what can I say about that? I mean, the hotel is the hotel. It's cool to be around the team and be able to hang out with everybody, but I'm ready to go home. I want to be watch TV by myself and not have to worry about my roommate NaVorro Bowman snoring.
I can't even sleep sometimes. I tried to get him to use a Breathe Right nose strip, but he's too selfish and he won't use it. I could give him grief about the Rose Bowl from a couple years ago to get even, but I'm over it.
We're traveling across the Bay to play the Oakland Raiders this weekend, and even though I haven't played in this rivalry before I'm a football fan so I know all about it. It will be fun to actually be a part of it and get my feet wet with it. I love the atmosphere surrounding rivalry games and I can't wait to get out there.
Well that's all for now. I'll check in with all of you again soon to let everyone know how life is going for me. Thanks for reading.