HERTFORDSHIRE, UK – Taylor Mays just keeps getting better.
The rookie safety is yet to record an interception, but in four starts he's totaled 21 tackles, two pass breakups and forced a fumble.
He's been close to that first interception too, having nearly picked off passes in back-to-back weeks.
But Mays isn't frustrated by getting so close and coming up just short; the 49ers second-round pick sees it as a positive development. Draft experts downgraded him for his coverage abilities after starting four years at USC, but he's steadily improving in that department.
Mays is coachable, responding to the teaching points the 49ers coaching staff have given him since he arrived in the Bay Area.
Defensive coordinator Greg Manusky placed a photo of two big eyeballs in Mays' locker to drive the point home of the rookie needing to get his eyes in the proper places.
With each start, Mays has responded. And with the Denver Broncos being the league's third-best passing offense (290.1 yards per game), he sees it as a great opportunity to showcase those improved skills.
"I like that matchup especially since I've been here my coverage skills have gotten so much better," Mays said.
In addition to the coaching he's received, Mays' increased playing time has helped him develop at a faster pace.
"It gets so much easier for me. I feel so good right now because I'm getting so much more experience and so much more confidence. I know I'm going to learn a lot in the next couple of weeks."
Mays came into the league with a reputation of being a big hitter and has backed it up with several devastating blows, one resulted in a forced fumble against the Eagles.
Although he's yet to force a takeaway, he's not discouraged by any means.
"It's encouraging that I'm in the right areas," he said. "I'm playing faster and that's the biggest thing," .
Manusky also sees the growth in his young safety.
"He's doing well. I think each week he's getting better and better."
But Mays knows there are better performances in store and he's working diligently to make that happen.
"There's a difference between playing good football and really taking your game to another level. That's where I want to go and that's where I'm working towards now."
Losses haven't derailed his workman-like mentality. Although Mays lost just nine games in four seasons at USC, he said the 49ers 1-6 record hasn't derailed his attitude.
"I understand you don't go 12-1 most times in an NFL season. I think guys have the perfect mindset right now. Guys are coming together and playing for each other. That's all I really ever wanted to be a part of."
49ers Line Up Rugby Style
The 49ers received a special visit from English rugby club, the North Hampton Saints, who attended Thursday's practice for a Gatorade photo shoot.
The Saints and 49ers offensive line posed in the playing stances of their respective sport, and then exchanged jerseys and autographs afterwards.
The Saints taught the 49ers how to take part in a rugby jump ball, which takes place when the ball goes out of bounds. Teammates lift one player to receive a throw in, and in the case of the 49ers, tackle Joe Staley was the one lifted by his teammates.
"I'm the lightest on the offensive line," Staley joked. "I have a good vertical too."
Notes and QuotesWith the 49ers going on their fourth day in London, the players are finally feeling acclimated to their surroundings and adjusted to the time difference.
But despite the change in scenery, the 49ers are treating it like a normal work week and another chance to show what they're all about, just to a slightly larger audience.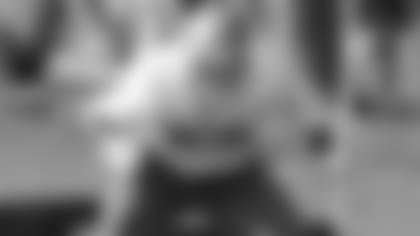 "Given that we're way over here in London and we're bringing American football over here, we want to go out and leave something in their mind, so they're feeling like, 'Wow, that was a great football game and the 49ers showed a lot of heart and were fun to watch,'" linebacker Joe Staley said.
"We want to put on a good show and show that the 49ers are playing good football."
Defensive tackle Pierre Garçon compared the trip to the training camp visit the team made to Monterey, and said he's enjoying the beautiful scenery. The difference in location hasn't affected the 49ers mindset either.
"It shouldn't change the tempo, the playing surface is a little different, but being an NFL player you need to be able to handle anything."
Jean Francois has been seeing more playing time as of late. As defensive line coach Jim Tomsula explained earlier in the week, using all six linemen has been a positive development for the team.
"That's a big thing," Jean Francois said, "because we're trying to make sure all our linemen can last a whole 16-game season. Everybody knowing their details of the defense is a big thing. We take pride in that."