The 49ers were looking to bolster depth at the right tackle position this offseason and took care of that need with the signing of Marvel Smith back in March.
It was a perfect fit for both parties.
Being an Oakland native and alum of Skyline High, Smith was eyeing football teams on the West Coast during the free agency period of the offseason. Meanwhile, the 49ers were looking for an experienced physical lineman to solidify their offensive line.
Now that the 10-year pro has been with his new team for most of the offseason, Smith has instantly liked what he's seen from his new teammates.
The two-time Super Bowl champion with the Pittsburgh Steelers should know a thing or two about what a championship team looks like.
"While I've been here just this offseason, with the groundwork we've been laying, it's definitely within our reach," the 6-5, 321-pound tackle said in a recent interview with TV49.
It was just last season Smith won his second championship ring during his nine-year stint in Pittsburgh which selected him No. 38 in the 2000 NFL Draft. But Super Bowl XLIII was a bittersweet memory for Smith because he was inactive for the game. Smith's second career season-ending back injury earlier in the year earned him a place on the injured reserve and a sideline seat for the biggest game of the year. After starting in 17 games over the last two seasons due to injuries, the Steelers chose not re-sign Smith after the season ended.
But Smith insists that he's not feeling any lingering pain from previous injuries.
"I've been feeling good," Smith said of the current state of his back. "It's a blessing to be here with the staff here that I'm working with, the trainers and strength coaches and stuff like that.  They definitely have the right path (for me)."
With ample time since the second procedure on his back, Smith feels a new sense of rejuvenation with the 49ers.
"It was a blessing to come here, really," Smith said. "Being in Pittsburgh for the last nine years and pretty much playing on the East Coast, my dream was to come back and play on the West Coast."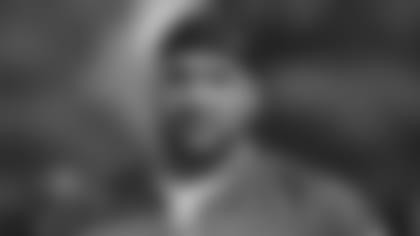 Smith admitted that his first choice initially was to play in Oakland. But after he weighed out his options, he realized the 49ers were the best fit for him.
Specifically, Smith has felt at home competing for the starting right tackle position amongst an emerging offensive line unit who likes to play a physical brand of football.
"We definitely have the right players in place to become a dominant offensive line this year," Smith said. "It's just a matter of putting it together and going out there and being consistent with it every Sunday."
For Smith's professional career, he's mostly played on the left side of the offensive line prior to playing on both sides in college at Arizona State. But with Joe Staley locked in at the starting left tackle slot, Smith is a top candidate with tackles Adam Snyder and Barry Sims to start on the right side.
So far, changing positions hasn't been too difficult of a process for Smith. Although he's been held out of team drills this offseason as a precautionary measure to make sure his back is ready for the season, Smith has worked out with the linemen during individual drills. During that time, Smith has been able to train his mind and body to take the same pass steps he used from the left side to his new position on the right side. With the help of 49ers offensive line coach Chris Foerster, Smith has become more comfortable at his new spot on the offensive line.
"It's been a lot easier than I thought it would be," Smith said of the transition. "I remember when I had to initially go through the transition from right to left; it was pretty much just training my body to do stuff with the opposite side."
Smith's footwork might have to be adjusted, but the mindset he'll use with his feet won't budge a bit.
Coming from a team known for running the football, Smith is looking forward to carrying out head coach Mike Singletary's vision for the 49ers to play physical football.
"For me, that's an ideal situation," Smith said of playing power football.  "That's the only type of football I've known to play for my whole career for the most part.  On the offensive line, if you know that you have a coach that wants to play physical.  You don't have to worry about plays being spread out.
"If you know you're playing smash-mouth football, as offensive linemen – that's what you love."
Based on his successful experience in Pittsburgh, where he started in 108 games for two championship teams and was named to the Pro Bowl in 2004, Smith knows all about what it's like to dominate an opposing defensive line.
Ask any other offensive linemen – that feeling is hard to top.
"If you can run when you want to and the defense doesn't dictate it – that's the best feeling for an offensive lineman," he said. "(When you're) Running the ball (successfully), you can tell the defense your running the ball and there's nothing they can do about it.  That's definitely the path that we're heading."
With less than two weeks before training camp gets underway, Smith and the rest of the 49ers are counting the days until they can put the pads on and prepare for the upcoming season.
"No doubt about it, there is a lot of anticipation around here," Smith said. "We as a team, we set some goals that we believe are achievable.  And the beginning of training camp is the beginning stage of that, so we're looking forward to it."