Bud Light is all about the fans. So when they shared with us Mark's Castanon's story we had to share it with the Faithful! It all started when Mark wanted to win a competition for season tickets, so he posed shirtless and covered himself in body paint for a 49ers newspaper ad. He didn't win the tickets, but 49erMark was born and can now be found at every home game wearing face paint, a kilt and a giant ring on his head to cheer on his 49ers.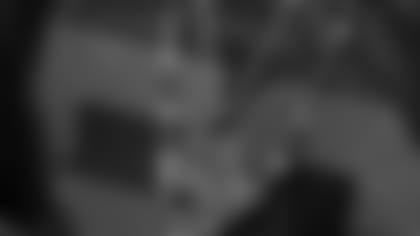 How did you fall in love with the 49ers? What is your first memory around the 49ers?
Watching Dwight Clark make "The Catch" during the end of the 1981 season, January 1982 - that's the very memory! Me hanging out with my junior college friends at someone's apartment, all of us eating pizza. Going crazy, jumping up & down!
How, when, and why did you start dressing up, collecting or becoming more than a regular ordinary fan?
In 2011, the 49ers organizations ran a fan based marketing campaign because of a temporary lockout of the NFL players. The lockout happened just when the NFL teams would create their promotions for the upcoming year, so the 49ers organization decided to involve their season ticket fanbase in a marketing campaign. They asked for anyone to say why he or she was a 49ers fan. The winner might be chosen to be involved with the marketing. The bonus prize was the upcoming season tickets. I was chosen to come in for the marketing shoot and based on my story and personality they asked me if I'd do them a favor. I immediately said yes, because I wanted the tickets and if they needed something from me I thought I'd be a shoo-in. They asked if they could body-paint me from the waist up! I didn't win the tickets, but I was featured in a full-length newspaper ad in upper-body-paint.
When I think about it, it's hard to consider myself to that level of fandom. But deep down inside, it's COOL!
This then led to my involvement in a national contest called the Most Dedicated Fan (MDF). I had to submit a letter saying why I was a huge fan, along with a photo my wife had taken of me at home after my 49ers marketing shoot with my body painted. I first had to be chosen by the marketing team to represent the 49ers – which I was. Next, I was up against thirty-one other fans representing each NFL team. We had to provide a game face photo, a TD (Touch Down) dance video, a picture of our memorabilia room and garner votes on social. My touchdown dance video was shot in Candlestick Park! I also made a fake commercial and got players involved with video "shout-outs". I started going to games at Candlestick with my upper-body painted, too. In the end, I won and became the 2011 Most Dedicated Fan.
The previous year's winner (lucky him, all they had to do was get votes; no social media.) made these NFL Championship Ring hats. He sent me one as a gift and congratulations in January 2012 and I've been wearing the Ring hat ever since.
The following season I started going to all the 49ers games with my Ring hat on; in the 2013 season I decided to combine the Ring hat plus paint. One change was painting my face instead of my body. The combination of the Ring hat, my face being painted, and engaging with my fellow Faithful became a great way to go to each and every home game. I've been 49erMark ever since!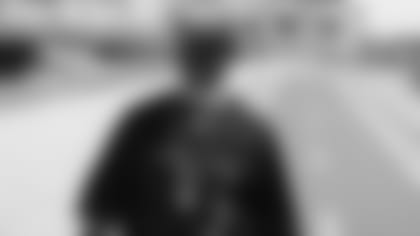 What is your favorite NFL moment or 49ers memory?
One of the great things about being a 49ers fan and our 49ers history and fantastic games is that I have so many great memories!
I remember the night Joe Montana had his jersey retired at Candlestick. The air was electric. It was also Jerry's first night back after an injury and he re-broke his kneecap.
I remember Jerry Rice's last game as a member of the 49ers at Candlestick.
I remember watching on TV as Steve Young threw six touchdowns in the Super Bowl vs. San Diego.
Jerry Rice catching everything and anything!
I remember the 49ers being down against Green Bay with seconds left on the clock, my wife telling me, "Why did I bring her to this game?" and Steve dropping back and firing a touchdown pass to Owens, Owens, Owens!
I remember the 49ers being completely blown out by the New York Giants at Candlestick. then Jeff Garcia brings them back. I think we were down by twenty-four points. A buddy was with me that day; my wife stayed home feeling a little sick. I never leave a game early! I was so dejected, then here comes Jeff Garcia and we win – greatest comeback!
The winning pass from our quarterback to our tight end versus the New Orleans Saints in the NFC Championship game.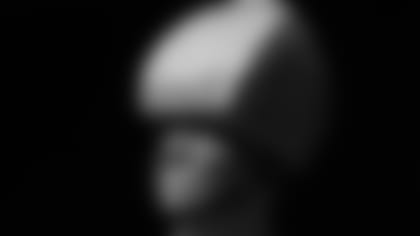 What distinguishes you from other 49ers fans?
Being 49erMark has become about engaging and being the best representation of a Faithful that I can be! Getting to meet more and more 49ers fans, taking a few moments to pose for a picture, or actually becoming a new friend and a part of someone's life - that's really what it's become about. Developing relationships or connections with so many fellow 49ers Faithful, I am welcomed around the stadium for tailgating fun. Now I bring friends and jokingly tell them they are about to go on the 49erMark experience.
How did you develop your costume / get your nickname / develop your superfan persona?
I combined my NFL Championship Ring hat with my painted face and that was the origin of becoming 49erMark. I added in nose-black and eye-black stickers representing the 49ers, wristlets, sweatbands, a helmet with chain around it, and a 49ers emblem around my neck. Add the 5-Finger-Hand to represent five Super Bowls and I am ready to go!
What is your favorite keepsake or piece of memorabilia?
My favorite keepsake is a now very worn 49ers jersey with my name on the back of it given to me by the 49ers organization when I won the 2010 Draft Day contest.
My favorite piece of memorabilia is a photo of Dwight Clark, Ronnie Lott, Jerry Rice, Roger Craig, and Joe Montana with me in the middle. I still need to get Ronnie, Jerry, and Joe to sign it.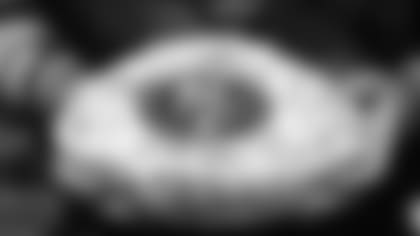 When did you start collecting / building your fan cave?
In 2010, I was chosen randomly to be the first winner of the 49ers Draft Day contest. I got a personal meet and greet with the 49ers VPs and Head Coach; we got to meet our two first round draft picks and watch their first ever press coverage. I was given a 49ers helmet and got it signed by all of the draft picks.
In 2012, I joined a local 49ers booster club called the Gold Rushers. We get players who come to our monthly meetings and we have the opportunity to meet and greet with them, take a picture, and get an autograph. This got me interested in going to 49ers practices or any event at which I can get 49ers memorabilia. I have a home office with all my 49ers stuff and it is now too small to hold all of my items. My wife painted the office walls in 49ers Red & Gold.
What is your game day ritual? How do you prefer to watch the game?
For a home game, I get up early so my wife can paint my face and get geared up. I try and leave my house by 8:30 a.m. so I can catch a trolley to Levi's Stadium. I join my first group of friends tailgating, hang with them; then I move to another group or two tailgating. In between, I talk and take photos with any and all 49ers Faithful. Watching the game in the stands with my friends or family cheering is always great fun!
How does it feel to be known by your friends and peers as a die-hard fan?
Surreal; I just recently went to a 49ers rally held by a large 49ers fan club. They asked me to be there as a "superfan." When I think about it, it's hard to consider myself to that level of fandom, but deep down inside it's cool!
What is the best thing about the 49ers?
Our History! One of the few football dynasties! All of the great players who brought us those winning Super Bowls, the 49ers fans, and the legendary players. And of course, Bill Walsh, a man who changed the NFL game!
About the Bud Light NFL Super Fan Program: This year's season-long Bud Light campaign set out to capture the passion NFL fans feel for their respective teams at the start of every new football season. Every team has its own traditions or memorable moments that connects its fans together and create an energy around every game.  Bud Light is celebrating all of that this season as the official beer sponsor of the NFL and the San Francisco 49ers.             *        
                                                     *Created by Bud Light and Vice Digital Services