By no means is Marcus Hudson satisfied solely being a standout on the 49ers special teams units.
In three seasons in San Francisco, Hudson has been a major component to the 49ers success on special teams, totaling 33 tackles as well as recovering a crucial fumble against the St. Louis Rams in the 2007 season which helped secure a victory.
The 6-2, 200-pound defensive back has also dabbled in almost every position in the secondary and has 46 tackles and three passes defended over the course of his defensive career.
Hudson would like to continue his motto of contributing in any way shape or form to the team that selected him in the sixth-round of the 2006 NFL Draft out of North Carolina State.
But with a major injury occurring to veteran cornerback Walt Harris this offseason, Hudson understands there's an opportunity to earn a starting position at the corner and nickel back positions.
He views the unfortunate injury as a chance to prove his complete worth to the organization.
"It's been the same for me throughout my career – you put me on the field and I'm going to play," Hudson said in a recent interview after organized team activities. "There's opportunity there and I'm definitely trying to take advantage of it."
Losing a talented player like Harris was difficult for Hudson and the rest of the secondary who looked up to the veteran for guidance.
"It was a hard blow to the team," Hudson revealed. "With that being said, anytime you lose someone of that caliber, it's always going to be a hard bump for the team. But with our defense being mature, we have a lot of people who can step in and fill those shoes for Walt."
Over the course of offseason workouts, Hudson was one of the main beneficiaries of Harris' injury.
"With the more repetitions you get, you get a feel for it and you know what you're doing. It becomes second nature," Hudson said of his increased involvement at the team's minicamps and OTAs that saw him lineup primarily as a cornerback.
Throughout his career, Hudson has moved around from cornerback, to safety, to even playing in the team's nickel and dime packages.
While some players might view the constant position changes as more of a headache than a path to success, Hudson believes his flexibility has given him a broader understanding of defensive coordinator Greg Manusky's scheme.
"Having that experience of going from one position to another position lets me know I'm that much more comfortable with the system," Hudson explained. "It lets me know, you can put me anywhere and I'm going to play hard."
In particular, Hudson has always been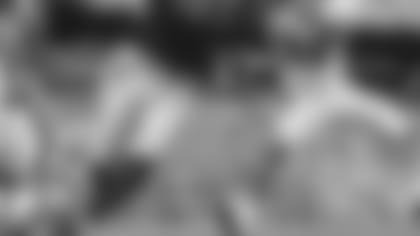 a fearless contributor on Al Everest's special teams units.
Last season alone, Hudson started on five of six special teams units, with field goal team being the lone exception. Under the guidance of Everest, the 49ers special teams units have been among the best in the business.
"I put all that on Al Everest's back," Hudson said. "He's a great coach. Since day one he came in and his standards were to be the No. 1 special teams unit in the NFL and that year we were No. 1. Last year we fell short, but we ended up in the top-10."
According to Hudson, Everest does a great job of "breaking down details of the game in a scientific method where if you really know what you're doing it's hard to be beat."
Hudson also was complimentary when mentioning the subject of his head coach Mike Singletary and what he's brought to the 49ers.
"I give all the respect to coach Singletary for the elevated level he's brought up on this whole organization," Hudson said. "We're expecting to be champions around the clock 24-7. We're expecting to be a great team this year."
With training camp steadily approaching, Hudson can't wait for the season to begin so he and his teammates can begin working towards their goals for the upcoming season.
"The sky is the limit for this team. "We definitely want to win the NFC West and establish that we're a dominant team and a force to be reckoned with. The main goal is getting to the playoffs and the Super Bowl."