In this latest installment of Manny's Law, the 49ers linebacker breaks down the last few weeks of training camp, the first two preseason games and the upcoming exhibition game against the Chicago Bears. Check it out...
It's been camp. I honestly haven't done anything. I haven't done an update in since forever…two preseason games, three weeks plus of camp and 31 practices, and so the only thing I really have to talk about is practice and the joys of training camp!
In my second camp I've just gained more insight into how the game is played, and more of what to look for. I've gotten a considerable amount of playing time in my rookie year that I think will benefit me this year to become more instinctive and better my chances of making big plays out there.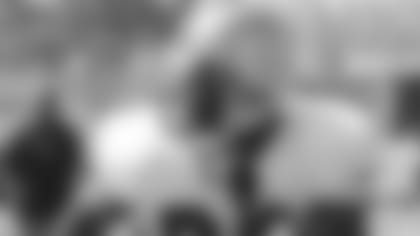 It's been great having all the fans out at practice and hearing them cheering us on. They are not even biased towards one side. They support both sides of the ball, so that's been good. I've signed tons of autographs, and got to interview some of you who came out to practice for my 49ersfaithful.net page. I still don't know how it is that so many of you get out of work, summer camps or school to come to watch us practice, but I do appreciate it.
This dad asked me to sign his baby on Monday. He was holding the baby up like in that movie the Lion King when the monkey holds out Simba. I thought he was just playing, but he really wanted me to sign his son. So, I held his son in one hand about to sign and he looked like he was about to cry. I said "please don't cry," and he listened to me and I signed his shirt. So, there's a baby out there with my name on it.
We've played two games against Denver and the Raiders. I really don't like the preseason because it's so fun to play, and when you get taken out so the next team can come in and get some reps and experience, it's like you are a little kid who is just mad about being left out. Every little kid has had this moment where you can't play or someone won't let you play, and you are just sitting there pouting. That's been that way for me the past two games. It's tough because you have so much fun out there and all you want to do is do what you dream of and for me that's playing football.
To see the rookies getting out there and experience their first taste of the NFL life in an NFL game, I hear the same stories from them that I went through last year. You are supposed to have snot drooling out there, but instead you are looking at your opponent and you really are smiling and grinning, yet set, hike, you go hit someone in the mouth. So, it's just fun to hear everyone's stories because they are pretty similar for us and I know what it meant to me to have my first opportunity last year.
We'll have our first road game later this week. I'm looking forward to getting over there because we've got a former teammate over there – Anthony Adams – a guy I really took to last year so it's going to be good to see him and watch him play and see his antics. It'll be good, and I'm sure he'll make us laugh.
This third game just gives us a chance to go out and show what we can do again. It's not necessarily that we need to prove ourselves to the world, but we need to prove ourselves to each other and since we are the toughest critic around here, that's a challenge. And one we look forward to when we get up to Chicago.
Thank goodness we are playing them in August when it should not be freezing or any snow on the ground and I won't need hand warmers. It could still be windy and a little chilly, so I'll probably still keep the body heat with my Vaseline trick that I use just in case, but I should be good to go. If you see me looking shiny, you'll know why and more important than how I look is that I'll be warm.
I'm looking very forward to Wednesday morning, since that will be the last day we are in the hotel. I don't care how nice a hotel room is, when you are in one long enough, it starts to shrink. The bathroom is just a hop, skip and a jump away and my table is like a footrest at the end of the bed now. I'm telling you it has shrunk since camp started. I'll be very happy to be in a bigger space, my own space.
That's about it for this one.