Manny Lawson continues with his popular column, "Manny's Law," in this latest off-season update. Enjoy catching up with the 49ers linebacker and hearing about his trip home, a large visit from home and the first week of workouts.
It's been a while since I last checked in so I'll try to catch everyone up on the goings on as of late.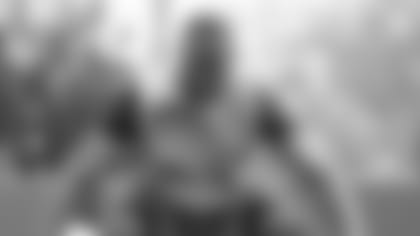 First up, I want to send a shout out to Jesse who sent me a bowling ball. I guess he read my column and decided I really needed a bowling ball. I haven't gotten to use it yet, because I still haven't bowled a 200 and don't feel that I'm worthy. But, I appreciate the gift.
I finally got out of here and took a trip home. I got to see my family and friends and the first thing they noticed is that my neck has gotten bigger. They say I have a fat neck. I guess it means I've gained some muscle which is a good thing because I did want to get stronger this off-season.
My sister didn't actually give me too much lip this trip. Our relationship has maybe matured, although I still say it's a fact that she was adopted.
Me and my boys went bowling back at home. I had to show them that it's not what it used to be and that my bowling skills have improved. I showed out a little bit I'll admit.
I didn't have sweet iced tea which everyone knows I love and miss and can't get out here, but I did go to Bojangles twice in the same day. I had to get my boberry biscuits. It's a blueberry biscuit covered with icing and it's great. Great! It's basically a morning place and a chance to get my day started right.
I brought everyone from back home out here with me… my four roommates, my cousin, and four of my best friends who I grew up from in high school. So yep, nine people who all stayed out my house. I moved all of my furniture out, bought some blow up beds and for the most part it was like Jumanji in my house, as I expected. You had to watch where you would step because there were beds everywhere, luggage everywhere. As far as the sleeping arrangements, women had the beds, yes I gave up my bed too. The men, it was like a Survivor thing. If you fell sleep on a bed or a couch, that's where you got to be, no one would disturb you. So, you kind of had to have a strategy and basically go to sleep before everyone else.
I would have been voted off the Survivor because I was always the last one to go to sleep. I had to sleep in my office across my computer desk in fact.
I took everyone sightseeing. I took them to the Golden Gate Bridge and to Pier 39. I will probably never ever go to Pier 39 again. Let me just say that Seagulls and graham crackers do not mix. My cousin Christoper Dewayne Walker had this great idea to feed the seagulls. I'm thinking it's all fine and dandy. I mean we're looking at seals, getting pictures of Alcatraz, admiring the weather and the breeze, everything is all fine and dandy and willy nilly like I said and all of the sudden something happened. I really didn't notice, but I kind of thought I heard something. I didn't really feel anything but I was thinking I should get under some shelter because there were a lot of seagulls. But then I thought it's a fine day and everything is going to be alright, but lo and behold I look over my right shoulder and I have white excrement on my shoulder. I was wearing one of those wind suits outfit so I just took paper towel and it was all off real quick, but the fact of the matter is that I was got by some seagulls. I really should have been underneath some shelter.
From that experience right there, that will probably be my last trip to Pier 39 and no more sightseeing period. However, we did ride the trolley cars and there was this place where I saw in the window an alligator made out of bread which I thought was cool and stopped to take a picture of.
That was it for the most part. We went bowling here where I completely choked. My mind frame wasn't right because I didn't do as well as I should have. There will be another bowling extravaganza whenever we are around each other again so I can redeem myself because I should not lose so badly, especially on my home turf.
This has been our first week of workouts. It has been great, just seeing the guys back since everyone basically had left me here by myself. I have to give kudos to the new weight room. I like it a lot. But, they really didn't have to kick me out of the weight room to fix it up. They could have just worked right around me.
You would think that given our tough workouts, we might dread them, but we make it fun. We make it a competition and have a good time while we are getting better and so all of that intertwined together makes for a superb workout. Our competition is a variety of things. Some guys like to be first, some guys think their cute. I have to give the cuteness award to my man Vernon Davis. He's always making sure his hair is right in between sets, that he's got enough moisture on his muscles, and that his shirts are tight enough to accentuate those muscles. Then my guy Marcus Hudson likes to wear his red and black goggles. He says that they enhance his vision although I'm not sure there is anything actually wrong with his eyes. But that's him.
The hardest part of the week was when I grouped up with Moran Norris and Brandon Moore to lift weights. I think they really do eat weights. It's insane how much they lift. I was working out with them and they were talking about numbers that I was finishing with that they start off with. It's simmering my ego a little bit. I'm still cuter, but they are bigger me.
I'm heading to Tahoe for the 49ers celebrity ski event this weekend. I've really gotten got. I got volunteered to drive Brandon Moore and Marques Douglas which I thought was cool. But I just received the directions and found out that it's 220 miles and three hours and 36 minutes. I didn't know it was going to be that long of a road. I was straight up bamboozled. That is wrong. It's going to be an upset drive. I'm not playing the radio and I won't talk.
I'll let you know how it goes.