49ers linebacker Manny Lawson updates his online column, Manny's Law, this week to update the fans on his first week of OTAs. Check it out.
OTAs went well this week. Basically, it's learning for everyone right now. The new guys are still getting everything down and then it's a refresher really for guys who have been here. In a way everything we're doing is new, but in a way it's not, if that makes sense at all. Basically there have been changes to everything that we once did defensively, but still it seems to only make a few people's jobs differently.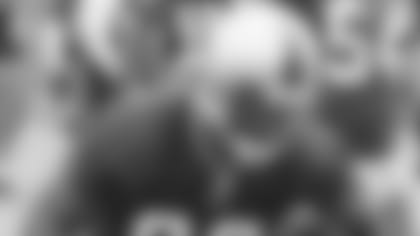 For instance, with me, I get to rush more. That's it in a nutshell, and of course I'm excited about that, very, very, very exicted about that.
I'm using this time to just continue working on my vision and getting proper technique down, and it's been a lot of fun.
Seeing Melvin get hurt though, that one was tough. He really stepped up a lot last year and showed he could make plays and be dependable. That's one less playmaker we'll have this year. You always want to see guys in your rookie class do well, and I feel that our group from last year is very close knit and we always hang out together and we want to see each other succeed. So, it's tough now to see one that one of us will not be able to have the kind of success this season. But, I know Melvin will keep working hard and eventually will be part of what we are doing out on the field.
On Thursday we went bowling as an official team building event after our OTA practice. I had a lot of fun seeing guys I haven't normally seen bowl. As most of you know, some of us tend to bowl all the time.
Some guys, like Parys Haralson, who doesn't touch a bowling ball ever but yet still swears he can beat everyone, came only for the pizza. Many guys came for one reason or the other and it was really good to see the guys outside of the facility in regular street clothes without a helmet on. My game personally wasn't up to par. I averaged maybe 160, but I still had fun.
We had teams of four and I just knew that my team was going to win being that I had first pick and I picked the guy who won bowling MVP last year at this thing, Keith Lewis. Since I consider myself a decent bowler and then I had Zak Herold, who was also pretty good that we'd win. Frank Gore was also on our team and not only can he run over guys in his way out on the field, he also isn't too bad for knocking over some pins, particularly because he doesn't ever bowl. My team didn't win though in the end. Roderick Green's team won both games.
In addition to the overall score of your team, a lot of us still had personal battles going on. Frank and Moran Norris had a vendetta going. I think Keith was just trying to get the highest score overall, and I felt the same. Zak was quiet and didn't get caught up with any of these little battles.
I still don't know where Marcus Hudson was yesterday. I can't believe he didn't come bowl, especially when I carried his bowling ball in there.
I think we are going again today. Taylor Jacobs asked me if I was feeling froggy, which means if you are feeling froggy, then jump, you know make a move and go bowling. So as always, I'm feeling froggy. We've got all weekend though so I'll go whenever he's ready. He can pick the time and place.
Now, I'd like to talk about why I got my new phone and also about my microwave. But, those are subjects I'm going to hit in my blog on 49ersfaithful.net, so check it out.