The 49ers aren't looking beyond this Sunday's matchup and neither are their opponents.
Both the 49ers and Jacksonville Jaguars come into the game looking to keep their playoff hopes alive, and while the 49ers have gone 1-2 in recent weeks, the Jaguars have put together a perfect 3-0 run.
But that doesn't mean Jacksonville is coming into the game overconfident.
"We're doing something right now, but we understand we have a tough task against the Niners," Jacksonville running back Maurice Jones-Drew said in a conference call with the Bay Area media. "We've got to live for this moment. We can't be looking ahead or at what we did in the past. It's about what we can do this week to help us improve and come out of the West Coast with a victory."
Though in a different situation, the 49ers feel the same way. A 4-6 record has made the team narrow its focus on what's really most important – their next game.
"The later it gets in the season, and when you are in November and December they are all important," head coach Mike Singletary said. "The guys know how important it is; the coaches know how important it is. It is just a matter of getting out here and putting all three phases together – offense, defense and special teams."
The 49ers recent struggles can't be attributed to poor practice habits according to several players in the locker room and the head man himself.
"The guys are working hard; they are doing everything you ask them to do," Singletary said. "We just have to eliminate some of the little things that come up at the worst opportune time in the game."
A 49ers victory would hinge largely on the team's run defense against Jones-Drew. The unit has allowed 3.51 yards per attempt this season while facing some of the league's elite running backs.
It will be the first time the former De La Salle High School product ('99-'02) has played an NFL game in the Bay Area. And it will be Jones-Drew's first visit to Candlestick Park since he was honored at halftime of a 2002 playoff game with the rest of his Spartan teammates, who had been a part of the school's national record of 151 consecutive wins.
Although he hasn't played in his old stomping grounds in quite some time, Jones-Drew should certainly feel at home. The Antioch native expects to have close to a thousand fans in attendance.
But there's only one small problem according to Jones-Drew, most of them are fans of the home team.
But in order to impede the Jaguars offense, the 49ers understand that using their same practice habits all week will be essential in stopping Jones-Drew.
"I think we have to translate what we do on the practice field into the game from a mental standpoint. I don't worry about another team being more physical than us," linebacker Takeo Spikes said of the key in stopping Jacksonville's offense. "I just don't see that happening. What we are going through is all mental."
Spikes will have to overcome his own mental hurdles as he tries to return from a hamstring injury that kept him out of the Green Bay game. Spikes will be a game time decision according to Singletary.
But the inside linebacker is optimistic that he will be out there on Sunday.
"I'm better, better than I was yesterday," he said. "I'm very optimistic, the same way I was last week. It will pretty much be a game time decision again. I can run. It's just day-to-day seeing how it's going to be."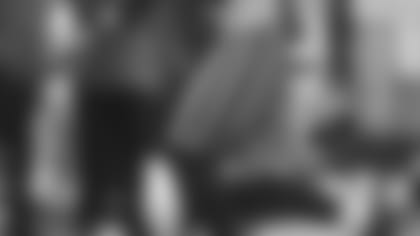 If Spikes is unable to go, veteran linebacker Matt Wilhelm will again take his spot.
Another possible change Singletary hinted at would be inserting cornerback Dre' Bly into the starting lineup for Tarell Brown, who suffered a left knee contusion against the Packers.
Singletary said the change was "possible."
Asked for his thoughts on the potential change, Brown said he would do whatever the coaching staff asked of him.
"At the end of the day we all just want to win," Brown said. "The most important thing is for us to get a 'W.' I'm not a selfish guy, so if that's what the coaches choose to do I'm all for it. I have to play my role. If the coaches ask me to do a certain thing – I'm going to do it to the best of my ability."
But the running back is not the only Jacksonville player with a hyphenated last name that's having success this season.
Wide receiver Mike Sims-Walker leads the team in catches, yards and touchdown receptions all while establishing himself as their No. 1 passing target.
"Sims-Walker seems to be their go-to guy," cornerback Dre' Bly said. "He seems to be explosive in what they like to do."
On the other side of the ball – the emphasis is on two words and two words only.
And no, they're not 'shotgun' and 'spread.'
"This week especially, I think the biggest thing that we can look for as an offense is to have consistency and execution," center Eric Heitmann said. "Every play that we run has to be effective for us on first and second down."
In a three-touchdown, second half performance last week, the 49ers offense established they are never out of any game no matter the point differential. But the unit looks to create explosive plays earlier in the game.
"Last week showed us that we need to be explosive all of the time," wide receiver Josh Morgan said. "We need to do it all of the time. We need to come out and attack people all of the time, no matter what formation."
Taking that thought into everything they do this week, the 49ers are attacking their preparation for Jacksonville with the utmost seriousness. For the second week in a row, the offense will face a hybrid defense that presents multiple challenges.
"They are similar to a couple of the teams that we've played in the sense that they have 3-4 personnel going in and out of running the 3-4 and then 4 down," quarterback Alex Smith said. "Then you're going to get different looks up front, so you definitely have to be sharp with the protection and the run game and where we're going."
Smith's not concerned with Jacksonville's league-low 10 sacks, insisting the numbers will not change his preparation.
"That's not something that I particularly look at," Smith said. "I think that it's more when you look that personnel, if you play a team with a defensive end that's really causing a lot of problems is that something that you maybe have to adjust your game plan to. My job is to get out there and disperse the ball. You have to adjust to pressure and things they do like that. I'm not really thinking about d-linemen."
The ones who will be, the offensive line, have much respect for the Jaguars defensive front.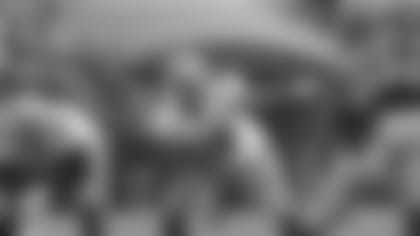 "I think that our biggest concern on the offensive line is their defensive tackle John Henderson," Heitmann said. "He's just a really big body and he moves very well for a guy who's 6-7, 335. He's definitely a guy who we've got to account for and that we have to stop in the running game. We can't let him get penetration and move us back from the line."
In all aspects of the 49ers-Jaguars tilt, the focus for both sides has to be on the task at hand and not the big picture.
"When you are in a situation where you put yourself in a hole, sometimes you get your back up against the wall and you kind of start looking around then, 'Hey you know what? It's all in front of us,'" Singletary said. "We have to settle down, continue to work on our technique, continue to do all the little things that we have to do because it is more about us than it is about anybody else we have played or are playing."