Anthony Davis and Mike Iupati weren't the only ones living out their dreams on Friday.
Mark Castanon, 49ers.com's Draft Day Contest winner (pictured right) also had a day he'll always remember.
In being the first ever winner of the team's online contest, the Faithful fan was selected from over 7,600 entries. Castanon has been a season ticket holder of the 49ers since 2003 and jumped on the opportunity to spend the day with 49ers staff, touring the football facilities, prior to the second round of the 2010 NFL Draft.
"We wanted to do something that was exclusive and unique, quite frankly, something no other team has done before," said 49ers Vice President of Marketing Michael Williams. "We put a contest online for all fans to give them an opportunity to have a VIP experience."
Castanon, a San Jose native and frequent visitor to 49ers.com, jumped on the chance to experience a once in a lifetime opportunity at 49ers headquarters.
"I saw the little box to enter the draft contest, followed the clicks and put my name in," Castanon said. "When they informed me I had won, I don't know how many times I just said, 'Wow!' I was speechless!"
Castanon wasn't the only one short of words, his neighbor, Eric Klein came along for the ride as Castanon's guest and was equally amazed.
"I'm riding shotgun to be honest. Mark entered the contest, but I'm always on 49ers.com," Klein said upon arriving at 49ers headquarters. "This is awesome. I've been a season-ticket holder for a decade plus. I go to the draft parties; I go to training camp practices when I can and this is just an experience I haven't had before."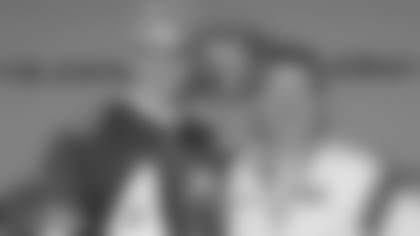 Castanon and Klein were provided exclusive VIP treatment at the 49ers headquarters in Santa Clara that no fan has ever been a part of before.
The contest winners took a tour of the building that included a stop at the 49ers trophy case to take pictures with all five Super Bowl trophies, lunch at the new 49ers Café and a look inside the team locker room and weight room.
In addition, the two sat in on Head Coach Mike Singletary's press conference introducing Davis and Iupati. They also received merchandise including a personalized 49ers jersey and bags loaded with VIP 49ers gear and more.
"My expectations were exceeded by far," Castanon said. "To have this opportunity to see the inside of the 49ers organization, to see the inside of the building, and how the management treats the players and the fans – it was incredible."
After such an experience, Klein vowed to be the one who wins the next 49ers.com contest.
"You have to sign up to get into these things," Klein said with a smile. "I might encourage people to not sign up so I can win again next year. But by the same token, you have to go for it because this is a once in a lifetime experience."