MOBILE, Ala. – Size matters to NFL scouts and coaches. But what does it mean to West Virginia running back Noel Devine? Not a whole lot.
Frankly, he's been hearing about it all his life and in turn, making non-believers into believers every step of the way.
Devine hopes to do it again with a solid week of practice in Mobile at the 2011 Senior Bowl.
The shifty running back was listed at 5-foot-8, 180 pounds, but after walking on stage at Monday's weigh-in, it was revealed that Devine is actually an inch shorter and 20 pounds lighter than his original numbers.
But with the undersized speedster figuring to be one of the most versatile runners available in the 2011 NFL Draft, he's not as concerned with measurements as he is with his game tape.
For Devine, performing at a high level has always been a constant, and that's what he plans on showing the scouts and coaches this week.
"That's pretty much what it comes down to," he said flashing a smile Monday night at Senior Bowl media night. "Game film doesn't lie and I've been playing since I was 12."
The game film he complied during four years at West Virginia is impressive; Devine proved week after week that he was among the quickest and most elusive players in college. So while weight might be an issue in the early stages of the young running back's career, in his estimation, play-making ability is not.
Devine led his team in rushing the past three seasons. In his career, he rushed for 4,317 yards and 29 touchdowns on 729 carries. But after running for more than 1,280 yards as a sophomore and junior, Devine posted 936 rushing yards and six touchdowns in his final season as a Mountaineer.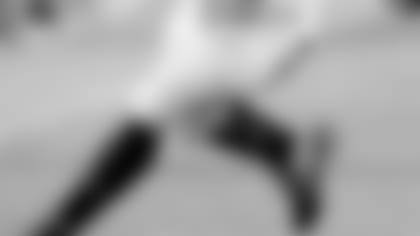 However, Devine did strengthen another area of his game, hauling in a career-high 34 receptions for 258 yards with one receiving touchdown in 2010.
But after a disappointing loss in the Champs Sports Bowl, Devine is happy to be back on a football field, showcasing his wide range of skills.
"It's great to see where you stand amongst some of the best athletes here," he said. "It's good to have the opportunity to be here. I'm going to enjoy it."
Devine said his anxiousness and excitement went to the wayside once his first practice got underway. He expects to be more relaxed throughout the week.
As for his long-term goals, Devine is happy to play whatever role is needed of him in the NFL, whether it's as an every-down back or as a hybrid player who returns kicks as well.
"I'm pretty much open to whatever they have to offer me," he said. "I'm focused on first getting my feet wet, then just work my way in wherever that might be, punt return, kick return or whatever. Just getting in the door would be a blessing, then I'll go from there."
Devine hopes to follow in the footsteps of another versatile great, his godfather and 2011 Pro Football Hall of Fame finalist Deion Sanders. The two have a close relationship as the former 49ers defensive back has been a mentor to Devine.
After losing both parents at a young age, Sanders gave advice and guidance to Devine, a standout at his alma mater, Fort Myers High School.
"It's great to have someone with the status of him being a godfather and a mentor to me," Devine said. "He's someone who is a great mentor and lives his daily life right and walks in the right footsteps."
But in order for Devine to follow Sanders' path, he'll have to continue answering questions about his size.
That's fine with Devine, who's focused on doing two things the rest of the way until draft day:
"Be me," he said, "and continue to get great every day."