With more than a season and a half of experience under his belt, Jason Hill believes he's gained the confidence necessary to be a successful wide receiver in the National Football League.
The reasons behind the second-season emergence for the slot receiver vary:
-The birth of his of son this off-season had a lot to do with his maturation.
-The injury to starting slot receiver Arnaz Battle week eight against the Seattle Seahawks opened
the door for more playing time.
-The addition of veteran wide receiver Isaac Bruce has given him a future Hall of Fame wide receiver to emulate on and off the field.
-The tutelage of wide receiver coach Jerry Sullivan has helped him become better at the technical aspects of playing wide receiver.
But perhaps the biggest influence of all, the maturity that comes along with understanding how to be a successful professional athlete.
The 49ers third-round pick of the 2007 NFL Draft was hampered by groin and hamstring injuries and by the end of his first season, Hill's stat line was as follows: five games played, one catch, six yards.
While growing up in the Bay Area, Hill attended 49ers games at Candlestick Park to catch a glimpse of his favorite 49ers wide receivers, Jerry Rice, John Taylor and Terrell Owens, often dreaming about what he would do one day. Those high aspirations of following in the footsteps of greatness made his injury-filled rookie campaign even that more frustrating for the Sacred Heart Cathedral star athlete.
But those days seem like they were an eternity ago for the 23-year old receiver, who has blossomed into a reliable target for 49ers quarterback Shaun Hill. After being held without a reception in the first seven games of the season, Hill has 22 catches for 269 yards and a touchdown in the last six, since filling in for Battle.
The speedy wideout's improvement hasn't gone unnoticed around the team facility.
"The one thing that has happened to him is that he's gained a lot of confidence in himself and his ability to perform at this level," Coach Sullivan said of his pupil. "He's just a different guy than he was a year ago."
Last season, Hill said he wasn't in a rush to study the playbook, because his role was primarily on special teams as a gunner. But now that he's learned how much extra work is needed to succeed in the NFL, Hill has become glued to his couch watching game film and flipping through the challenging playbook of 49ers offensive coordinator Mike Martz.
"I think that's what I've gotten better at, just trying to get better every day," Hill said. "When I go home I'll pop on the film or look at the book. Last year I wouldn't do that as much. Maybe because my role wasn't as big, but now I go home and I look at the plays. I come in and ask questions and even on things I think I might know the answer to, I'll make sure to ask. And I think that's helping a lot."
In the offseason, Hill experienced the arrival of his first-born son. While his seventh-month old is completely unaware of his father's occupation, Hill likes to believe that his son has played a part in his play on the field.
"I've grown up a lot," he said. "I had a son and that kind of matured me. Just the trials and tribulations of being a first-year NFL player have matured me."
Hill also experienced another football first. As a player heading into his second year, Hill no longer had Combine training to worry about. Instead he focused on getting his groin healthy so that he would be ready for the start of the 49ers 16-week off-season strength and conditioning program, something that as a rookie, he was only able to participate in for a few weeks.
"This offseason, I spent it here instead of leaving. I spent it here in the training room, five days a week, so I was ready to get to work," he said.
Because of his enhanced work ethic, it was only a matter of time before Hill was able to make an impact offensively in a game. And once Battle went down with a foot sprain against the Seahawks, his patience was rewarded.
"Coming into my second year I just wanted to explode on the scene any way that I could," Hill said. "You never want to see a guy get hurt, but when Arnaz went down, it was about me keeping the ball rolling forward, taking five steps forward and zero steps back."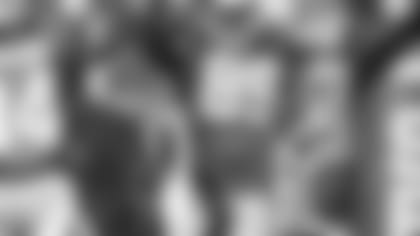 In the game in which he saw his most significant playing time, Hill caught his first career touchdown pass in the same stadium he used to attend games as a kid.
"It was great. I had my mom and family members in the stands," he said. "It was great having it at the 'Stick, the place I grew up watching all of those great receivers. I kept the ball, and soon will be framing that one. That's a memory I'll never forget."
Hill enjoyed another unforgettable moment with one of those 49ers greats this offseason, when he and a group of people had a dinner with Jerry Rice in Ft. Lauderdale, Florida.
"We got to sit down, talk to him and pick his brain. It was pretty cool," Hill said.
As for the best advice he received from the greatest wideout of all-time.
"Be you. Just be you," Hill said.
Hill believed the conversation was particularly meaningful because of the similar experiences he and Rice endured in their rookie seasons.
"He told me about his rookie season and how he dropped a lot of balls, people were wondering if they should have picked him," Hill said. "I kind of look at my rookie year like that. Maybe there was doubt upstairs, but you always have to keep that faith in yourself and be you. They wouldn't have picked me if they didn't believe in me and now it's starting to come to life."
The first season struggles didn't seem too big of a hurdle for Hill to climb. Adversity was something Hill was familiar with at a young age. The San Francisco native went to public schools for most of his life, until he attended Sacred Heart, a private high school. While he excelled as a two-sport athlete in football and basketball, Hill's fondest recollection was of his graduation day.
"My best memory from high school was just graduating, making it through school," he said. "A lot of guys don't even graduate high school from my area, let alone a private school like that. I grew up a lot by going there and I was able to go to college."
When it came time to make the decision on where to go to college, the quiet atmosphere at Pullman, Washington appealed to him.
"Coming from Sacred Heart, it's a small, intimate place. I was looking for something different coming from the hustle and bustle of San Francisco, I wanted something different. Pullman definitely gave me something different," he said.
In college, Hill broke the school record for most touchdown catches (32) and receiving yards (2,704). But it was a game that he played back in the Bay Area, which stood out the most to him.
"When we played Cal down here, I had about 50 people in the stands and I had like eight or nine catches for 250-something yards, three touchdowns," Hill said. "It was good to play in front of my family. That was the last game my uncle got to see me play, he passed soon after. It was great to get my family to the game and everybody was there."
Hill was pleased that he had such a show of support, but he missed one particular member of his family that day.
"Everybody was there except my dad. My dad past away my freshman year, so he didn't get to see much of me actually doing well," Hill said.
While his father and uncle weren't around to see how his career ended with the Cougars, Hill is pleased that his name is amongst the record holders at Washington State.
"It means a lot because that's what my dad and uncle always used to tell me, 'Be a record-breaker,'" Hill said.
In college, Hill was able to follow the advice set forth by his relatives. Now that he's at the league level, he's trying to learn from his elder teammates with the 49ers.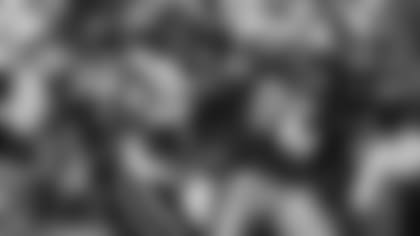 When the 49ers signed Bruce this offseason, Hill made it a priority to pay close attention to the future Hall of Famer, asking questions and picking up any nuances from the wide receiver that he could.
"He's a work horse," Hill said of Bruce. "He does everything off the field that he does on the field. We all know on the field that he does great things and he's one of the best ever. But off the field, if there was a Hall of Fame for off the field, he should be in that too."
Hill said he's also paid close attention to how Bruce keeps his body in top shape, with frequent visits to a chiropractor. He thought if it works for Bruce, why not try it.
"The doctor helps me with my groin and hamstring and helps me get better. I'm trying to see him three times a week now. If Isaac's doing two, I need to do three," Hill joked.
In addition to his meeting with Rice in the offseason and the tips he's picked up while playing with Bruce, Hill credits his wide receiver coach for strengthening his game.
"He's always telling me to just to keep pushing on," Hill said of Sullivan's teachings. "Things aren't always going to go right, but you have to make them go right. They're not going to go right for the sake of going right, there are things you have to do to make it go right. Coach Sullivan stays on me about that. Being smart, playing fast, playing strong, playing smart and having fun and never losing sight of that."
With the lessons of Rice, Bruce and Sullivan in his mind, and the motivation to succeed for his family in place, Hill is certainly comfortable with where he is in life.
"Now I'm just living the dream, having fun and I'm blessed."