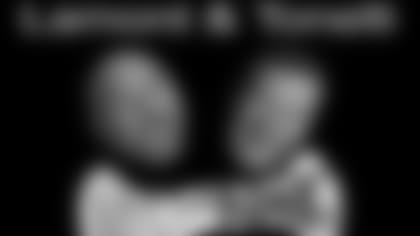 Lamont and Tonelli, our favorite radio morning host on The Bone AND the pregame hosts for all 49ers home games checks in from Radio Row at the Super Bowl in Arizona.**
Well, our week really got off with a bang at Media Day. Lamont & I put a hot dog in Sully's bag so the bomb sniffing dogs would stop him. The dog, a female, squatted and peed right on Sully's bag which we thought was absolutely hilarious. Sully is still bent about it, but we found it extremely amusing, as did Holly Robinson-Peete. She came on the radio with us and told us it was the funniest thing she'd ever heard.
Sully took out his frustration by upsetting others. He asked Michael Strahan if he flosses his teeth with shoelaces, but actually, it didn't bother him. He had no problem talking about the gap in his teeth and said it's his trademark.
He also asked Tom Brady if it's true that he used to steal his sister's friends panties during sleepovers. He didn't really cop to it, but he didn't deny it either which we took as a confirmation.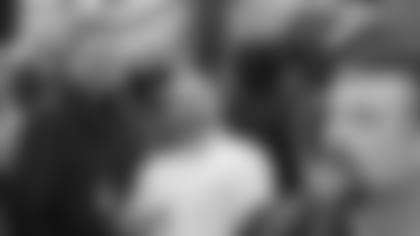 So we camped out all day on Radio Row over here at the media center, located in the downtown Phoenix Convention Center and basically spent the day getting big timed. Kurt Warner wanted nothing to do with us. We have a great location right next to the NFL Network, so at least we get to see some guys walk by us as they go to their set like Archie Manning, Tony Gonzalez, Mike Ditka, Michael Irvin, Barry Sanders, Adrian Peterson, LaDainian Tomlinson, Barry Sanders and Warrick Dunn – with a HUGE entourage.
We did talk to Romo and Chris Rose from the Best Damn Sports Show. Rose was great. I didn't realize he got his start in arena football. Brandon Lloyd, a former 49er, came on with us and talked about the Redskins some. We also played his new rap tune, which is kind of a rock/funk/rap fusion.
Joe Theisman came on with us and as usual we talked about his health and his prostate. We also talked to Rich Eisen and Matt Hasselbeck. They just mostly carried on between the two of themselves and it was outstanding. We also learned that Eisen got started in Chico, who knew?
We also had Kellen Winslow on, and he talked about their playoff game against Miami when he cramped up all the way from his ankles to his rear end, and had to be carried off the field. It was extremely amusing. Chargers defensive lineman Igor Olshansky was pushing his new Igor Mega Bar. It's not bad actually.
And that's been our Super Bowl experience so far!