107.7 The Bone's Lamont & Tonelli and "Super Producer Sully" have been heard on Bay Area morning radio for nearly two decades. As hosts of the 49ers pregame show, 49ers.com has invited them to share their thoughts here with our web viewing audience in their Go Deep column. This week they check in after an exciting time Miami, Florida where they were set up for the Super Bowl festivities!
We had a fantastic time at Super Bowl week in Miami, Florida!
We had on a bunch of guests, and it's hard remembering them all when most of the time we were beat. A very memorable interview though was when Lennox Lewis came on earlier in the week. We tested his wing span and we almost got hit in the face. We thought we had stepped back enough but his arms are amazingly long!
From the 49ers, we had on Alex Smith and Frank Gore - at the same time. We asked Alex about the plasma televisions he gave the offensive line for Christmas, and that got him in trouble with Frank who wanted to know why he didn't get one too, since he blocks the blitz often for Alex. He did give Frank a pretty sweet watch though!
Then later we asked Vernon what he got and he was fired up too since he also feels like he helps out in the blocking game. Needless to say, we may have created some problems for Alex!
One of the highlights of the week was when Super Producer Sully got escorted out of the Billy Joel press conference and then was banned from the Prince press conference they had in the media center. I think they've had it out for him since he asked Paul McCartney if he was going to play his new sucky music or stick with his old stuff. He got ticked.
At any rate, you were only allowed to ask one question and they were letting people line up on both sides of the room at two microphones. So, we instructed Sully to instead of waiting for them to go to the other microphone to lean back like he was done, but then all of the sudden shoot forward and talk in the microphone. So he did this a few times to Billy Joel and finally he said Sully was asking too many questions and they came and kicked him out.
So, Sully missed out on Prince, who was awesome. They had told us he wouldn't be answering any questions, but he gets up there and says contrary to that, he will take a question. Someone asked him how he felt about performing at the Super Bowl and he deeked the crowd because he just slammed a chord on his guitar and then started jamming.
During Tuesday's Media Day, Sully managed to avoid a repeat of last year when his questions to Joey Porter almost got him pulverized. This year we had him asking some of the Bears players who had the biggest Johnson on the team. That got a lot of laughs, and a variety of answers.
Joe Namath also came on the show and Sully asked him if he could give him a kiss and he snuck in one on his cheek. When the show ended, Namath kissed him back! He was a great sport about it. We asked Namath what he thought about this whole scandal back in San Francisco with Mayor Gavin Newsome. He said he has one rule and that's if the other person is married or engaged, he steers clear. He said it was a matter of protecting his health!
Outside of the media center, we of course managed to have some fun. We made it over to Joe's Stone Crabs restaurant early in the week before the big crowds started rolling in because apparently it's virtually impossible to get in there most weekends. The crabs were fantastic, but man, they were a lot of work.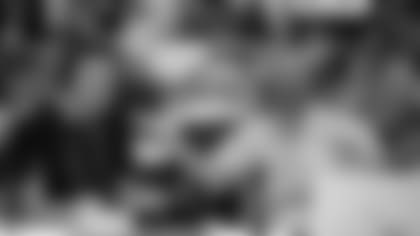 We stayed at our friend's place in South Beach. It's absolutely spectacular, the balcony was 800 square feet in itself. It's owned by our good buddy, Doctor Gary Kwish, and he gave us exclusive use of it for two days. As you may recall from a year ago, we were looking forward to this because Jennifer Lopez lives next door. We didn't have any sightings of her, but she was supposedly in town. The good Doctor came in with his posse so we then moved over to the Sheraton, which was not bad either. Coach Nolan was just down the hall from us, and when we had him on the show he was complaining about the noise which coincidentally was more than likely us!
When Nolan was on, we also had Frank Caliendo on the show. He's a famous comedian and so he did John Madden and interviewed Coach. It just blew Nolan away. He was laughing so hard he couldn't even talk. It was really fantastic.
We also had Frank Gore's agent on, but all Drew Rosenhaus wanted to talk about was the Burger King guy he was pubbing. It was kind of a pointless interview. Former 49ers offensive lineman Kevin Gogan stopped by, and we also talked to Steve Mariucci who said he is moving back to Los Gatos. Jerry Rice was two booths over on SIRIUS radio most of the week, but he didn't have time to stop by our show.
All in all it was a great week in Miami, much warmer than Detroit and we hoped some of you listened to the show. If so, you'll enjoy our bets on the game. Let's just say it involved wearing each other's dirty underwear…