49ers.com caught up with Brandon Tam, 49ers graphic designer and creator of Joe Staley's career-encapsulating tribute seen in the 2020 State of the Franchise. Tam is a lifelong 49ers fans from South San Francisco and joined the 49ers graphic design team in January of 2020.
What was your overall inspiration behind Joe Staley's tribute piece?
My inspiration was Joe, himself. I wanted to pay tribute to him and pay homage to his career, as well as him as a player and a person and how he carries himself. That helped design itself. I wanted to create something that was serious but still fun – kind of mimicking Joe himself and his personality.
How did the idea of this illustration come about? Were you tasked with creating something for his retirement?
It was a funny story because when Joe retired, we had all these cool videos and highlights. I wanted to pay tribute in my own way, and my way is through illustration and design. The idea came up when Joe retired, and my managers (49ers art director) Aaron Llavore and (49ers manager of graphic design) Christine Zambetti were cool enough to let me go on with this idea that I had my head. So, shoutout to them. When I started sketching, I wanted Joe to be looking at his career and let everything sink in. He's had a Hall of Fame career, so it was hard putting everything into one image because I wanted to include photos as well as quotes from people that were a part of his career to build a full story. But looking through everything that he's done, it almost designed itself.
How long did this piece take you from start to finish?
First, I want to thank my creative team as well as Keiana Martin because they helped me with finding photos, quotes and videos from various teammates. So, thank you to those guys for that. That slimmed down the time a little bit but it took about like a week and a half of drawing and finding those quotes while writing them in and fitting them all in there. This project was a nice trip down memory lane from the past 13 years.
Speaking of the quotes, was there a specific quote that stood out to you as you were creating this piece?
It wasn't really one specific quote. But one of the guys that did say things that stood out to me was George Kittle's video tribute to Joe. I thought that was very touching. Another guy that stood out to me was Mike McGlinchey. In his interview following Staley's retirement announcement, Mike discussed how he looked up to Joe in high school and college and then to be able to play alongside him and learn from him firsthand – someone that he looked up to all these years, I thought was very cool. It just shows the type of person that Joe was.
What was your reaction to seeing Joe's reaction to seeing his illustration for the first time?
That was unreal. I think Joe's been on the 49ers for the majority my own life. I'm 22 and he's been on the team for 13 seasons. So, to have him react in the way he did for something I created – I think that was so cool. I can't really put into words how I felt because I was just watching it like, "Is this real? Does he really like it?" I was in disbelief.
How do you hope this illustration is received by the Faithful? What do you hope they take away from it when they see it?
Being a fan myself, I try to create things that I would think are really cool and meaningful as a fan. For them to react, I would want them to like it first off. I think it would be really cool for everyone to like it and appreciate it. I'd want them to be drawn in by the different quotes and be able to recall their own favorite memories of Joe Staley. I think that's the point. Everyone has such great memories of him. It says a lot about the person and the player that he is.
Do you have your own personal favorite memory of Joe Staley?
My favorite Joe memory of all time would be the Alex Smith touchdown run during the 2011 NFC divisional game against the New Orleans Saints. I think I was nine at the time and I remember that run and just having Joe bulldoze his way for Alex to get into the end zone. I thought that was so crazy. I was already a Niner fan but that solidified that nine-year-old to be one of the Faithful for life.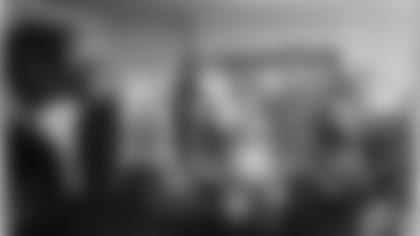 What makes you proud of this tribute to Joe?
It's kind of crazy because I just thought this project would be an Instagram post and that was it. Just one post. But everyone liked it so much that they wanted to make this a bigger thing, which I was in shock for that too. I was like, "something I made, you want to make a canvas out of and give it to Joe and potentially have it also live in the stadium?" To have a version hanging at Levi's® Stadium and to be apart of 49ers history forever is humbling. I grew up 10 minutes from Candlestick Park. My first ever game at Levi's was my first week on the job. To be a kid that was never afforded the opportunity to go to games at Levi's, to now having something I created as part of 49ers history means a lot, as an artist and as a 49ers fan.
How long have you been involved in graphic design?
I started graphic design my senior year of high school. I've always liked drawing, but then I picked up graphic design when a friend taught me how just as a hobby. At the time, the Golden State Warriors were doing really well, so I wanted to create a Warriors shirt when they won the 2015 NBA Finals. Ever since then, I just really loved it and couldn't stop designing. As a kid, I loved sports and I loved drawing. I never thought I would be able to have a career in both. Now, I'm here with the San Francisco 49ers and I get to do both drawing and design so it's pretty cool.
How do you describe your style of design?
My late design professor Michael Stinson emphasized one word in latin : A Fortiori, latin for "with great reason." I try to do that with whatever I create, no matter how big or small, to the best of my ability. Design, to me, is a way of visual storytelling. Meanings and intricacies in a design create visual interest. I hope to create pieces that not just "look cool" but to have meaning and purpose. I want to tell a story through my designs and illustrations, narrating a viewers eyes through a canvas and keep them intrigued - to have them find something new every time they look at it. In this instance, seeing Joe throughout the years.
Last thing I just want to say, I hope you like it Joe and I hope the Faithful like it as well. And I want to thank Joe for 13 great seasons in red and gold.