It's not out of the norm for the team to get together outside of football. You may have heard of some of the guys' personal renditions of the Backstreet Boys during uproarious karaoke outings. Or perhaps lavish steak dinners followed by a fateful round of credit card roulette. A more "common" get-together prior to the state-wide social distancing mandate happened to be trips to watch the neighboring San Jose Sharks at the SAP Center, just eight miles south of Levi's® Stadium.
Typically in April, teams around the league, including members of the 49ers are assembling for the start of offseason workouts. While in Santa Clara, some evenings are spent as a "guys night out", often organized by San Francisco's longest-tenured veteran, Joe Staley. There's little talk about football. It's about letting loose and building camaraderie among teammates. It was one of the first outings by San Francisco's offensive line after the 49ers traded for quarterback Jimmy Garoppolo back in Oct. 2017. But what made that exact outing different than the others was the inclusion of a very special guest who could talk-the-talk and shoot the breeze with the best of them – five-year-old Grace Staley.
Aside from being the eldest daughter of the veteran tackle, she also happens to be Staley's very own sidekick. Just ask Joe's wife Carrie.
Carrie and Joe met in 2009 when both happened to be in the right place at the right time. While having dinner with a former teammate, the 49ers third-year tackle at the time was introduced to the former professional soccer player, who happened to be seated just adjacent from him. The two wed in January of 2014 and several months later welcomed their first of two children, Grace. Their second daughter, Audrey, was born three years later in April of 2017.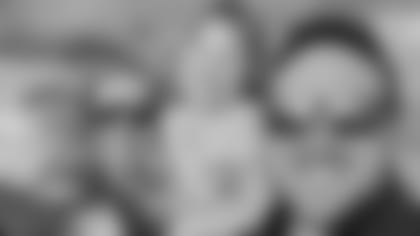 But when you meet the 6-foot-5, 295-pound tackle, you're immediately captivated by his convivial personality. Staley is a jokester. You can't take yourself too seriously around him. He is known for his oft-dished sarcasm that effortlessly lightens up a room. He's lively and voluble but also can also be the "tough guy" when necessary. Contrarily, this is the same "Joe Staley" who admits to "bawling" his eyes out during the birth of his daughters. He's also the same guy to belt out just about every known Disney tune in perfect inflection and key.
With Staley, what you see is what you get. There's no gimmick. The same goes for home. Just as he possessed several roles in the 49ers locker room, the same rules apply when it comes to life at the Staley residence.
"She's a little Joey, for sure" Carrie Staley
"He has all his different 'Dad' qualities," Carrie said. "He's like the wild dad who gets home from work and gets them super jacked up right before bedtime. And he's got the dad voice which is the big scare tactic, which no kid wants to hear. Then there are times when he talks to the kids like they're grown-ups and gives them an explanation that you'd give to a grown-up. I don't know how he does it because I'm exhausted from being home and he never lets his show and it's really special to see him and the kids and how close they all are."
As the oldest of the two, Grace latched on to Joe's personality – Which if you ask Carrie, she is an exact replica of her father. Grace is the athletic, outgoing wild child, while Audrey takes after her mother, calm and mild-mannered. Both daughters possess two varying personalities. According to Joe, three-year old Audrey is "Mama's girl." And well, Grace is Joe. All the way.
"She's a little Joey, for sure," Carrie said.
The two spend plenty of Daddy-daughter time together. Joe made it a priority to take the girls to school during his off days. Much of his offseasons were spent as a family at the Staley's home in San Diego, which includes an "adult-kid area" featuring a playground, sandbox, a turf field and a 1,500 square foot custom built bar for much needed "grown up time." This fun zone regularly hosts get-togethers for family and friends. While the football field may be Joe's realm, his custom designed space is his element. This is where "Joe the NFL player" and "Joe the dad" differ – especially when little ones are in tow.
The rest of the night he was just the nicest guy in the world... he's just 'Joe-dad.' Jimmy Garoppolo
"I only knew Joe as the football player," Garoppolo said. "We pulled up to that Sharks game and it was him and Grace. They walked over and Joe was like 'Hey, Jimmy. How are you? It's great to see you. How's your day going?' as proper as I've ever heard him. I was like 'what the heck is going on here?' And then the rest of the night he was just the nicest guy in the world. I mean, not saying he's not nice all the time, but he's just 'Joe-dad.'"
At the 49ers team facility, that was his time to work. Of course, there's always time for Joe to slide in a joshing quip or two, especially when it comes to right tackle Mike McGlinchey. The two immediately hit it off when San Francisco selected the Notre Dame product in the first round of the 2018 draft. They have built a unique relationship anchored by their near-identical "rambunctious" personalities. Staley, 10 years McGlinchey's senior, has formed a big brother-little brother relationship, where the tandem bickers like actual siblings and can turn around and laugh like best friends in the same sitting.
"If I have a moment where I do something stupid, he takes it personal as if it's on him as well. And he'll correct me just like that," McGlinchey said of his teammate. "It's a leadership quality. He's been a captain here for almost the last decade. He's got those kinds of qualities that he instills here in us and that probably carry over as a father."
McGlinchey wasn't the only teammate Staley has recently taken under his wing. When San Francisco's left tackle went down with a broken fibula in Week 2, he invited teammate Justin Skule to his house to provide a crash course and offer any guidance to the rookie ahead of his first-career NFL start. That's just the type of guy Joe is – and the same goes for Joe-dad, or Joe-football player.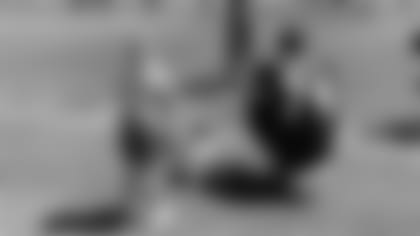 "You can't really be a dad to two girls, five and younger, with the same demeanor as you play offensive tackle," McGlinchey said. "But he is the fun, loving carefree guy that he is with us in the locker room and has a great time with his girls and, you know, enriches their lives the way he does with everybody. He lightens up the room with them just as he does with us."
San Francisco's 13-year veteran evoked the qualities of a leader both on and off the field and is amenably revered as one of the most valued players to ever be a part of the 49ers locker room. What's also been valued in the 49ers locker room are personalized gifts from Grace. Teammates, or in Grace's words, "Mr. Mike", "Mr. Jimmy" and "Mr. Juice" (Kyle Juszczyk), were all recipients of "get-well" notes that included colorful illustrations following any in-season ailments (the drawings sometimes incorporate band-aids to generously cover their "boo-boos"). Both McGlinchey and Juszczyk suffered various ailments during the 49ers Week 5 win over the Cleveland Browns. Grace immediately took crayon to paper and created personalized get-well cards for Mr. Mike and Mr. Juice. Even Garoppolo received a special drawing following his season-ending knee injury in 2018. Of course, it's never great news when you are the recipient of one of Grace's personalized cards. But her well wishes surely aid recovery as they hang on display outside of each player's locker.
As might be expected, Dad has accumulated his share of artwork. Grace gifted Joe with drawings as a little extra motivation ahead of the dog days of training camp, or ahead of a road trip. She's also got into the habit of gifting her dad with another special motivator on game days: trash talk. Like clockwork, Grace sent Joe a cell phone video where she gives props to her father's team and bashes Joe's upcoming opponent.
"It's a real serious thing," Carrie said. "But it's been getting more intense over the years. The Seahawks are her least favorite. She's really getting dialed up for that one."
You may recall Grace's hilarious sign from training camp where she called out several NFL teams, reading:
Those are some imposing words coming from Grace. She knows her football, although Joe would prefer to keep his groundwork separate from family-time. As long and grueling as a season, let alone a practice, can be, some of Joe's nights at home were spent in the depths of Kyle Shanahan's playbook. Although Staley prefered to wait until his girls were tucked away for the night before diving into his studies, every so often, Grace is by his side preparing for San Francisco's next opponent.
"She loves it," Staley said of his five-year old. "She's into football. She'll ask 'who are we cheering for, Dad?' 'Who do you want to win?' She knows all the teams and their colors. I try not to watch too much film with them around, but if I do, she's sitting right there with me watching and I'm like 'okay do you see this guy right here? We're going to try to watch what he's doing. He's going to try to run and knock Dad over.' And she's like 'he's not going do that!' She pumps me up. She's super competitive, which is scary, but awesome at the same time."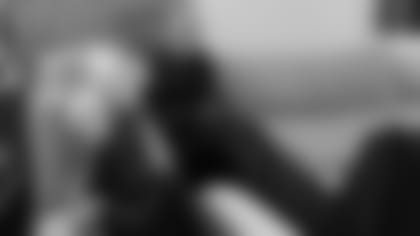 Grace is also competitive in their newest Daddy-daughter craze: puzzles. Joe and Grace have competitions to see who can finish 60-piece puzzles the quickest. As a product of two professional athletes, it's a no-brainer their offspring carry that same competitive nature. The father and daughter duo typically go back and forth with trash talk (of course) until a winner prevails. (It's worth noting, Joe has yet to beat Grace in their puzzle battles while trying his "absolute hardest," he notes.)
These heightened battles were a welcomed abeyance from the day-to-day grind of football. Staley has endured a number of lackluster seasons in San Francisco, missing playoff opportunities in nine of his last 13 seasons. But having his two daughters, who increasingly continue to comprehend the game, made 2019 all the sweeter for Staley. Grace and Audrey were there to witness the 49ers first Super Bowl appearance since 2013, an experience he'll relish forever. As a father, and 13-year veteran, Staley appreciates the success (and the process) that culminates his illustrious NFL career.
"This year has been so much fun for the both of them," Carrie said. "Every week, Grace is running to school telling her schoolmates 'Guess what? The 49ers won again.' It's really cool to have gone from having an infant who has no idea what's going on or what their dad is doing to now having a five-year-old who's really into it and knows what's going on. He's created a little super fan, for sure."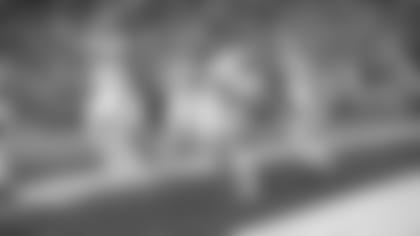 Despite an injury-ridden NFC Championship season, Staley appeared in seven games at peak performance, allowing just seven pressures in 240 pass-blocking snaps for a pressure rate of 2.9 percent. Staley ranked among the top three left tackles in the NFL in 2019, according to Pro Football Focus.
Wins and records aside, those moments of watching his young girls grow up before his eyes or simply "talking football" with Audrey and Grace took precedence. Parenthood has surely put everything in perspective. None of his football feats compare to the game-changing life of fatherhood.
"You see your kids after the game, and I obviously care a ton about football and I always want to do well, but I have a beautiful family that loves me and it's a constant reminder that they're what I'm playing for," Staley said. "Win or lose, it's those moments that put things into perspective. But that's why this season's been a lot of fun for her. This is the expectation now. She's holding us to a high standard this year."
After 13 notable seasons, Staley has decided to hang up his cleats. He has been recognized as one of the most respected 49ers to ever don the red and gold uniform. Putting family ahead of his NFL career was paramount in his decision to walk away from a game he's been a part of for over 27 years.
"Grace and Audrey, they are my world," Staley said in a final letter to Faithful. "To choose to play another season when my body says it's done and risk my future with them and my ability to be the father I want to be, would be selfish and reckless. I want my daughters to know that I will always choose them, no matter what."
I want my daughters to know that I will always choose them, no matter what. Joe Staley
Staley caps off his NFL career ranking fifth in franchise history for the most regular season games played by an offensive lineman (181). He's earned two NFC titles, six Pro Bowl nods, a three-time second team All-Pro and earned a well-deserved spot on the NFL's All-decade team.
Staley has been a rock of the 49ers team since he was drafted in 2007 and a pivotal piece of the 49ers success. His work, his presence and his dedication to the game of football and to the 49ers organization can't be overstated. The veteran tackle left an indelible mark on the 49ers franchise and those he has come in contact with. Just as this team has depended on him as a contributor and leader for over 13 years, he will now turn that attention to helping his daughters cultivate and achieve dreams of their own.
"He's just the total package of what you want as a teammate, as a player and as a man in this organization," McGlinchey added. "He was one of the guys that I looked up to since I started playing offensive line when I was in high school. I can look up to him now as a football player, and for life stuff, like being a dad, being a husband and everything else. And he's an All-American and All-Pro at that. Just as he is at football."
Check out some of the best moments from Joe Staley's 13-year career with the San Francisco 49ers.