With Mike Singletary announcing that Troy Smith will likely be the 49ers starting quarterback this Sunday against the St. Louis Rams, the eyes of many will undoubtedly be on Smith and his offensive line.
It's the same line that propelled Smith and the 49ers to a 24-16 win over the Denver Broncos at Wembley Stadium.
Smith received a game ball from Singletary then quickly thanked his offensive line, saying the honor was because of them. Not only did they keep Smith upright the whole game, but they paved way for Frank Gore's 118 yards on 29 carries, including a go-ahead 3-yard touchdown run.
Gore also paid homage to his linemen for their hard day of work. After his score, he offered the football for one of the linemen to spike.
Joe Staley was clueless to the gesture. The only thought crossing the mind of the 49ers starting left tackle was to celebrate with his running back.
"I was right there, the first one of us there," Staley recalled. "Frank tried to hand the ball to me, but I didn't know what was going on. I didn't want it; I just wanted to give him a big hug. So when he tried handing it to me to spike, I was like, 'What?'"
Instead of spiking the ball for the first time since his fumble recovery for a touchdown in Week 14 of 2008, Staley stood back and watched guard Chilo Rachal handle the honors.
"Chilo knew exactly what was going on. He stole it, but he did a pretty good spike I think."
That's probably the lone instance of Staley not knowing what's happening around him on a football field.
As one of the team's most engaging personalities (witnessed by his hit TV49 show, "The Joe Show") the fourth-year pro is even more entertaining on the football field. Teammates enjoy his energetic in-game temperament, and more so when analyzing his performance in film study.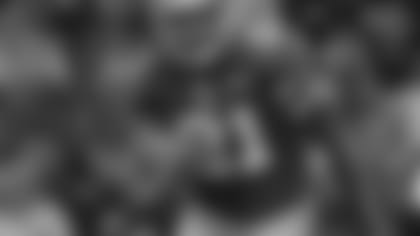 "When you watch film, he really dominates his guy mostly every snap and that's a good thing," Gore noted. "Joe's a beast. He's going to play every week."
Staley keeps the same attitude from week-to-week and year-to-year. So when captain Eric Heitmann broke his leg in preseason and was recently placed on IR with a neck injury, Staley didn't need to flip on a switch and become more of a vocal leader in place of the tenured center. He just stuck with what he knew and that was to let his play do most of the talking.
"I think it's fake if you become a different person every year. I've always been consistent with how I approach practice, the way I work and the way I communicate," Staley explained. "The guys know what to expect from me."
So far this season, Staley is encouraged by the feedback he's received from Singletary and offensive line coach Mike Solari, but feels that there's always room for his game to improve.
One of the ways is to avoid giving up pressures, a stat that Staley values as much if not more than sacks allowed.
"Pressures are way more of a determining stat of how well an offensive line is playing. I think rushing yards before contact, that's a big deal too," he said. "Giving Frank lanes to rush before he gets hit, that's really when you know the line is doing a good job."
Providing those lanes won't be an easy task this Sunday, especially against a defensive end that Staley cited as one of the most underrated players in the league. But such is life in the NFL and Staley is eagerly anticipating his matchup against Rams defensive end James Hall, who leads his team with 6.5 sacks.
With Chris Long playing exclusively on the right side of the ball this year for St. Louis, Staley expects to square up against Hall exclusively. It's a challenge he relishes.
"He's been a good player for a long time," Staley said. "He's always someone I have to really get prepared for."
The 49ers hope to continue their success on the ground. Gore has rushed for more than 100 yards in three consecutive weeks, and with another 100-yard performance he could make it four in a row for the first time in his career.
Failing to get Gore 100 yards always is tough on Staley and the offensive line. They know their performances are intertwined.
"When you have a running back as talented as Frank you get upset when he doesn't put up numbers," Staley said. "He's done it his whole career and when he doesn't put up the numbers, we look directly on ourselves. We take a lot of pride in what he does, that's what the offensive line's stats are based on."
With another strong performance (the unit has allowed seven sacks in the last five games) Staley and the rest of the offense know they can make moves in the division despite being 2-6 at the midpoint of the season.
"Our record isn't where we want to be, but I don't think it's indicative of the kind of team we have. We've had a lot of close games; a lot of them could have gone either way. I think we have good momentum going into the second half. Everybody is really excited and those five division games are going to be really exciting.
"But right now we're taking it one game at a time and it starts this Sunday."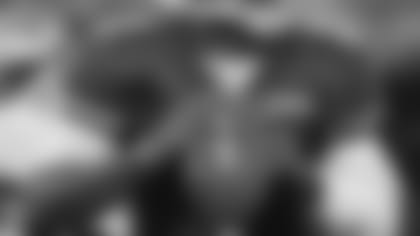 **Troy Smith was named as the team's likely starter for Sunday as Alex Smith has yet be cleared to practice with a shoulder sprain suffered Week 7 at Carolina. Troy said he plans to take every advantage of receiving all the first-team reps at practice. Alex said he planned on throwing more, which he started doing again on Monday.
Both are hopeful to be the starter on Sunday, but as Gore explained, each quarterback can help the 49ers win games.
"Really I feel it's a good thing we have both guys who can play and have experience. We're still getting to know Troy, but we have confidence that he can get the job done and we know what Alex can do. That's a good thing for our offense. Whoever the quarterback is, everybody feels great about it. When Sunday comes we just have to go play."
In more Smith-related news, Singletary said safety Reggie Smith will see more playing time on defense. Smith later said he'll be rotating in with Taylor Mays, who has an extended role on the 49ers special teams units. Smith's inclusion is merely to spell Mays while he does a lot of work on the coverage units. It doesn't hurt that Smith was college teammates with Rams quarterback Sam Bradford and even intercepted the No. 1 overall pick when the two competed in high school. Bradford later confirmed Smith's claims in a conference call with the Bay Area media.