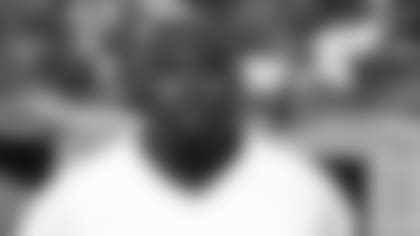 It's been a long time coming for Jonas Jennings but the 49ers starting left tackle is back in action. Jennings returned to action in Tuesday's organized team activity for the first time since suffering a shoulder injury early  last season.*
I took the Memorial weekend pretty easy because I knew that today would be a big day for me and I wanted to rest up for it.
I am so happy to be out there, and it was so good to be out there with the guys. Most of the projected starters on the offensive line are out there with the exception of Jeremy Newberry. I think if we get him back in the middle, we can be something to reckon with. We want to be nasty. We are going to protect ours. Like Coach Nolan has said, we have to be the big brothers and protect Alex Smith. We have a job to do, so we are going to do it by any means, within the rules of course. Alex looked good out there today and shoot he should have with all the time we were giving him!
Being nasty isn't something you can coach; it has to be in you and it has to be consistent. We have that personality in our line. It's definitely a good thing to be out here so early working with the guys. With all of the injuries we had last year, it gave an opportunity for the younger guys to step up. That only helps our depth, because they got live bullets in game action. They were able to see the speed of the game and it really gives us a strong 8-10 guys to rely on.
My shoulder feels great. The doctors cleared me, I am going through all of the drills, no limitations which meant full go for me out there. I felt ready actually for the last mini-camp but I was vetoed. Today, I worked out and then went straight in and lifted weights with no problems. As far as right now, I am going out and playing football. I'm just doing what I do. It's like riding a bike, you never forget how.
I said this the last time but having Larry Allen here is beautiful. I played three years in Buffalo with a perennial All-Pro in Reuben Brown. It's like having flashbacks when I work with Larry. Everything he does is quick and efficient, plus he has a little nasty streak which I love. Big L.A. and I are having a lot of fun out there.
Last year was very frustrating because I got hurt -- it was sickening actually. It was to the point where I knew I needed surgery and I still tried to rehab it because I wanted to play so bad. I knew it, the team knew it, but at the same time I was still fighting to get back on the field. I felt like even if it was a slim chance for me to play that I wanted to take it because I had never missed that much football before. It was real hard to sit and watch. That's why I tried to do as much as I could in terms of still going to meetings and trying to help the young guys out. It was tough, and that is why today was so exciting for me because I was able to get back and get back with the guys and follow the same itinerary as them. I feel like one of the guys again.
On the flip side, being hurt actually helped me heal a couple of other knick knack injuries I also had, the ones that you just keep playing through because they are minor. After a while those can add up, and so I feel that after so much time off I was able to really let my entire body heal. I feel great. I feel revitalized and now it's time for some fun out there.
Tonight I think the Suns are playing again so I'll make sure to catch the game and pull for the Suns to stay alive in that series against Dallas. My favorite show "House" isn't on again until next week, so it's pretty much basketball for me and an early night before getting back to work on Wednesday.