The Faithful may recognize Jaquiski Tartt as San Francisco's hard-hitting safety on the field. From fatherhood, to bowling, to his interests in ancient civilization, the fifth-year safety is comfortable in his own skin and ready to help change the 49ers narrative in 2019.
What's a day in the life of Jaquiski Tartt look like?
During the offseason, I like to play basketball, go bowling. I like to read in my spare time about ancient civilization and ancient cultures. I love to think and challenge myself. I want to say hiking. I like looking at people going hiking. But honestly, I really enjoy being in the house. I can pretty much live anywhere as long as I can get some French fries about five minutes away and I can sleep, then I'm good. I love stargazing too. It just came out of nowhere. I love nature honestly. I'm a big fan of nature. And yeah, I really like playing basketball.
There are two things that I know about you that the Faithful may not know. One, you received the key to the city in your hometown of Mobile, Al., and two, you have close ties with the Nor Cal Epilepsy Foundation. Give us some insight on both.
It was an amazing feeling knowing where I come from to achieve something like getting the key to the city. I hope to use this as a chance to create opportunities for other kids. It was an amazing moment in my life. If anybody would have told me I would be getting a key to the city, I'd have thought they were crazy. As for the Nor Cal Epilepsy Foundation, my manager, Jay Pardo, his daughter was diagnosed with epilepsy when she was just six months old. She would have 100 seizures a day. Once she was about one year old, she had surgery and she became seizure free after that. Jay is somebody who is really close to me. He's pretty much my brother. I'll raise awareness for that any given day.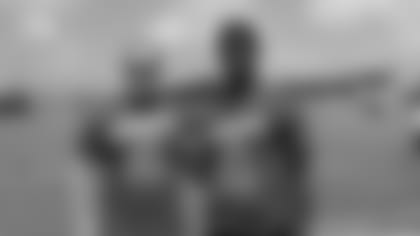 You're a father yourself to a soon to be 5-year old, Mason. How has fatherhood played a role in your motivation in football?
Just knowing that he looks up to me puts a lot of pressure on me. It's very difficult because I'm not always home with him. But when I am, he's always like "Dad, I want to go with you." He wants to do everything I do and watch everything I do. I've got a set a good foundation and set a good example for him.
How has your perspective on life changed since becoming a father?
I wouldn't say it changed. But for the most part, my parents raised me well as far as trying to be a leader and not to follow the crowd. I think from that, there's no perfect way to raise your child. As a parent, you're going to continue to learn. You never know everything as a parent. I want to raise him the way I want him to be raised, aside from society telling you how to raise a child.
What's the biggest lesson you hope to teach your son as he grows up?
Don't follow the crowd. Be your own self and just love who you are.
What does father and son time look like in the Tartt household?
Bowling. Lots of bowling. He'll call me every now and again like "Dad, I want to go bowling." So, I'll say, "Okay, I'll take you when I get home or when you come out here." He loves
bowling. Every time I see him, he wants to go bowling. That's the first thing he brings up. And then occasionally, he'll play basketball. That's my favorite.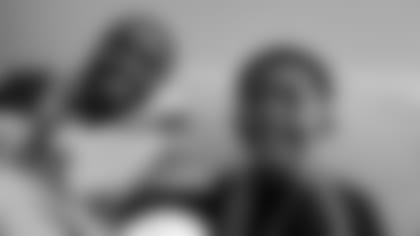 You were a basketball star in high school. How did you end up deciding to pursue a future in football?
My 12th grade year, that was my first time playing football. I would say my basketball game dropped because of that. Prior to playing both sports, I was a pretty good point guard. If I stuck with it, I possibly could've made it into the NBA. Two of my friends played both basketball and football throughout high school and it was an easy transition for them because they were used to it. It even took me awhile to dunk again. That was the moment I decided that I would continue to pursue football and see where it takes me.
What was it about the game of basketball that made it a difficult decision to shift your focus?
In basketball, depending on who you are, you can dominate the ball and you can control your own destiny with the ball in your hands, as opposed to football, where your play has to be called. Basketball, with the ball in your hand, you can do what you want. I like that.
Being you played point guard, who are the top three in the NBA right now?
Damian Lillard, Steph Curry and Kyrie Irving
Is there any NBA player in particular who you admire both on and off the court?
I love Kawhi Leonard. I feel like Kawhi Leonard is like my role model. Just everything he does and what he stands for. He's chill. He's just himself. He's the same person he's always been since he was younger. That's how I try to be, the same person and let your game do the talking.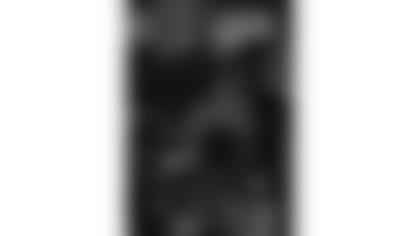 Was it ever your goal to make it into the NBA opposed to being an NFL player?
Coming out of high school, I used to say, "Man, I want to be in the NBA." Then I ended up going to school for football. The moment I redshirted during my freshman year, I was like "They redshirted me? I'm going to quit and play basketball again." But it was all a part of the process. I'm grateful that that happened, too, because, honestly, I wasn't ready as a freshman. I'm glad that happened. It worked out perfectly.
Coming from a smaller school, did you ever feel like you had to work twice as hard to get to where you are?
When I got redshirted my freshman year in college, I hit up my former high school teammate and friend (49ers defensive back) Jimmie Ward. He attended Northern Illinois and was balling as a redshirt freshman there. So, I'm thinking, if go to a small school and get redshirted, then the NFL is definitely not in my plans. I figured, I'm just going to get my degree and find a normal job. Jimmie was like "Dude, you're tripping. You can make it to the NFL, too." I was like "No, they redshirted me, bro. I'm just going to get a degree and find a job." He kept saying, "Man, I still think you can make it." Then my redshirt sophomore year, I played so well that I did the NFL inquiry and they gave me a second-round grade. So, it was possible I could have gone into the NFL Draft my redshirt sophomore year. But I always felt like I wasn't ready. I ended up playing that next year and tore my labrum. Because of that, I stayed all four years. I think that situation helped me, especially being at a small school. It helped me get noticed. I could have gone to Mississippi State on a late offer, but I was already committed to Samford. I remember talking to a scout and he said I need to make sure I stand out on film. I need to be the best player on both teams. That's something I kept in mind.
Coming from a small school like Samford, do you feel like you play with a chip on your shoulder?
I feel like I always play with a chip on my shoulder because I feel like I've always been overlooked, when in reality, I don't really care about being recognized. I kind of make-up things in my mind to keep me motivated. It's just how my mindset is. They're sleeping on me so I'm going to let them know what I can do. And being able to be out there my first game back, I just want to show them what I can do when I'm healthy. That's the biggest thing for me is staying healthy and staying on the field and showing people that I can play the game of football.
During your tenure with the 49ers, you've played under a number of general manager-coaching combinations. What's different about John Lynch and Kyle Shanahan?
You're looking at John, a future Hall of Famer who played the game. Then Kyle, also played and grew up around the game with his dad being a head coach. Just getting those two together feels like a once in a lifetime thing to happen. With Kyle's knowledge on offense, and then John with his NFL background, they get it and they understand. And that's perfect for players having that as a head coach and a GM. It's really amazing. Sometimes I feel like, "Man, I'm here. I get to see John Lynch and Kyle Shanahan." When I play Madden, that's who I am. I'm pretty much Kyle Shanahan when I'm on offense. I have my moments sometimes, I'm a fan. That's my coach!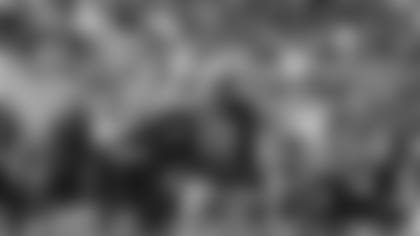 A point of emphasis this season among the defense is forcing turnovers. How much is the secondary talking about getting takeaways this year?
It's been a mentality since Day 1. We know as a secondary, we want to create turnovers. That's how you win ball games. You look at the statistics on it and the turnover margin. The more turnovers you have the higher percentage the chance of winning. That's always been our mentality to create turnovers.
What has been your impression of the defensive line so far this season?
I love it, honestly. They get to fly out from the ball and create a new line of scrimmage. With that being said, that allows me to play faster and allows me to make plays in the backfield. A lot of the plays I'm probably going to make this year is because of them, more than likely. As long as they keep doing their job, it's going to make everyone's job easier. But in reality, all of the credit goes to them. I'll continue to give them all the credit they deserve.
The 49ers defensive backs seem like a pretty close-knit group. What would you say is the reason?
At the end of the day, everything we go through, we understand and we get it. Especially going against Kyle's offense. It's a challenge. And it's something we all connect on. Then there's also the addition of a guy like Richard Sherman – his knowledge of the game, his presence and his mindset. He's been there. He's been to the Super Bowl. He's been an All-Pro. He's what everybody in the room is trying to get to. You've got to respect that. When he talks, you've got to be all ears. That's the kind of respect that he has.
What's your favorite type of play as a strong safety?
Blitzing off the edge. When I get to blitz off the edge, I live off that. I want to catch one where it's play action and I just see it and I catch the quarterback and blitz off the edge. You have no responsibilities and you've got a chance to hit the running back in the backfield or the quarterback.
Do you have any specific goals for yourself in 2019?
Not really. I'm not a guy that creates goals. I made it to the NFL, but it was never my goal in life. I just do what I can and reflect on it later.
As we wrap this up and look ahead to Year 5 for you, what makes you excited as we head into the 2019 season?
I just feel like we're about to be very successful this year as a team. I'm just ready to enjoy the moment and embrace it – the good and the bad. Since I've been on the team, we haven't truly had a winning season. I think we are finally going to see that change this year. It's going to take a lot of hard work and consistency, but I for sure think we can do that this year. We've been in it together the past few years. But now, we know we have the talent. We've got the system. This time, we get it. We know it's all on us.