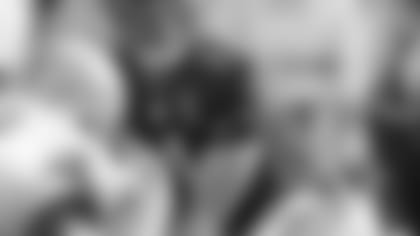 In this week's In the Huddle, quarterback Alex Smith reviews Sunday's home loss to the Green Bay Packers, discusses a few plays he'd like to have back, and shares his thoughts on the short week of preparation to play the Seattle Seahawks on Thursday  night.**
The last few weeks have been a little rougher because I think my expectation levels have changed from the beginning of the season to now quite a bit. I have much higher expectations for my play and the things I should be doing and what this offense should be doing in general. I expect a lot more about what we can be doing.
I think the biggest thing for me is to obviously to continue to get better at decision making, understanding critical moments, what the game scenario is. A couple of times, like the 3rd and 2 yesterday come to mind. Even if you get to 4th and 2, that's better than what happened. The decision making is the primary thing, and I need to refine that and get better at it.
I wasn't thinking about it being a 4th down opportunity. I was thinking of trying to take advantage and thought maybe I'd get a chance at getting around the corner, but I wasn't thinking about the next down and I should've. That's a potential area where we would have maybe gone for it.
Billy Bajema was the primary receiver underneath on that play. It was a short yardage call, out in the flat, a run-pass option. Nothing happened. He's down there and we bluff run and come out and the defenders are smart too. They know what is going on and they are going to try to hold up any of those guys they can.
In hindsight, I'd throw the ball away instead of trying to get it to Vernon Davis. Vernon was out and I thought I was on the same page with him as far as coming back to the sideline. It was a bad read. It obviously would have been better if I threw it away.
I think it's a fair question that people are asking if I'm regressing, and if you look at it statistically, one would think so, statistically speaking. I've talked to Trent Dilfer about this a lot. I still feel that, as far as seeing things, playing faster, making things happen, and making better decisions, I feel that I'm so far ahead than where I have been, looking back at the start of the season and where I am now. I'm really continuing to see things at a better level than I ever have, understanding things better than I ever have.
We have a game Thursday, and I've got to learn from this and do what I can.
In some ways it's easier to prepare for this one at least because we did just play them so it's fairly familiar. It's very different though with such a short week. This is a quick turnaround especially traveling this late in the season. It'll take some extra work and preparation to get ready. You also have to put more work into your body, whether that's treatment, rehab and massage. Luckily I feel pretty good after yesterday.
We got out today and threw it a little and I'll study my game plan tonight and get ready for Tuesday's practice.