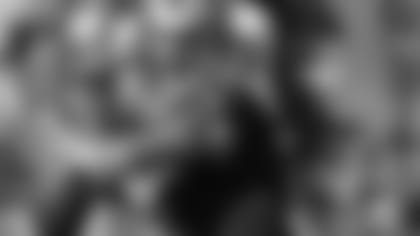 Three games down and zero interceptions for starting quarterback Alex Smith. Smith was 27-of-46 for 293 yards and one touchdown in Sunday's loss to the Eagles. In this week's "In the Huddle," Smith reflects on the game and what he saw in Monday's film review.**
Everyone wants to compare this game to last year's game against Philly and they did jump up on us again early and that was similar to last year, but I think what this team did in response was very different. We came back in the second half and moved the ball and put some points on the board. We had some success. I think a year ago, there was a different feeling in the locker room. After any loss, it's a pretty cruddy feeling but it really was different this year.
When they jump up by that much, you are not going to come back and try to pound the ball. You have to throw it to catch up, and they know that too. I think they played a different style of defense at that point, and their linemen were really focused on the pass rush.
I think maybe it seemed like they were getting more pressure on me, but it was also just a product of the situation we were in. We were passing a lot more and they really expected that so they pinned back their ears and came after us. I've seen a lot of pressure, especially last year as a rookie, but in a sense, it was probably the most pressure I'd faced in my career.
I came out of it okay. It might have been the worst beating I'd taken to date, but I don't feel too bad. I took a lot of pride in college taking hits and just getting right back up and that's what I tried to do yesterday. I think especially my last year in college, I did get start to get a lot of people coming to hit me and potentially trying to take me out, and that's where I started taking pride in bouncing back up and not showing any signs of anything.
Vernon Davis and Frank Gore obviously had to leave the game with injuries and it was good to see other guys stepping in there and stepping up. We are so much deeper than we were a year ago when we had so many free agents coming in and trying to cram in everything in a week. It's much different now. It's nice.
Eric Johnson really had a great game, and hooking up with him like that was something I really haven't had a chance to do in a game. Eric is a good player. He's got great hands. I think he's got strong hands and it's pretty obvious that he'll go up for the ball over the middle. I think he's a good technician inside on his routes. His body language is easy to read. Quarterbacks know what breaks he'll do and where he's going. When Vernon missed practice last week, Eric was getting more snaps and he was ready to go. He's a good player and it shows. He puts his heart into it, he knows the system and he makes great catches. I'm glad to have him out there.
It's a little scary in terms of what happened to Chris Simms, but I hear he's doing well. Those things can happen in this game, but you still have to just go out there and not ever think about that. You can't play tentatively because that's sometimes when even worse things end up happening.
As for some specific plays, there was the ball to Bryan Gilmore, and that was definitely a combination of a lot of guys working hard on that play. It was a post route, and they overplayed Antonio Bryant on the other side and I got the over to Gilmore. He made a great play fighting his way down to the one.
Man, on that Mike Patterson return, I was just trying to keep my feet and see if I could do something to get him down. I hadn't heard any whistles so I wasn't sure if the play was really live or not. I thought at first if I could just slow him down maybe I'd get some help, but he ended up with two blockers out in front of him and it was just a weird play.
I was asked whether or not the one scramble I had was a designed draw, but the answer is no. It was a pass play. It was that third down and they were in a man defense and I got a look that we had talked about early in the week. In man coverage everyone kind of turns their backs because they are focusing on the receivers and no one really plays the quarterback and so we had talked about it that it might be a situation where we could get a lot of yardage out of. I saw it kind of split when I took the snap and I just tried to hit it.
We were struggling in third downs up until then and I just wanted to try to get us going. I can see the difference in this offense when we do get a set of plays together and get in a rhythm and that's what I was hoping to get started. It seemed like an odd place to slide for me at the end of that play. It was a safety coming, so I figured I could still fall forward and get a couple of more yards and not take too bad of a hit.
This off-season I really wanted to get into the decision making process and work on being smart with the ball and when to take chances. I think that is something that I'm able to do better this year, but I'm still working on it. There were times last year where I was guessing.
I would like to just keep getting better and progress, both for myself and this team. There were some positives but after watching the film, there are some things I need to work on.
For me, scrambling around and moving out of the pocket is something that can help us I think, but when I do run, ball security needs to be a priority. Sometimes I get in the habit of running around with the ball in one hand and that's something I need to work on. I've got to get both hands on the ball or have it secured tight.