Quarterback Alex Smith breaks down Sunday's win over the Detroit Lions in his latest "In the Huddle with 11" column.
I guess I'll start off talking about that first drive of the game when Frank Gore broke that long one for a touchdown. I think it was big for the offense and the team to get that momentum going early. It helps you set the tone. We were ready to go early, fired up and that showed it.
Frank continues to amaze me, and that was just a great effort on his part on that touchdown run. He can run in between the tackles getting tough yards, but he's also got the speed to turn corners and make big plays. He's done a lot for this team this year. He's not one dimensional.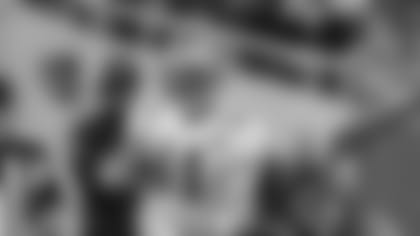 Coming home last night, I had a bad taste on about four plays in that game, not getting that touchdown pass to Antonio Bryant, and a couple of those other plays. After games I tend to dwell on things like that instead of the good things you do.
But in watching the film, there were a lot of good things we did out there as an offense. In key situations we were able to convert on 3rd downs, and that was something we had been struggling with. Being able to control the clock and have the ball for so long was big for us.
We tried the trick play, and the safety made a good play. He didn't bite. Those kind of plays do keep defenses on their toes though. We were in field position there where we could gamble a little bit it on that one, as we had just crossed midfield. It was a play we had worked on and felt like we had a good shot. We had shown a couple of reverses this season already, and we thought that would come up well. We do have a lot of ex QBs also, and we thought we'd utilize Arnaz Battle. He got it down there, but the safety did a good job not biting. It was pretty close still.
I had some runs in the game. I was asked afterwards if those were all by design, and some were and some were not. The one 3rd down in the 4th quarter was a called run. On the boots I do have an option to run, although it's not designed for it, but I can try and turn the corner and get some yards if I can't find an open man.
The last couple of weeks in my position, it's been about really being a better manager, making smart decisions and doing the right things to win games versus trying to force things and make things happen. Throughout my career, when I've been successful, that's how I've played. At any level, I have really never forced big plays. Those things happen because you are doing the little things and doing the right things.
In that first half, we definitely established what we wanted to do offensively. We felt like we were moving the chains, although we would have liked to have come away with more touchdowns than field goals. As Coach Turner always tells us though, we'd better at least come away with the three.
These last two wins I think can make a big difference in terms of confidence. There's so much parity in the league, that I really think confidence and momentum are things that can change things for a team. I think our team is building that confidence we need.
It's been huge to have our defense play the way they have the last couple of weeks. It makes our job a lot easier. At the same time, it makes me prideful and makes me want to go out there and hold up my end of the game. Knowing how they've stepped up, it makes you feel like when we get the ball on offense, it's our turn. And when you can get teams playing good offense and good defense, a lot of good things happen. I think the way the defense played down there at the end against a pretty good offense says a lot about them. They've come a long way and played really well.
At 4-5 it's not unrealistic to think we are still in this division. We are two games back and we play Seattle twice, but first up is just this weekend's game. We don't want to get ahead of ourselves. If we can get this win, we would be at 5-5 and right back in the race.