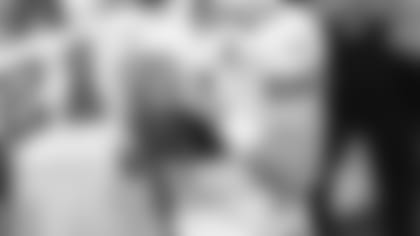 Starting quarterback Alex Smith reviews Sunday's loss to the Rams and looks ahead to this week's road challenge against the New Orleans Saints. Find out what he had to say in this latest "In the Huddle" 49ers.com column.**
It was definitely a game we let get away, a game we could have won, should have won. There were a lot of opportunities there that could have changed that game for us. We just have to make them when they are there for the taking.
The big talking point seems to be the 3rd and 1. Looking back at it now, you can say we should have gone for it, but I think at the time, once you go to 4th down, we've got to make that a touchdown game like we did by kicking the field goal. If we go for it and don't get it, that game is over a lot sooner.
I know some people think why didn't we just do the quarterback sneak, but you go over the pile and it's a fine line. You jump over and score a TD and you are a hero, but you get that ball knocked out and it's a different story.
Like Coach Nolan said, he'd like to see us get it on the 3rd but I don't think at the time, you can for it on the 4th down. I think you have to kick it. You have to make it a four point game, especially seeing what they did at the end of the first half in getting that field goal like they did.
I think we are getting better down there executing in the red zone and on third down, and I think that's because of practicing and going out there and executing better. But, we didn't have that many possessions in general this last game. They held the ball a lot, and so I think it's more magnified when you don't score touchdowns, especially on that last one that could have put the game away. It's tough down there. You get down there and you don't have nearly as much room to work with, but we'll keep at it.
Frank Gore had another good game for us, it just took us longer to get going than we had hoped for us offensively. In talking to Frank last night and today, it didn't seem like his injury was significant. He's a tough guy and wants to be out there, and I imagine he'll be ready to go.
It's a lot different feeling with that loss Sunday. The expectations were different. We expected to win that game. We walked off that field thinking we should have won that game. That was a lot different feeling. We were down 10-0 on the road and we put a good drive together right before the half and we felt like we were back in it. That was a lot different than what happened in Kansas City or Chicago, so if there was a positive we can take from the game, that was it. Now, I think we have a little edge to go back and prove we can do it. New Orleans is a team that is playing well right now and it's a chance to go down there in another big environment indoors and get ourselves back on track.
I imagine I'll talk to Reggie Bush this week. He'll be getting some text messages and voice mails. I also know Drew Brees. We had the same agent and I worked out with him quite a bit this summer. At the time, I was sad to see what happened to him in San Diego but to see him move on and have success is great. I imagine it was tough to come back from that shoulder injury and he's done very well.
In this point in the season I think all of these games are must wins. This is as big as any and we need to win this one against New Orleans. With only five games left, these games get more and more important for us.