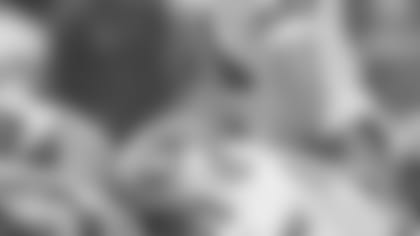 Quarterback Alex Smith gets to relive one of the finer games of the year in this week's In the Huddle with 11. Here's a look at what went into defeating Seattle on their home turf to sweep the series.**
I guess first of all, the weather was something we really had to overcome. We're out there in pregame and it's just a downpour and we go in and we're soaking wet, and you know you're in for a game that's going to be sloppy and extremely wet. We came back out for the intros and it had dried up but we were still soaking wet and freezing. It really took about a quarter and a half to dry off and get warm. I did change my jersey, but I think if I went through something like that again, I would have gone in and changed everything.
That first half we just didn't get going, but I really felt like plays were there to be made and I was capable of making them. It was just a matter of getting going and hitting on some things and getting some momentum. I think the long ball to Arnaz Battle really helped get us going. He made a great catch and that sparked us. I think that was a turning point.
After we scored, our defense gave us another huge turning point with that 4th and 1 stop. I think the way the defense played all night was extraordinary. They gave up that last touchdown but really they held them to seven points, created turnovers, and really kept us in the game.
We were only keeping five into block on that second touchdown, the 20-yard pass to Frank Gore. I was in the shotgun, and it was just a quick pass in the flat. The snap was a little high so I took my eyes off the rush and came up to my left where my quick throw was and it wasn't there right away. I saw Kelly Herndon coming and I just tried to slip the tackle because sometimes if you can deflect the brunt of the blow you can slip out of it. I luckily kept my feet and I saw Frank break for the end zone and he made a great catch.
Frank got another 100-yard rushing game which is really a credit to his patience out there because they really tried to stop him. I imagine the way he ran in the last game really took all of their attention and their focus. I'm sure it was their primary focus to stop him this time around. Still, on that last drive after Shawntae Spencer got that interception, it was all Frank. He had the 40-yard run and did a great job moving us down the field. I think that set them up for that touchdown run I got.
I was asking for it. I knew the way we'd been running the ball and that the focus would be on stopping that. We talked about it prior to the week and Norv Turner dialed it up for us and it was a walk-in score. I was just trying to fake the handoff, and come out of there running as fast as I could, and luckily, everyone bit up in there.
The win was important for many reasons. First off, just that this team hasn't won that type of a game where we really fought back and took over the game late. It ended our three-game losing streak, and got us back on track. We are able to play at home next week and it sets us up with a chance for us to win strong and get going at the end of the season.
It was pretty exciting in the locker room. There was a lot of emotion after winning that way on national television versus a team that's been on top of our division. That was special. I think Coach was proud of us, proud of the way the defense played so tough all night, and how the offense picked it up in the second half and we took that game in the 4th quarter and really finished strong.
Finishing strong is the focus right now for us and that's what will strive for when we host Arizona.