Alex Smith had a career day against the Arizona Cardinals on Sunday, but without the W, it was a performance that the second-year quarterback doesn't feel like savoring. In his latest installment of In the Huddle, Smith reviews the game and what stood out to him after reviewing the game tape on Monday.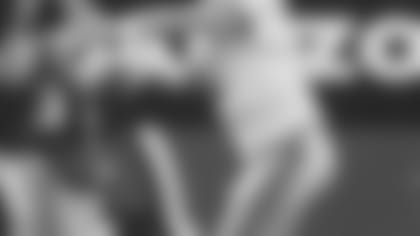 I know after the game everyone was asking about the late hit I took from Darnell Dockett. I came out pretty good from that hit. Hits are interesting things. Sometimes the ones that don't look that bad end up being the worst and the ones that hurt a lot actually aren't that bad. That one wasn't bad at all. I think he just caught me when I was up in the air, cut me underneath and kind of clipped me. It probably looked a little worse than it actually was.
I don't think Dockett did it intentionally. You see a quarterback out of the pocket and that's a big target. He probably just had a lot of momentum going. But in my mind, as soon as it happened, I was looking for the flag because I knew where I was and I was hoping to move those chains.
I came out really fine overall from the game. There were a couple of hits that looked worse than they were, but you've got to stand in there sometimes and take those. Arizona brings a lot of pressure and run through blocks to get to you so it's important to keep bouncing up and not show any effects to that.
We tried to call a couple of things in the first half directed towards Antonio Bryant, and there were a couple I didn't let go. We just weren't getting a look that we wanted and we were doing some other things well. Plus, it was hard when we had the two fumbles. That took a little away from what we had going. But in the second half, I got the ball more to Bryant and we'll continue to get those big plays with him. He did a great job. He's competitive and he wants the ball and if you put the ball up around him, he's going to make plays, especially a game like that when you do get down in the fourth quarter and it's crunch time. Antonio works hard on every play. I don't think he's missed a practice yet. He wants to be good and I look forward to playing with him for a long time.
It's unfortunate that the long touchdown to him was nullified with the penalty. You don't get too many of those, but the offense did a great job of staying even keel the whole game and bouncing back from that. The line was great. It would have been nice to have but all week we talked about things like that, things that are out of your control. Once the play is over, you've really got to move on and play the next play. I thought we did a great job of that all game and I think that's why we were able to battle back. If we made a mistake we were able to put it behind us. That served us well.
We need to do a better job of third down conversions. That's a drive killer obviously. It wasn't things they did, it was things we did to ourselves. We need to get better at that. That can make or break things for us.
There were a lot of things I can take away from this game. It was a tough loss and winning is the ultimate goal, and I'd rather play a bad game and win than have good statistics and lose. But outside of that, it was great to get in a rhythm early and move the ball and to get in those two minute situations and have that experience, I think that is invaluable as we get into this season.
The game really came down to the last play of the game. After watching it on film, it's really a lot different even than what I had in my head. It was really close. You watch those last two plays and slow them down and to get Antonio in the back of the end zone with a chance to jump on it, and even how close Bryan Gilmore was to snagging that. You can definitely see you are never really out of that. It was really close.