Quarterback Alex Smith recaps the preseason finale against San Diego, reviews the preseason, and the transition into the regular season.
I didn't play much in the final preseason game but that was what the coaches had told us to expect heading into the Chargers game. The focus was more about coming out of that game healthy and getting ready for this week against Arizona.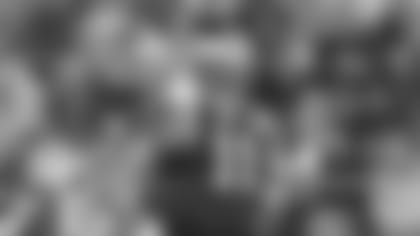 As far as the first unit went, we didn't score which is always the goal. We did move the ball though, especially on that first drive and that can really change the landscape of the game. We drove into their territory and then when you are punting from midfield you get a chance to pin them deep and that does change the field position battle, so that was good to see at least.
On the second drive, we had the turnover and that obviously wasn't good. On the last drive I was in there, I got kind of tripped up and got sacked. Then Maurice Hicks picked up a few yards but the sack put us in the hole and I ended up trying to run on third down and came up short.
It was good to see the younger players perform so well. A lot of them were fighting for roster spots and it was great to see them get out there and compete. They practice hard and they played hard.
Michael Robinson continues to improve. I really think he's going to be a great player, and it's amazing to see what he's done already and how fast he's grown as a player. I think he's a tremendous football player. I think he showed how tough he is. He can run inside and between the tackles. He's very determined and he's so smart. He gets the big picture.
I think there were a lot of positives throughout the preseason. For me personally, every start I get and any live reps are beneficial. We ran the ball well, the line protected well, and our timing is coming along in the passing game. We are kind of getting an identity of what we are going to be on offense.
That first game against Chicago we jumped out to a lead and that's what we want to do every week. But there are going to be those games where we get behind or struggle, and I think it's important for us to continue to battle in those situations. We have to stay focused, be productive and continue to execute and find a way to get things to click. So I think it was good that we experienced different situations because it'll just prepare us for the ups and downs that can occur during the season.
I really look forward to playing a full game. It's hard to play when you know you are only going to get a certain amount of snaps. Sometimes you try to do too much with those snaps. I think when you know you are in there for the long haul, you play more within the tempo of the game. It'll be nice to play a full game and see the full effectiveness of our offense.
Our goal is to score more points than the other team no matter what that number is. To do that, we obviously have to execute. I think there's enough parity in the league that we definitely can compete with anybody if we execute. We've got some great playmakers on offense and if we all do our jobs, we should be successful this season.