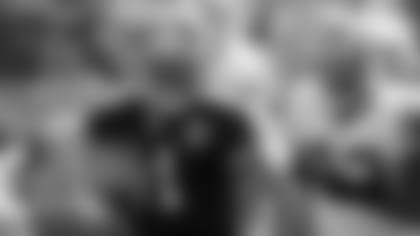 Starting quarterback Alex Smith recorded his first three touchdown day of his NFL career in Sunday's win over the Oakland Raiders. In this week's In the Huddle, he reviews the team's performance and breaks down a few key plays.**
There have been games this year where I saw some good things and where I did things well, but there were still a handful of plays where I think man, if I had done this right or thrown a better ball. There weren't many of those in this game so it was good to feel like I had a clean and efficient performance.
I certainly don't think one game will ever silence anyone. The key is to perform at a high level on a consistent basis. I'm young and I still need to improve every week and just try to get better every time I get out there.
To go over some key parts of the game, I'd say that first of all Frank Gore had a great game. They were stacking the box and still we got great yards on the ground.
I think Frank is a guy who runs for tough yards. It's not a gimmick. He runs inside, off tackle. He catches well out of the backfield, blocks well and continues to run hard and break tackles. He amazes me because it looks like it'll be only a 1 or 2 yard gain and he gets three or four more. The depth we have up front and the way the guys are blocking for him, I really think he's a guy who can really be successful in this league and stay on top as he is right now. He's got a hunger inside. It's clear to everyone. He wants to earn the respect of his team. It shows in his play and in his running. He's very selfless. I don't think he worries about stats. He just does what he's asked to do. He's a great guy to have in the huddle.
Arnaz Battle also made some great catches and tough physical plays especially against a team that plays so much man defense. The game plan wasn't designed to get him the ball any more or less, it just came up that way. It all depends on the defense we are playing. That's the nice thing about having depth at receiver. They can't focus on one guy because we've got a good group of guys who can all make plays. That left Arnaz with one-on-one a few times and he caught some great balls.
On the first touchdown, Arnaz was actually the second read. On the second TD it really just depended on the look we got in terms of where I went with the ball and he was one of those progressions.
I didn't get too many balls to Antonio Bryant this game although we took the one shot to the end zone for him. Most teams see the big plays that Antonio has been making and treat him differently and try to take those things away.
The touchdown to Maurice Hicks was a screen pass and on those we talk about getting the depth. Hicks kind of stumbled and it kind of got me nervous so I was trying to buy more time by kind of rolling out. It helped clear up the throwing and I was able to get the ball to him. The receivers did a great job backside on that play. I think there were four defenders on the backside covering three guys and so that helped clear things downfield for Mo.
Not getting the two 4th and 1s were pretty upsetting. To have a coach put that confidence is great, but disappointing when you can't convert. When you are down in the red zone and it's a potential three points you are taking away if you don't get it, and then not to get either of them, that was upsetting. We took away six points that we could have put up there but we knew that we could drive the ball on them at least.
On the quarterback sneak, I thought I had it. I don't know. I got turned sideways and I think that's why the mark ended up being weird. It's hard to mark that forward progress when all of the sudden I'm moving back. I still feel with forward progress I got it, but those are tough calls to make.
After struggling on those 3rd and short plays, we went with the pass on that 3rd quarter drive that ended with Mo's score. We had tried to run it a few times before that so we decided to do a little play action to Moran Norris and it opened up well for us.
I wish I could obviously get that pick back. They were playing man and I could have gotten the ball outside a little more. It was a tough look. Antonio and the DB both went for it and the DB just made a good play on it.
Thankfully, our defense came up with a lot of turnovers which is a big help. The more chances we get the ball, the more chances we have to score. To get that one in the red zone, that makes it even easier. It was a huge help.
Coach Turner is not real vocal but I know from having known him, he's human and so I can imagine it was really special for him to get this win. It was special for me and just like the rest of us, I'm sure it was special for him too, but he never made it a big deal last week. Winning is why we play this game, so we'll get back to work Wednesday and try to get another one.