Justin Smith didn't want to talk about it. But that's the answer you come expect from the 49ers Pro Bowl defensive tackle.
He doesn't brag or boast. He cares more about the team's success than his personal stats. And quite frankly, he isn't concerned with how he's perceived.
So when asked if he felt underrated for most of his career, his answer came as no surprise.
"To be honest," Smith said, "I really never thought about it and I don't want to talk about it."
While Smith tries to avoid the topic, there's no denying that he was often overlooked for most of his career. Finally though, he's starting to get the recognition he deserves.
On Sunday, the 6-foot-4, 285 pounder will play in his second consecutive Pro Bowl after being left out of the NFL's annual All-Star Game for the first eight seasons of his NFL career.
He didn't suddenly become one of the NFL's best players prior to the 2009 season and his numbers didn't take a huge leap. So why then, after eight years of dominating NFL offensive linemen, did Smith suddenly become a Pro Bowler?
"I don't know," said fellow defensive tackle Demetric Evans. "Guys in the League have always known how good he is, but maybe being in Cincinnati he just went unnoticed because that team struggled."
Smith spent his first seven NFL seasons in Cincinnati's small market, and the Bengals only reached the playoffs once in that span. In fact, they one had one winning season from 2001 to 2007.
Still though, as a member of the Bengals, Smith averaged more than 6.0 sacks and nearly 90 tackles per season, ranking him among the best players at his position. As a rookie in 2001 he recorded a franchise-record 8.5 sacks. He posted 110 tackles in 2006. Plus, he became arguably the most durable defensive player in the NFL.
Smith started his final 107 games with the Bengals and has kept that streak alive to the tune of 155 straight starts, by far the most of any active defensive lineman in the NFL.
Ask his teammates about Smith's streak and they're not surprised. They say he has an unrivaled work ethic in the weight room and that he takes care of his body as well as any player they have been around.
And that dedication rubs off on his teammates. From the moment rookie guard Mike Iupati saw what Smith can do on the football field he knew he needed to start training like his veteran teammate.
It was back in training camp when Iupati witnessed firsthand the havoc Smith can wreak. The two were often lined up against each other in drills, and every day was a welcome-to-the-NFL moment for the young rookie.
"He whopped me every time," Iupati said. "He's a phenomenal football player and I'm just glad I don't have to go against him when it counts."
What Iupati found out nearly six months ago is what NFL offensive linemen have been learning since 2001. You know how Smith is going to attack you, but you still can't stop it.
Most defensive linemen have an arsenal of moves at their disposal – spin moves, swim moves, stunts. But Smith just sticks with what he's good at. His go-to move is appropriately called the bull rush. The name speaks for itself. It's not fancy. There's no deception involved. You don't have to be faster than your opponent. You just have to want it more.
Smith's bull rush is simple, he lines up across from the man trying to block him, pushes him back, and gets to where he want to be.
In 2010 Smith bull-rushed his way to a team-high 8.5 sacks and 13 tackles-for-loss to go along with his 107 tackles, but if it was up to him he'd have had the opportunity to raise those numbers.
If you gave Smith the choice, he'd stay on the field for every play. As it is now he practically does, but the coaching staff takes him out occasionally just to give the big man some rest.
Smith doesn't want it though, and it's always a struggle to get him out of the game.
"That's where I fight with Justin Smith all the time, that guy doesn't want to come out," defensive line coach Jim Tomsula said. "That guy wants to play, he doesn't care. And you know, all those guys have that, so sometimes you've got to protect them from themselves."
Smith's desire to play comes from the tenacity and mean streak he has once he steps on the field. But away from it, the rest of the 49ers couldn't ask for a better teammate.
He's more than willing to help out the younger players. He jokes around whenever possible. And he is unquestionably one of the team's leaders.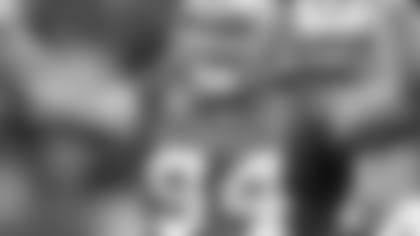 Those are traits needed to turn the 49ers into a playoff-caliber squad, and all Smith cares about is the team's success.
He's honored to play in Sunday's Pro Bowl, but said he'd trade it in a heartbeat for a chance to play in the Super Bowl.
"You can't play forever, and all I want before my time is up is the chance to hold that Lombardi Trophy," he said. "I love playing football, it's me, it's what I do. But I want the chance to take it to the next level with my team."
In the meantime though, Smith will have to settle for the individual recognition and trip to Hawaii. It's not a bad alternative, but it's not what he wants.
All it really does it add fuel to Smith's bull-rushing, no-longer-underrated fire.