Veteran Pro Bowl cornerback Walt Harris closes out his Veteran Camp Diaries with this final entry that updates the fans on the last two preseason games of 2007.
I left off with everyone before our Chicago game, which was my first chance to play this year in a game. It was just a chance for me to get my footing back again. I felt a little rusty at first. I hate playing on that Solider Field turf because the ground is so soft and mushy and you aren't able to get your footing like you want, but I settled down. I gave up a deep play on that first play that I don't normally give up, but I did. Fortunately I was able to come back and get an interception and turn it into a touchdown which gave me a little satisfaction for that game.
Overall though, it just wasn't a game in which the defense played well. We didn't do as well on third downs so it was something we wanted to correct this week heading into San Diego.
We had the Kickoff Luncheon in San Francisco on Wednesday and it was a lot of fun. Coach had a little challenge for us, offering $300, $200 and $100 for best dressed for the event. It was actually weird for me because none of my clothing was in order. I keep suits for about a year or a year and a half and I try to have a different one for all away games, and then maybe 2 or 3 for special occasions, but things were not lining up for me very well. I had shoes in one state and then a different outfit here and really didn't have everything matching. Luckily I had one suit that I didn't want to wear for this event, but it was all I had and I wore it and I won the $300. I thought there were a lot of well-dressed guys there. I really would have voted for Shawntae Spencer because he looked nice. He was ready, he had his nice cut and everything. I liked Moran Norris' look too. He came out really cool. He had his shades on. Some guys just really do wear suits very well.
I think it's awkward for some of the young guys because they don't really have stuff out here and don't have time to get fitted and all of that. There were some guys who just wore tennis shoes with their suit too. I'm not sure if they were making a fashion statement or if that's just all they had. Some guys didn't dress up too much, but wore some nicer shoes.
It was a super short week and a quick turn around and we really had to adjust our schedules. What was so funny to me was getting on the plane for San Diego yesterday and having to play the same day. I had never done that before and it was very awkward but we made it happen and now it's over. We got in about noon and we checked in but my key didn't work, so they sent people up to the floors to let us in. I just sat in the room and rested for about two or three hours and then went to the pre-game meal and headed over to the stadium on the bus and got ready to play.
The defense played much better. I was very impressed with how we came out. We set the tone with a three and out on the first series. I think we gave up one first down on the second series, but for the most part we went out and got our work done and got off the field. Defensively we played fairly solid. We limited them on the run and we didn't give up much pass yardage either. What really killed us was the turnovers we had and unfortunately we weren't able to get any for us. That's the difference maker in the game because you can't give away that many turnovers and not get any for yourself. That was really the nail in the coffin for us.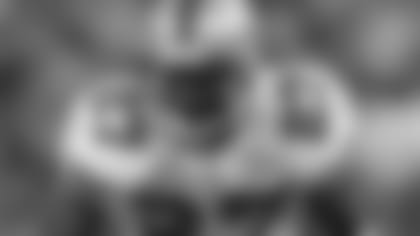 We had to fly back into SFO after the game, which I hate but there are air restrictions in San Jose. It's just tough though because you land there and then have to get on the bus back here to the facility, and guys are just knocked out and dead tired, so that 30-45 minute drive back is tough. Then you try and wake up and get in your own car and head home. Some guys live another 30 minutes from the facility, so my hats off to them. I got home about a quarter till 3AM.
I hate this part of the year because of the cuts. I was just thinking today about seeing some of the guys downstairs in the locker room who were told they didn't make the roster. This is the time I hate being around the locker room because you build relationships with them and it's tough on everyone when they leave. I understand it's a business and that it's change, but when you have a relationship with these guys, it's hard to see them go. Hopefully they'll be able to establish themselves some place else and it's always good when you hear from them and know another team picked them up.
Today, we ran ten 100s just to get the legs going after that game and the flight back. We wrapped it up with a meeting and then we're done for the weekend. I might catch a show or something, but I really don't know. I was thinking about heading to Arizona to get some work done on my body but I might just chill out. I just want to get some things taken care of and just take it easy.
This whole off-season and mini camp, OTAs, training camp, and preseason we really got a lot of work done. Now, coaches can evaluate and see where we are at and where we still need to get to. We began to develop some continuity within each other and as a team. We've pinpointed some areas where we need to improve and we'll work on those, so that they aren't things that hurt us this season. It'll be good to get Frank Gore back for the first game and he'll solidify things on offense because he's a big presence for us.
For the defense, I think this last game really helped us with our confidence. We played well, we got our work done quick and early and now it's just a matter of working and being thorough so that we are prepared for the Arizona game.
I think we'll match up well against Arizona. They've had coaching changes and I'm sure they are excited too about this game, and are very confident, as we are. They've given us a tough time the last few years so this will be a game that will tell a lot for us. It's not going to be the final say for us, because there are other games, but it will really tell us where we are as a team.
Thanks again for following along with this camp and this preseason with me.