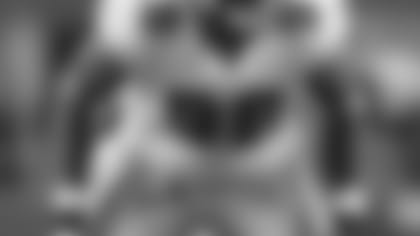 It is the first few days of March when 49ers.com tracks down Parys Haralson, who has just finished a workout back in Atlanta. As a reward for a strenuous training session with former Tennessee Vols teammate and current Dolphins cornerback Jason Allen, the pair swing by a local Chick-fil-A for grilled, not fried, chicken sandwiches. Of course, being a Southerner, Haralson can't escape all of his desires for fattening foods and also picks up a slice of cheesecake.
When he receives some smack for following up his workout with a fast food binge, he replies, "I earned it."* **
In a few short days, Haralson will return to Santa Clara for the start of the 49ers off-season conditioning program, where he hopes his training will lead to rewards that fill more than just his belly.
"I think I've improved and I've learned a lot more about the game, but I'm nowhere near pleased with what I've done in my first two years," said Haralson. "I'm definitely not content. You always want to be the best you are and I know right now I'm not the best that I can be. I'm a whole lot better than what I've shown, I know that. I know what I can do. I'm just excited to show what I can do after having a year under my belt."
Although Haralson actually has two years under his belt, his rookie season was pretty much a wash. Already working from behind as he made the transition from a college defensive end to an outside linebacker, Haralson suffered a foot injury in preseason. A few weeks after returning from that injury, the fifth-round pick tore his pectoral, an injury that ended his season.
"My rookie season was very frustrating," said Haralson. "I was trying to learn a new position and then as soon as I felt I was making progress and getting more playing time, an injury would knock me out of the picture."
Following his rookie year, Haralson committed himself to the off-season program, and put in the hard work needed to overcome the injuries and catch up with the rest of his draft class. In addition to his strength and conditioning daily workouts, he put in additional time out on the field working on his pass rush with the 49ers defensive coaching staff.
"I've always felt that my pass rush is the strongest part of my game and I just go out there and try to be as fast and violent coming off the line as I can, but they really worked on my technique," said Haralson. "I worked a lot on using my hands better and I definitely felt that I was able to improve my pass rush."
Haralson finished with 2.5 sacks in 2007, but unfortunately he didn't get to play to the strength of his game all that much with only limited opportunities to rush the passer following the season-ending knee injury to Manny Lawson.
"My role kind of changed when Manny got hurt, and I ended up dropping in coverage more than pass rushing, but I honestly didn't care because I was just excited to have the playing time," said Haralson who would end up starting 11 games and collecting 52 tackles. "Covering routes really wasn't something I was very comfortable with when I started out, but I tried to get better and it did get easier."
One coverage play that wasn't so easy, and still vividly stands out in Haralson's memory, occurred at Monster Park against the Tampa Bay Bucs. Tight end Jerramy Stevens found a wide open spot in the 49ers zone coverage and former 49ers quarterback Jeff Garcia delivered the ball on the money for a 24-yard easy touchdown catch.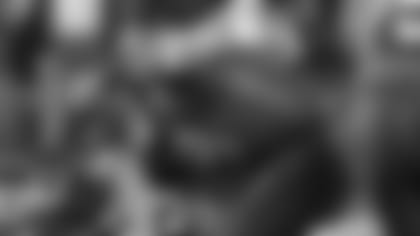 "Man, that was bad," recalled Haralson. "We knew that was a play they had been successful at running and we had gone over the formation so many times in practice. Outside linebackers coach Jason Tarver even told me it was coming, so I knew it but I just didn't have the focus on that play like I should have. I think I needed to be more intuitive than I was and that's something I was really hard on myself about. It's something I've got to do better."
Haralson's off-season plan to get better began right away. First and foremost, he needed to shore up his body, and so about a week after the final game in Cleveland, he had his knee scoped. He then stayed on an additional month in Santa Clara working on his rehab.
"It doesn't seem like I really had very much time away this year, but that's alright," said Haralson. "I've got a lot to work on."
With his rehab taken care of, the Flora, Mississippi bred Haralson did enjoy a few quick visits back home with his maternal grandparents Elnora and Leon. It was a short time into his first visit when Elnora added to his "things to work on list."
"My grandmamma always gets on me about how I need to pray and keep God first," said Haralson. "She thinks God will keep me healthy and that I need to just read the Bible and go to church. That's something I can do better at too."
The list might be growing, but at least he didn't have to look far for an example on how to knock the items out in a hurry.
"My granddaddy, Old Time, is almost 80 years old and he still works out in the junkyard," said Haralson. "He's just one of these people who believes in hard work, and he made sure we grew up that way. He's definitely the reason I am where I am today."
At age 11, Haralson joined his cousins in that very junkyard, straining under the weight of refrigerators and washing machines. He can still recall how he spent the already miserably hot 90 degree days trying to avoid the extra heat coming from the blow torches.
"I hated going out there, but you didn't complain around granddaddy because you would get slapped," said Haralson. "So, I'd work every day in the summer Monday thru Friday and then on Friday granddaddy would pay us. It was frustrating because no matter how many hours we worked, we'd always get the same thing – usually 23 dollars and some change."
Haralson eventually moved on to working indoors with his uncle at a warehouse, but in comparison to both of his former jobs, hitting the weights back at the 49ers facility or running sprints out in the moderate California is every bit the dream job it seems it would be.
"I look forward to the start of the off-season program, training camp, the season…all of it," said Haralson. "It's an opportunity to get better. Like I said, I know I've improved, but I've got a long way to go and I feel like I'm still always learning more about the game. I wouldn't say I had a particular stand out game last year, and so I feel like I'm still looking for that break out game, and that it's coming."
Those in the 49ers organization also believe big things are on the horizon for Haralson, but instead of a break out game, they'll be looking for a break out season in 2008.
"We threw a lot of responsibility and a lot of different assignments at Parys last year," said Coach Tarver. "We really asked him to do a lot of different things and he did them well. When he makes a mistake, he works very hard to get it corrected. He always plays very violent and aggressive, but I think things will really slow down for him now that he's seen more playing time at this level. We're very excited about him because he's only going to get better from here." 
Next time Haralson stops by Chick-fil-A, maybe he should go ahead and order an extra grilled chicken sandwich and toss some strawberries and syrup on that cheesecake order. From the look of things, he'll be earning that too soon enough.