Running back Frank Gore returned to the practice field on an individual basis on Wednesday for the first time in two weeks.
"The main thing you want to get back is the pushing off, the start, the burst. And that's what I'm working on now. Every day I'm getting better and better," said Gore.
Gore is only 22 yards shy of posting his third consecutive 1,000-yard rushing season, a feat that no other running back has ever accomplished in franchise history.
"Well, I'd be upset," admitted Gore if he doesn't reach a 1,000. "But if I can't get it because of my injury I'll understand. I have got more years. But I really want to get it. Coming in this year, that was one of my goals. I could be the first person to do it in the history of the franchise of San Francisco. It would be great, especially with all the great players who have been here. I want it real bad."
Gore badly desires to make franchise history, and his teammates hope to get him there.
"It's extremely important for us as an offensive line to make sure that Frank gets that 1,000 yards," said center Eric Heitmann. "It's always a goal of ours to run the football extremely well in these games. It's going to be no different this week. We've got to see Frank have a very successful running game. The 1,000 yards, I know we're extremely close. We've got to go beyond that."
Starting right guard David Baas promises that the line will be up for the challenge if Gore does make his return for the season finale.
"It is a great achievement, for him to get the 1,000 yards," said Baas. "We'll be blocking like crazy for whoever is back there regardless, but it is an accomplishment for us too as a line if he gets it."
But the biggest accomplishment for Sunday is to close out the season with a victory.
"Not only do I want the yards bad, I also want to win," said Gore. "It would be great to get a W to finish the season. The biggest thing is for me to have the kind of performance where I can help my team close out the year with a W."
The Fletcher Factor

Whether it's Gore or backup DeShaun Foster carrying the load on Sunday, the 49ers can expect to get up close and personal with London Fletcher, the Redskins leading tackler.
"London is a guy we have to worry about. He's a good player," said tight end Vernon Davis. "I've watched him on film and he's sidelines to sidelines. We need to get on him quick and get a hold of him and try to shut him down so he can't make tackles."
Gore also talked about the problems Fletcher can present, as well as the entire Redskins fourth-ranked defensive unit.
"London Fletcher, he's a good linebacker," said Gore. "He's very physical for being a small guy. He's fast, he runs sideline to sideline, but it's not only him. They have a great defense. Their defensive line is playing good ball. The secondary plays great ball. It's going to be a tough one. If we do a great job with ball security and just play football and be ourselves, I think we have a great chance of doing our thing on offense."
Carter Comes Home

Sunday will mark the first return to Candlestick Park for former 49ers first round draft pick, Andre Carter.
"Carter is a good guy," recalled Baas. "He has really long arms and can get extension on you. The tackles will see more of him, but he's athletic, he's quick and he's a former first-round pick. He's someone we have to make sure we take care of because we know he can make plays."
Added Gore, "I know one thing, he's going to give it his all. He's a very strong and I know he knows one speed and that's fast. So we have to be ready."
**Redskins defensive end Jason Taylor's role has been downsized as the season has worn on, but the perennial Pro Bowler is still making an impact, as evidenced by his two sacks and forced fumble last week against the Eagles.
"Jason Taylor is definitely a guy we have to account for, very athletic, really good player and we have to make sure we take care of our jobs," said Baas. "Wherever he might be lining up, if we take care of business when he's over us, that will play a big part in what the end result of the game is."
Tight end Vernon Davis usually reserves praising his opponent, but he did give some props to the Dancing with the Stars contestant.
"I've been watching for a long time," said Davis. "In my eyes, he's always been a great player and I look forward to going up against him in pass protection. That front line is pretty strong as a whole. They're a big challenge. That's where it all starts. It takes place right there, that's the beginning. We are going to have to do a really good job containing Taylor and the rest of those guys if we want to have success in the passing game."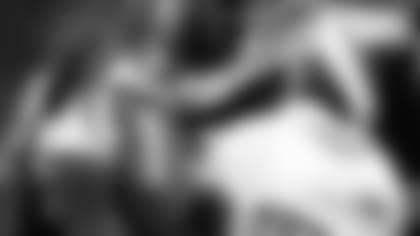 When it comes to the pass, the Redskins can pose a serious problem as their secondary is loaded with talent top to bottom.
"They're very talented," said receiver Jason Hill. "There's a lot of number one draft picks back there, so those guys are known to make plays. We have to go out there and play hard."
Those number one picks include cornerbacks DeAngelo Hall, Carlos Rogers, and Shawn Springs, as well as safety LaRon Landry.
"Springs is from my area and he's been a good player for a while. Landry is a good player too, he's fast, he can move," said Davis. "We are going to have to attack them. If we want to throw the ball, receivers have to step up, catch every pass, including myself. We just have to step up and make plays."
Rookie wide receiver Josh Morgan made a huge play last Sunday to help the 49ers come from behind to beat the Rams, but he knows he's going to see a step up in coverage when it comes to the Redskins secondary.
"Coach Martz basically pointed out that this is a very talented secondary and that it's going to be crucial for us to win our one on one matchups," said Morgan. "They are a man to man team and they rely on their corners to make plays."
Morgan enjoyed going up against Hall, a fellow Virginia Tech alum, during training camp when the 49ers scrimmaged the Raiders.
"He's a strong, physical corner and very quick getting in and out of his breaks," said Morgan. "You've got to be very technique sound when you go up against Hall. You can't make any mistakes. If you make one mistake, he'll knock you off your route and get an interception. I remember at training camp, I had to be perfect playing against him."
As raw as he was back in camp, Morgan caught a few passes even then. He hopes to catch a few more now that he's picked up on some veteran tips.
"I feel like I have a lot more tricks now, thanks to Isaac Bruce. I know a lot more things I can do to get open. The more you play the game, the more it slows down and you know what to look for."
**More on the Injury Front
**In addition to Gore, tackle Adam Snyder (ankle) and linebacker Ahmad Brooks (back) were limited.
If Snyder is healthy enough to go, and Singletary hopes that he will be, Snyder would likely start ahead of Barry Sims at right tackle.
Center Eric Heitmann and safety Michael Lewis both sat out of practice with an abdomen strain that has bothered them the last few weeks. Neither player has missed any game time due to the injury.
Linebacker Takeo Spikes and cornerback Walt Harris were rested due to their veteran status.
One Hour

The 49ers will enjoy Christmas Day with their families since Coach Singletary cancelled Thursday's practice, but he does expect them to give at least an hour to preparation for the Redskins.
"I think that's normal," said Baas. "You would do that to keep your mind fresh on Saturday before the game, you would review stuff. It's nothing new. It's to make sure everything is fresh in your mind and you're focused on details and that's part of the game. That's normal for most of us."
Davis also agreed that it was easy homework.
"I believe no matter what – the holidays or otherwise - you should always take some time to get in your playbook or watch your opponent every day of the week," said the 49ers tight end. "That's just something you have to do, and it's something you should want to do."