Although the 49ers have gone to more of a spread offensive attack in recent weeks, they haven't lost sight of the importance of getting the ball to Frank Gore in the process.
The franchise running back's production has dipped slightly this season (128 carries for 643 yards, six touchdowns), but he still remains as one of the league's best rushing threats and has visited the end zone in each of his last five games.
A sprained ankle that forced him to miss almost three complete games combined with a slight change in offensive philosophy has caused Gore to surpass the 20-carry mark in two of eight games.
But Gore is not worried. Not as long as the team is winning.
"I know whenever my number is called I'm trying to do the best I can out there," he said on Wednesday. "We're just playing together, playing hard and trying to make this run to get to the playoffs."
Gore's most prolific rushing day of the season wasn't in one of those 20-plus carry performances. It happened against the team he'll see again this Sunday, the Seattle Seahawks.
Gore only rushed 16 times in the 49ers Week 2 win, but two of those rushes went for 79- and 80-yard touchdowns. However, Gore isn't licking his chops simply because of the opponent that will line up across of him this Sunday. He's excited about helping the 49ers make a stand in getting back in the playoff mix.
Whether he's able to contribute by taking handoffs in a shotgun set or in a more traditional formation, Gore is always confident in his abilities.
"I can run in any kind of offense," he said with a look of determination.
Gore's not complaining about the use of a spread attack, instead he's embracing it.
"Spreading it out gets the box kind of clear. That's one of the good things about the spread offense," he explained. "As long as we win, I'm good. It's tough to win games in this league, once you get one and you're knowing you have a chance to make a run to the playoffs – I'm fine with it."
Three weeks ago, Gore carried numerous times out of the shotgun against the Chicago Bears, and finished the game with 104 yards on 25 carries, one of which went for a 14-yard touchdown. The production proved that Gore can be successful no matter where he lines up.
Knowing that Gore won't be strictly in an I-formation this Sunday – the Seahawks will have to defend the 49ers latest wrinkle to the offense.
"I know they'll play us differently, knowing that we're going to the spread," Gore said. "They can't really bring the safety down in the box, so that's a plus."
Quarterback Alex Smith has not openly spoken to Gore about the back's preference in offensive formation, but he knows how versatile his running back can be.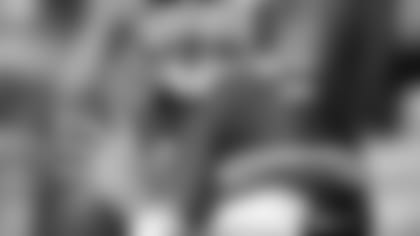 "My opinion of him is a guy who can do virtually everything out there," Smith said. "He is a guy who can run through the tackles in I-formation, can do a lot, can run out of one-back stuff and is a great receiver out of the backfield. The great thing about Frank is that he can do everything."
Gore's versatility paid off in Smith finding him seven different times in the passing game last week against Jacksonville. Having that type of threat has been a perfect pairing for what Smith has shown in recent weeks. In the second half against the Green Bay Packers and the first half of the Jacksonville Jaguars game, Smith threw five touchdown passes in those four quarters of football.
Mike Singletary knows that Gore needs to be involved early and often if the 49ers want to reach all of their season goals. But in the mean time, the 49ers head coach is making sure the proper communication lines are open in stressing the importance of everyone being involved in the team's success.
"It's really important that we're for one another," Singletary said. "We need to be happy about the other guy."
Asked if Gore's desire to have superior rushing stats compared to other backs across the league is greater than his will to win, Singletary said Gore's focused on the latter.
"Frank is a team guy. But, it's like anything else. I don't know if you've ever been in a situation where it may be a family member, it may be a team member and somebody else does something great. You want to be happy for them, but it's a natural thing. You can't take away from the fact that you want to do well too. You want to make sure that you're doing everything that you can to make sure that you're a part of that."
Aiding the Seahawks defense in quieting Gore and the spread attack will be Seattle's 12th man. The home field advantage that comes with its own moniker has quite the reputation inside of the 49ers locker room. But no matter how loud Seahawks fans become on Sunday, the 49ers understand they have to be mentally tough and focus on the task at hand.
In weeks past, the 49ers have prepared for road games by using earplugs in practice, playing crowd noise and even old-school NFL Films music.
Running out of the shotgun formation won't be curtailed by the 12th man according to Singletary.
"You can still run the spread and get him under center, however it works out. But, as far as the noise is concerned, that's just something that we have to continue to work on. Everybody that goes in there has to do the same thing. Thankfully, this isn't the first game that we've been in a situation like that. We just have to do a good job of managing it this week."
Likewise, Smith said extra focus during practice is what the 49ers need to best combat the noise.
"You have to work with it through the week," he explained. "You can't just dismiss it, but at the same time you have to deal with crowd noise everywhere you go. It is loud there, but I think it is just something you have to take into note, deal with it all week in practice then be sharp on game day."
As for which distraction works the best, Smith gave the nod to the simulated crowd noise.
"In my opinion, I kind of just think pumping the noise out there works best. It is the most similar to the game situation – the guys really can't hear, it is loud; you have to focus without your ears."
The No. 1 thing the 49ers can do is "Keep their poise in the noise," a saying coined by offensive coordinator Jimmy Raye.
"It's a hostile environment and they've got a solid defense," right tackle Adam Snyder said. "It's going to be a challenge for us to go out there and 'keep our poise in the noise' as Jimmy says and execute. And that's what we're going to do."
Undrafted free agent fullback Brit Miller received the best news a practice squad player can get when he inadvertently found out he had been promoted to the 49ers 53-man roster.
With injuries to several special teams contributors, including free safety Curtis Taylor being placed on injured reserve, Miller's services were needed. But the former college linebacker was completely clueless about getting called up. That was until special teams coordinator Al Everest spilled the beans on Miller's big news.
"I was going up for just a normal meeting with Al and he's like, 'I got what you need to do this week.' And it wasn't practice squad stuff, so I was like, 'Huh? Alright… sounds good!'"
With a much larger packet of information looking right back at him, Miller instantly knew he was on the 53. The former University of Illinois product has won five practice squad player of the week awards this season, something that instantly got the coaching staff's attention.
"I think it got me noticed. We're in a position right now where we need some special teamers as far as a couple injuries go. I think I've proved week in and week out that that's what I do well. I know the plight of the practice squad guy is to get their attention and I've been able to do that."
Miller will remain as a fullback and will wear the No. 47. "I think my days as a linebacker are over," he said with a smile.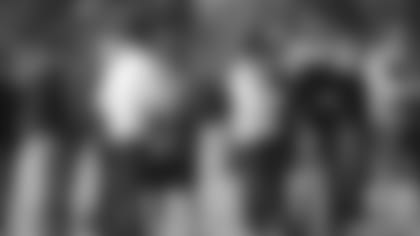 Practice is closed to the media on Wednesday, but a few special guests somehow made their way on the practice field.
Members of the San Jose Sharks, including Joe Thornton, Dany Heatley, Devin Setoguchi and Joe Pavelski were at practice to check out how a different professional sports team conducts practice.
Kicker Joe Nedney, a South Bay native, was thrilled to see the hockey players on the sideline and even struck up a conversation with Pavelski. The two compared notes on each other's sports.
"I've been a fan of the Sharks since the franchise's inception back in the early 90s," Nedney said. "I recognized a few faces when they came out, namely Joe Thornton because he's a half a foot taller than the rest of his teammates – he's kind of easy to pick out. You seen them in their street clothes and they are so unassuming, but you know there's a lot of power in those legs.
"Overall, it was neat. It made my day actually."