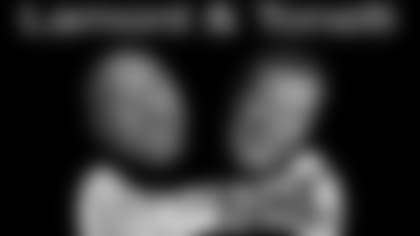 107.7 The Bone's Lamont & Tonelli serve as hosts of the 49ers pregame show, and also share their perspectives in their own Go Deep online column. For the 2007 season, you can find them and interact with them on our social networking site 49ersfaithful.net.**Check out part of Tonelli's blog below...
The Atlanta game was a little disappointing to say the least. Atlanta is having their share of problems and that's a game you expect to win. With a couple more plays should they have been made, the 49ers probably should have won. To me, the most disappointing play of the game was when Alex Smith overthrew Bryan Gilmore who was open by about six or seven yards. The ball wasn't even close so that was really disappointing. That's a pass you have to make to give yourself a chance to win the ball game.
We talked to Coach Nolan on Tuesday and he acknowledged a lot of things. We also talked to Jeff Ulbrich on Monday and he was quick to remind us that they're only two games out of the NFC West race with as bad as that division has been. This week they play Seattle up at their place and if they come away with a win, they could be back in it which is just weird to think about. They're kind of fortunate to be in the situation they're in, but they've got to take advantage of it instead of allowing it to slip away.
We're going to head up to Seattle on Saturday so we'll be doing our pregame show from Qwest Field before that game.  I'm really looking forward to going to Seattle this year. Lamont and I want to check things out a little bit and we'll probably stop by Pike Place Market. I have only been there once, but I didn't get to throw any fish at those guys. The seafood is fresh and the restaurants are great. Seattle is just beautiful in the fall so I hope the weather is great. I'm not expecting the same kind of monsoon that we had up there last year.