In Week 2 of 2018 against the Detroit Lions, former 49ers tight end Garrett Celek caught an 11-yard touchdown from Jimmy Garoppolo, where the tight end dragged two defenders along with him for the score. The quarterback joined the offense on the sideline to congratulate his teammates on the touchdown. On that day, "National Tight Ends Day" was born.
Believe it or not, the recognition for the newfound occasion doesn't come from Celek for his "Celek Time" idiom. Neither was it from San Francisco 49ers exuberant tight end George Kittle. The designation was actually created by Garoppolo himself. Little did the quarterback realize, he created a phenomenon with his tight ends that would eventually spread across the National Football League.
"We were on the sidelines after Celek's score when Jimmy asked, 'What is it, like National Tight Ends Day?'" Kittle recalled. "I was like, 'yeah, it's National Tight Ends Day. It's a holiday. Tight ends all over the league are scoring touchdowns.' That's how it came to be. We just kind of rolled with it."
Added Garoppolo, "I was just trying to get them fired up. Then Celek goes and scores the first touchdown, so it worked pretty well."
A playful expression between teammates became a reoccurring theme among the 49ers locker room. According to Kittle, every single Sunday (or Thursday, Monday and even some Fridays and Saturdays) is "National Tight Ends Day." It's an internal motivation to be a contributor, as a pass catcher, run blocker or as an overall teammate.
"I was just trying to get them fired up... It worked pretty well." Jimmy Garoppolo
The NFL caught wind of Kittle and Co.'s occasion and officially christened the fourth Sunday in the month of October, "National Tight Ends Day." In its inaugural year, Kittle and tight ends across the league were celebrated in Week 8 of 2019.
"I want to see tight ends scoring touchdowns," Kittle said. "I want to see them blocking guys, pancaking guys, breaking tackles, pass pro, I like seeing it all. And so, a day that you can recognize all the great tight ends across the league is a great day. And I'm looking forward to our second-annual National Tight Ends Day."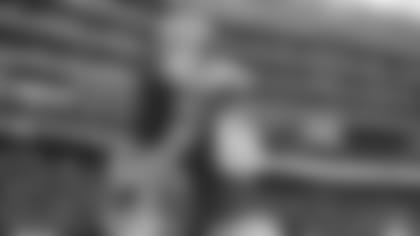 Before his time as a Hawkeye, Kittle grew up following Iowa football, where his admiration began for former Indianapolis Colts legend Dallas Clark. Even before becoming a record-breaking NFL tight end, Kittle has always had an appreciation for the position. From an early age, Kittle was drawn to an abounding group of players. Now in his fifth season in San Francisco, he continues to strive to emulate their Hall of Fame prestige.
"I loved watching Shannon Sharpe and Tony Gonzalez," Kittle said. "I also grew up with season tickets to Iowa football games, so I got to watch Dallas Clark play in college. Being able to watch him and how he grew — watch him and his whole career, that was really fun for me. I was always a huge [former New England Patriots TE Rob Gronkowski] Gronk fan, that was just too much fun. Growing up though, being able to watch those guys was really special for me."
During the light-hearted observance, tight ends across the league were wired for sound during their respective matchups. They also paid respect to previous tight ends who paved the way by donning their throwback jerseys. Kittle sported custom cleats pregame that recognized various tight ends across the league and wore the signature "National Tight Ends Day" t-shirt, that became available to fans at the 49ers Team Store at Levi's® Stadium. A portion of the proceeds from sales benefited the University of Iowa Stead Family Children's Hospital, an organization Kittle has had close ties to over the years, in particular during his time with the Hawkeyes.
"I always like to try and give back and something like the Iowa Children's Hospital is something that means a lot to me." Kittle said. "I've been able to work with them a couple times especially when I was at Iowa. Being able to give back to them and help out those kids was a no-brainer for me. So being able to do that and use something like National Tight Ends Day to do that is pretty awesome."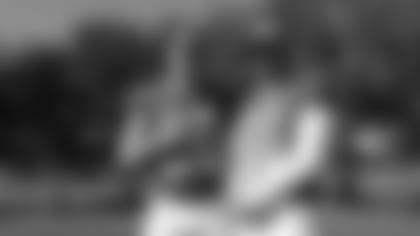 Despite the appeal of the holiday, the primary commemoration of the day is to acknowledge a mildly unheeded position and group of players, past and present, who continue to revolutionize the game of football.
"I celebrate 'National Tight Ends Day' every Sunday," Kittle said. "I root for every single tight end across the league to do very, very well because I want to watch tight ends succeed. Except for the one that I'm playing that Sunday. Other than that, I always want tight ends to score as many touchdowns, get as many yards, do great in the run game. I just like seeing the position do really well."
A simple quip has grown into a league-wide initiative, putting tight ends across the league at the forefront. While fans are well aware of the Rob Gronkowski's, Antonio Gates' and Tony Gonzalez's of the world, to Kittle, "National Tight Ends Day" is about bringing recognition to the contributions of all tight ends in every facet of the game.
"This will definitely show people, 'oh hot damn, there are some good tight ends.'" George Kittle
"I think all tight ends embody it," Kittle said. "That's the great thing about being a tight end. You have so many different kinds of tight ends. You have tight ends like [New York Giants TE] Evan Engram who runs 4.4-second 40s. You have tight ends like Logan Paulsen, who we had on our team, who weighs 275 pounds and blocks everybody. All across the board, you have all these different tight ends. But it's fun being able to share the position and being able to compare yourself to these guys and try to do the tight end job as best you can."
"(I want) to highlight all the great personalities. I think everyone knows there are good tight ends in the NFL, but I don't know if the tight end position is showcased enough. We have Travis Kelce, Zach Ertz, Eric Ebron, Evan Engram, [Tampa Bay Buccaneers TE] O.J. Howard. You have incredible tight ends that aren't shown every single week, but being able to do this will definitely show people, 'oh hot damn, there are some good tight ends.' It will be fun."
The celebration of National Tight Ends Day continued as Kittle was signed to a five-year contract extension ahead of the start of the 2020 season to keep him in red and gold well into the future. Originally selected in the fifth round (146th overall) of the 2017 NFL Draft, Kittle has appeared in 71 games and registered 354 receptions for 4,671 yards (13.19 average) and 20 touchdowns so far over the last six seasons. He also started all six postseason games in which he appeared, adding 15 receptions for 179 yards.
A two-time Associated Press All-Pro [First-Team (2019) & Second-Team (2018)] and three-time Pro Bowl selection, Kittle has embodied the meaning of what it means to be a "49er."
You don't have to wait until Week 7 of 2022 to celebrate again, because according to Kittle, everyday is National Tight Ends Day.