Check out these random tidbits about 49ers running back DeShaun Foster.
Gotta Have: Foster confesses to having a wee bit of an obsession with shoes, particularly sneakers, something he blames on his mother.
"I think it's because my mom also has a thing for shoes, and I'd go shopping with her," said Foster. "The deal was that if I was going to be at the mall all day while she looked for shoes, I had to get new shoes too."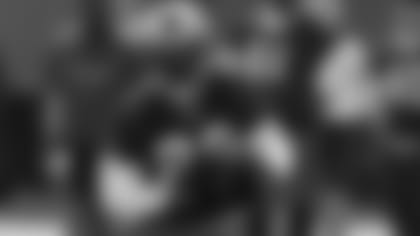 Don't Short Change Him:**  "Early on I was just more of a 3rd down back, coming in and catching passes, running draws - a change of pace back early in my career," said Foster. "But I don't think that I can only do one thing as a back. I got tagged that in Carolina, but that's what I was doing. After Stephen (Davis) left, I picked up his role and then we had someone else doing what I had been doing before."
Biggest Regret: Losing the Super Bowl
"I enjoy my family," said Foster. "My parents are still together and we're all very close. We are the only ones out here on the west coast and we just really like each other."
Last Book He Read: Purpose Driven Life.
"My mom and dad always give me books to read. My dad just finished Tony Dungy's book, so I'll check that out next."
Favorite Backs: Earl Campbell.
"I just liked his running style. I liked his intensity on the field. When I started playing, I probably tried to emulate Marshall Faulk because that was closer to my style, but I can remember one play where Earl ran out of his jersey. They kept grabbing at him, and he just kept going."
Biggest Fan of: His younger sister, a senior basketball player at UC- Riverside.