The 49ers held a walk-thru type practice on Thursday, completing their preparations for the final preseason game on Friday against the Chargers.
To recap, the starters on both sides of the ball will play at least a series, possibly longer on offense if the first series is a three and out.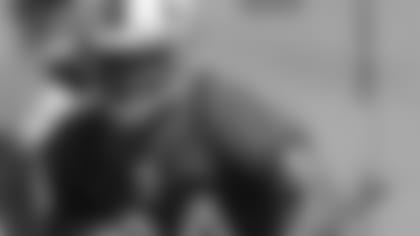 While it may be a final tune-up for some players, others like Michael Robinson will be seeing their first preseason play of 2008.
Quarterback J.T. O'Sullivan said he'll be prepared to go for as long as they ask of him, and in his time, he's looking for perfection.
"I want to play as well as I can play and do things exactly right," said O'Sullivan. "Play each play perfectly. I'm just worried about moving the ball and doing things we want to do on offense."
Nate Clements, one of the cornerstones of the defense said doing things exactly right is important in this last practice round before next week's opener against Arizona.
"This is basically a tune up for the regular season," said Clements. "We've got limited reps so we've got to be sure that when we get into the game, we have zero mental errors and that we are consistent. We want three and outs or to cause a turnover. We have limited action, but we are going to make sure it's quality."
Clements and the 49ers secondary uncharacteristically allowed some explosive pass plays last week, something he said the unit addressed during this week of work.
"Last week it was a learning experience," said Clements. "When you have games like that you've got to learn from it first of all, correct the mistake and then move on so that mentally you won't have that same error again. So that's what we did. We went back to the film, corrected the mistakes, worked on them, and moved on. And now we've got this week for a final tune-up."
The game is also important for a few 49ers who have yet to see any preseason playing time. Guard David Baas, wide receivers Bryant Johnson and Ashley Lelie, and running back Michael Robinson will make their '08 preseason debut.
"I'm real excited," said Lelie. "You play this game so you can play on game days. That's when all of the hard work pays off. I'm looking forward to it because I get to show what I can do on the field. With the starters not playing as much, it should give me more time to play and really show what I can do."
Strange as it may sound, Robinson looks forward to taking a good lick after having surgery on his knee.
"Most definitely I need that first hit," said Robinson. "You ask most football players, even in regular games, a lot of guys feel like they need to get hit first before they really feel like they are into the game. It's a little different for me. I've been injured and haven't really had any full speed contact so this will be very important for me."
Robinson also hopes to lend his skills on special teams, a unit that has had some mishaps this preseason.
"Coach Everest is always working on ways to make us better. If we mess up in a game, he'll have a drill the next week of practice to help us fix it," Said Robinson. "He always says when you have a problem, the problem doesn't go away. It just carries on to the next week. If one team beat us on something, you better believe the next team will look to do the same. So, I want to get in there and get into a little bit of a rhythm, get some contact and then as a team, see each guy play well from the starter to the bottom person on the depth chart. "
Those guys on the bottom of the depth chart will see the most extensive playing time in this mop up game, and with the final cuts looming, it's a make or break it situation.
"I think those guys have to understand that not only are you interviewing for this team – but for teams throughout the whole league," said the veteran Clements. "You want to make sure that when you are out on the field that you do good things to put that on your resume. So you want to play very good and be well represented so that if you don't make this team, you have an opportunity to make it with another team that might see something that they like."
With so much veteran experience in the 49ers secondary, it's an uphill battle for someone like undrafted free agent rookie safety DJ Parker to stick.
"It's a big week for me," said Parker. "I just want to go out there and show the organization and the coaches that I can play on this level and that I can play for this team. I'm going to go out there and perform well and hopefully it works out for me. But just getting game film, that's your resume and if it doesn't work out for one team, maybe there is another team."
The former Virginia Tech standout has also tried to take the veteran experience he's been surrounded by and apply it to his long term success.
"I really try to get around those guys and learn everything I can," said Parker. "Those guys have played a lot of snaps and have a lot of years under their belt. It's good to be out there with them and learn everything I can."
A few other players like runner Thomas Clayton, punter/kicker Ricky Schmitt and receiver Dominique Zeigler have already had extensive playing time this preseason, and have done very well, but they too are battling the number crunch.
Clayton led the NFL in preseason rushing yards a year ago, and then came on strong last week in Chicago with an outstanding game. But he's the fourth back behind Pro Bowler Frank Gore, a free agent acquisition in DeShaun Foster and a recently extended third-year back in Robinson.
"I try not to think about it," said Clayton. "Obviously it comes up and has been spoken about, but I try not to think about it. I look at it as me putting my best foot out every day and as long as I put my best foot out, I'll be successful."
And the former sixth-round pick understands that his success might ultimately come from getting cut and landing elsewhere.
"It's always an addition," said Clayton. "Each day you have to prove yourself, excel and get better and be better the next day than you were the day before. My whole objective for real is just to continue to get better. If it's here or somewhere else, I plan on being successful."
O'Sullivan is proof of that. The 49ers starting quarterback was cut by five teams and was traded once since coming into the NFL back in 2002.
"It's terrible," said O'Sullivan of being released. "It's really indescribable as far as I'm concerned. It's something that…it's a range of emotions from embarrassing to disappointing. Because everyone in the country knows you just got fired. It's put in the paper. I check the transactions. That's just the way…that's what happens. You get fired. It's embarrassing. That's how I look at it."
Despite the embarrassment, O'Sullivan continued to stick with it and his success is something that anyone let go by the 49ers organization this coming weekend might want to file away.