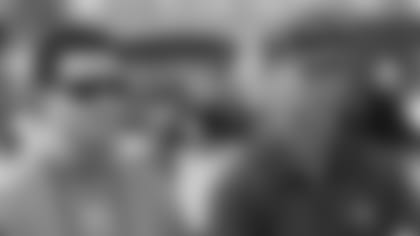 49ers President/CEO Jed York and General Manager Scot McCloughan will have decisions to make in free agency this offseason.**
Thursday night is Christmas Eve for general managers around the NFL. Free agency begins at 9:01 p.m. on the West Coast, which means several big-name players around the league will be changing area codes and uniform colors. To make matters even more interesting, the NFL will enter this free agency period without a salary cap for the first time since 1994.
This time last year, the Washington Redskins rolled out the red carpet for Albert Haynesworth and signed the former Tennessee Titan defensive tackle to a record seven-year, $100-million dollar deal ($41 million guaranteed).
The 49ers are no stranger to making splashes in free agency themselves (think cornerback Nate Clements and Pro Bowl defensive tackle Justin Smith). They've also added quality pieces to the team without much league-wide fanfare (think safety Michael Lewis, linebacker Takeo Spikes and tackle Barry Sims to name a few).
Even before free agency kicks-off, the 49ers already made a few significant offseason decisions. Tagging nose tackle Aubrayo Franklin was the first, and easily the biggest. Instead of letting the 6-foot-1, 317-pound lineman test free agency waters, the 49ers used a non-exclusive tag on Franklin, which means he'll earn $7 million this season while he and the club continue to negotiate a long-term deal.
After tagging Franklin, the 49ers tendered one-year contracts to two of their scheduled restricted free agents; guard David Baas and outside linebacker Ahmad Brooks. Brooks was tendered a second-round pick, and Baas was given an original tender (he was a second-round pick in 2005).
If you're wondering why you've been reading so much about players being "tendered" it all has to do with the cap-free season.
Without a salary cap in place for the 2010 season, players who were eligible for free agency after four seasons of NFL service now need six years to be unrestricted. Because of that, 212 players who thought they would be free agents at midnight on Thursday are now restricted free agents.
Baas and Brooks are free to sign offer sheets with other teams, but the 49ers have the right to match the contract. If the 49ers chose not to match, they would receive that team's second-round pick as compensation.
The 49ers third restricted free agent, cornerback Marcus Hudson was not offered a tender, and can now sign with any team as a free agent. The 49ers five unrestricted free agents include, wide receiver Arnaz Battle, cornerback Walter Harris, cornerback Dre' Bly, Sims, Pashos, and safety Mark Roman.
Linebacker Matt Wilhelm was scheduled to be an unrestricted free agent, but the 49ers re-signed the backup linebacker and special teams contributor to a one-year deal on Thursday just before he hit the market.
Based on what General Manager Scot McCloughan said last week in Indianapolis at the Scouting Combine, it's not expected that the 49ers will have an aggressive stance as free agency approaches. Having three picks in the top 49 selections in the 2010 Draft affords McCloughan that luxury even in a cap-less season.
Here's what he said at the Combine on the 49ers thinking in an uncapped year:
"For us it's not changing. We're going to go forward as if there is a cap. As you guys are well aware, we're not going to be considered a big free agency team anyway. But we'll do what we need to do in free agency if we think it's a smart move, if it makes us better. But it's not going to change us, our spending, one way or another. I think we have a good plan in place with the vision and philosophy we've had in the past. We're going to keep the same. If all of a sudden we get to a place where we think we have to, then we'll definitely consider it. But right now we're going forward as we have in the past."
Last offseason the 49ers made their signings after the initial rush of free agent deals. They signed wide receiver Brandon Jones, defensive tackle Demetric Evans, tackle Tony Pashos and cornerback Dre' Bly over the course of the offseason.
Expect a similar gameplan for this offseason, that being finding veteran guys who can fit in the locker room and can add to the team's depth. Even if there's no salary cap, the 49ers will continue to value developing young players through the draft, rather than bringing in veterans who have been accustomed to other organizations in the NFL.
No matter what happens league-wide, McCloughan insisted that the 49ers will stay true to their beliefs. But does he think the cap-less season will affect his counterparts around the league?
"Again, [these are] uncharted waters. I don't know. There's always been teams who approach free agency in a different manner and like to spend more and give way draft picks. I know from our standpoint we're not going to change our way."