The San Francisco 49ers "Career in Looks" video series presented by Microsoft Surface offers an engaging and personal perspective on the lives of 49ers players, allowing the Faithful to delve into the most iconic moments of their careers and their distinctive fashion choices.
Spanning from their early days in the NFL to the present, "Career in Looks" features several players reminiscing about their experiences, emotions and thought processes during pivotal moments of their football careers while also sharing the significance of their outfit choices. This unique blend of sports and style lets the Faithful truly get to know their favorite players, shedding light on their journey to becoming NFL elites while uncovering the players' individual fashion identities.
All-Pro linebacker Fred Warner was featured in the most recent edition of "Career in Looks," and broke down his most iconic looks from his college days at BYU to now.
When Warner reflected on his arrival outfit to the 49ers Week 11 contest against the Arizona Cardinals in Mexico City, he shared the backstory to his personalized soccer jersey and it's significance to his heritage.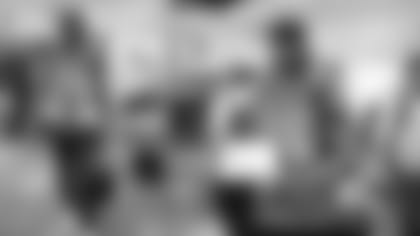 "This is a pretty great moment, being able to play in Mexico, given my Mexican heritage," Warner said. "They gave me this jersey with my name and number on it, I think it was Alfredo Gutierrez, he was the one who got that for me. That was special, to walk into (Estadio Azteca) wearing the jersey repping Mexico, and coming out of there with a win most importantly.
"Playing in Mexico was amazing. The altitude was kind of crazy, trying to catch your breath in between plays. But, playing in front of those fans and in that stadium was amazing. It was unreal. From the moment we stepped onto that field for warmups to the very end, those fans were amazing.
"A little bit of my background, my mom is half Mexican and my father is part Panamanian and part African-American, so that's a huge part of me. Being able to represent the Latino community, it means a lot to me. If I can just inspire even just one kid to look at me and be like, 'I know I can do it if Fred can do it,' I know that I'm making an impact."
For an exploration of the intersection between football and fashion and to get an intimate look into the lives of 49ers players, check out the latest "Career in Looks" video here.